Kitchen Layout Help Pls. Long Many Pics
Hello all, I'm back and less panicked (for now). I am posting a couple different layouts for a new build kitchen (goal of breaking ground Spring of 2012, closing on land next month)...these are not my first go around but are the first ones I dare post. Please have at it and tell me what could be better or is completely wrong, I will not be offended. At this point I think the only thing I am married to is probably the peninsula since I have one now and enjoy it and I like having a continuous counter from cook top to sink easy prep and clean up. Not sure what will be best to be viewed (as far as appliances are concerned) from the great room into the kitchen.
I hope to get to the build point with a clear picture of what I want my kitchen to be! I am most focused on function right now. Family of 4 - 2 ds's 10 and 7 and one 75# furry friend. Pretty casual - the dining room off the kitchen will be our only eating space. I like the peninsula (have one now) for kids eating casual meals or sitting there while I am cooking, and as a buffet when we have company, friends to sit at while I'm working in there.
Here are my inspiration pictures from Houzz:
This one I like the overall layout and cabinet style but would switch the oven and fridge so you don't have to walk through the cooking zone to get to the fridge. My kitchen however is not the same shape or window placement but this is the feel I am going for:
This one I like the angled peninsula as shown on the house layout but without it being 2 tiered, IKEA software wasn't too friendly for things like this that I found. I used an island instead as a place marker.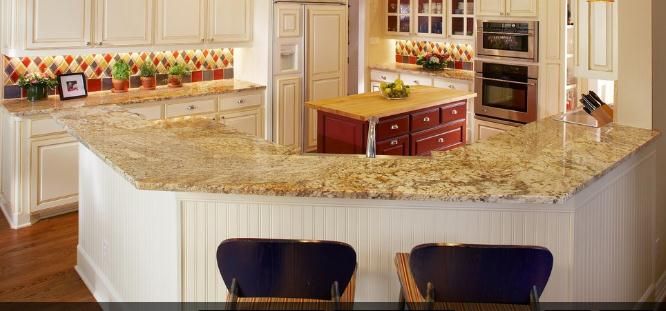 The dimensions of the kitchen are roughly 12 1/2-13 x 15'8. I am also posting the layout so you can see what is surrounding the space.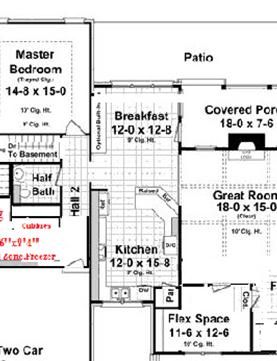 I've read all of the helpful hints and sifted through tons of threads on layouts. I think/hope I've got the zones down.
So here goes:
Issue#1 - pantry. I am still undecided on a small corner pantry vs. a wall cabinet pantry. I also am not sure how much space to leave for a corner pantry and again IKEA couldn't really do angles so I left a blank corner.
Issue#2 - uppers uppers uppers. Struggling with placement of uppers. I like a hutch look and that is showing in kitchen 2 but I'm not sure how close to come to the windows on the sink end.
Issue#3 - openness. I want the peninsula to be somewhat open to the great room but still have some seclusion. It is a true U shaped and I'm wondering if that will feel closed in.
Issue#4 - oven hood and uppers. I have no idea how to configure that. I do like the furniture look I think and varying heights. I'm not opposed to a corner oven either??? See below: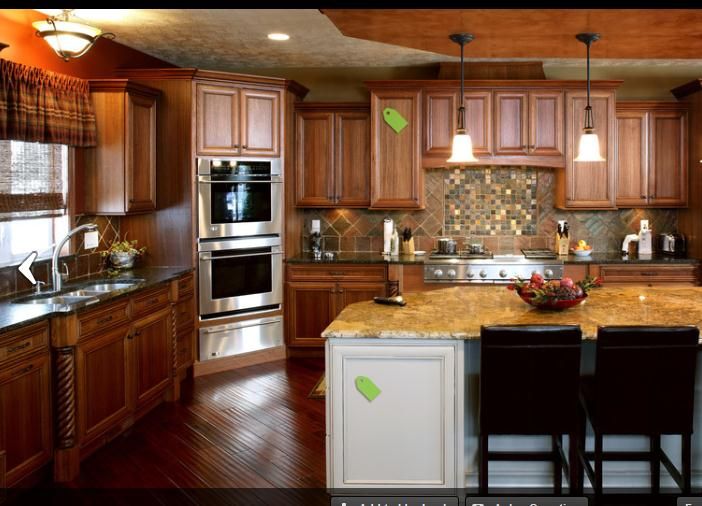 IKEA software has left some handles 'hanging' in mid air. I'm not sure how to get rid of them.
Here is what I have so far:
Kitchen #1 - doorway left open for access to the office and beyond that the foyer. Oven opposite the Cooktop and Fridge.
Sink Wall
Oven Wall - Peninsula to Great Room
Fridge Wall - Doorway goes to mudroom
Overhead View
Kitchen #2
Closed Doorway - space for pantry? Cooktop and Oven on one wall. Fridge opposite - should it be moved out further? Hutch style cabinet by fridge for dishes.
Fridge Wall with 'Hutch' - doorway to mudroom/garage entry
Long View Sink Wall
Oven Cooktop Overhead View
Oven Wall Peninsula View
Overhead Layout
Thank you so much for taking the time to offer your insight. I'm going to try to lay this out in Excel - better for dimensions I think but nothing for a visual.
Lisa