Life with soapstone--patina pictures galore
bayareafrancy
August 4, 2008
I've been wanting to post these pictures for so long, but I've had horrible "soapstone elbow" from obsessive oiling, and I haven't been able to type much.
I don't baby this stone at all. In fact, I don't even use cutting boards very often (simply because I have a teeny kitchen with no good place for them). This is terrible for my knives, of course, but I like the nicks and scratches on the stone.
I have 2 kinds of 'wear' on my counter. One that I love, and the other that I don't love!
What I love are the marks of usage--scratches, dings, teeny chips. I want more and more of those. I'm restoring an 80 year old kitchen, and I want the counter to look as old an used as the rest of the kitchen.
Everyday look in my main (teeny) work area (you can see lots of fine white knife marks and scratches):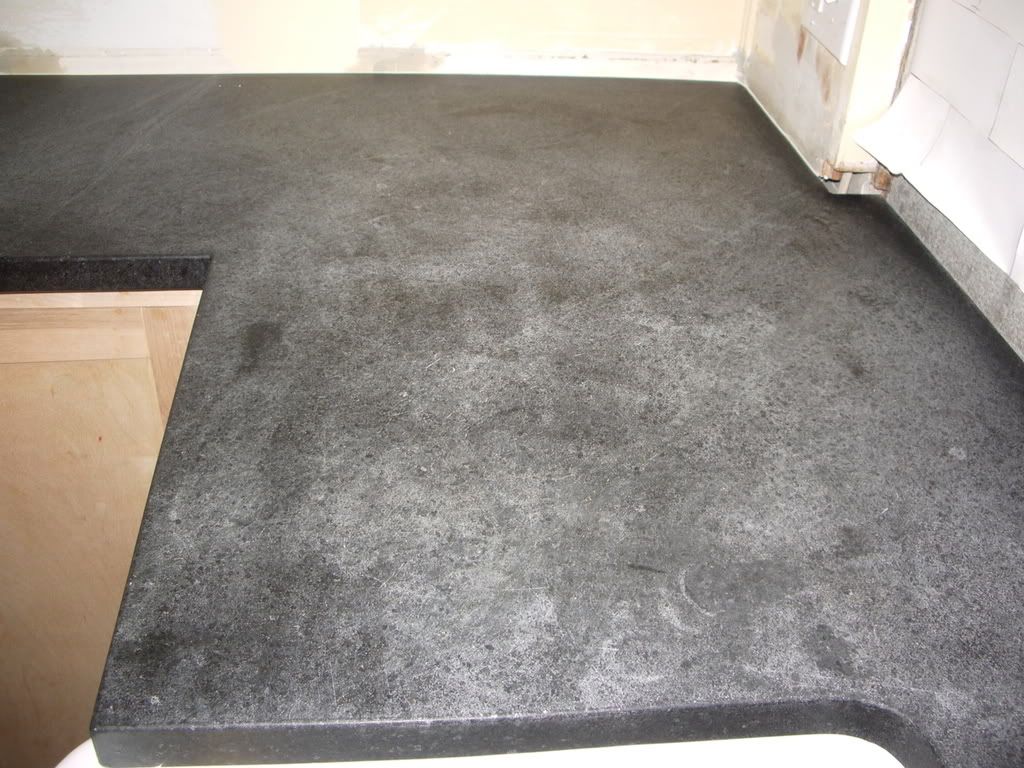 Another view: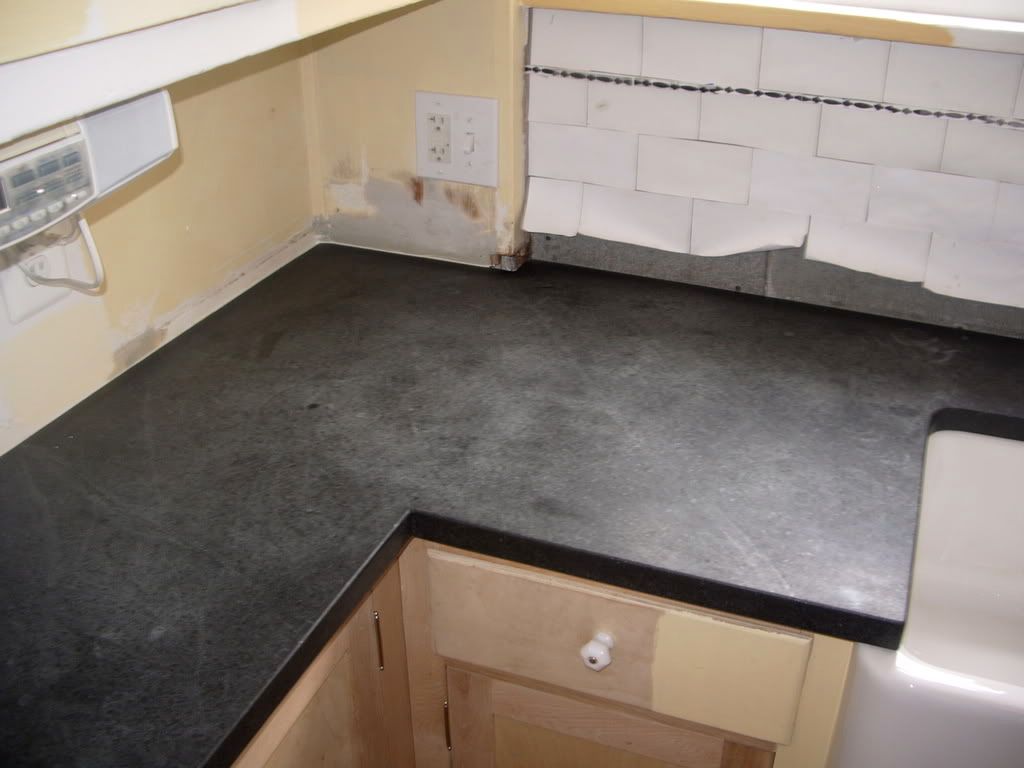 After oiling (beautiful, but leads to pesky water marks, rubber marks, etc. as soon as I start using it)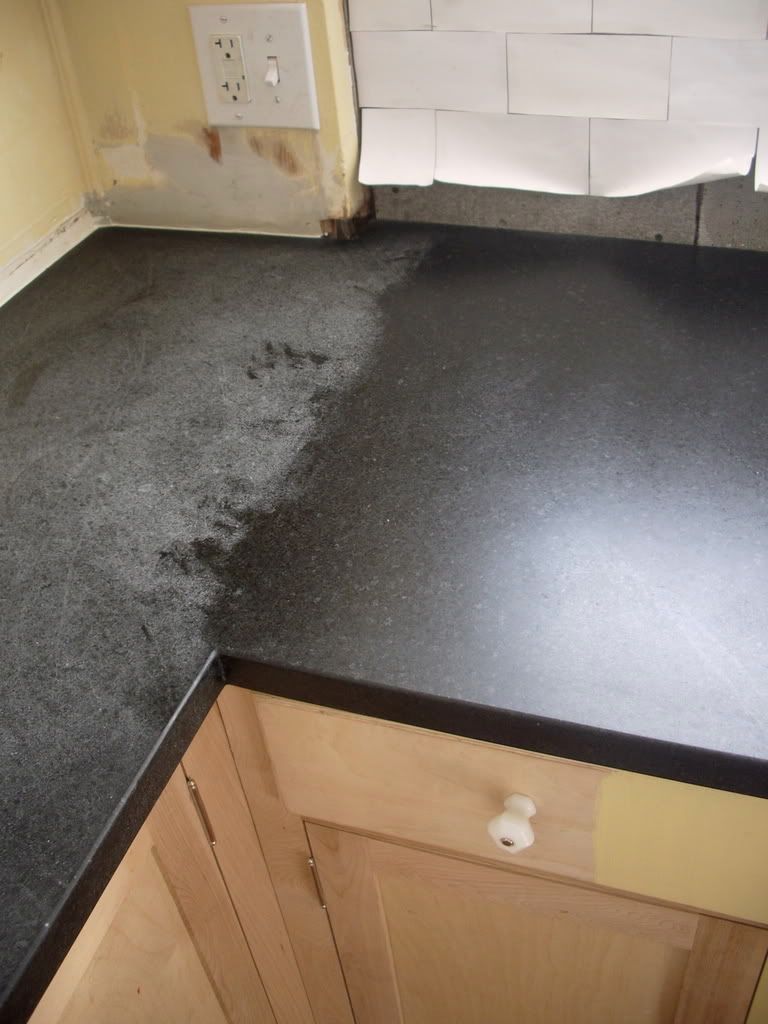 What I don't love are the water marks! Argh, those pesky water marks! They drive me batty. They are only a problem if I oil the stone. If I leave it gray, the only thing that "stains/marks" it is oil (cooking oil, butter, etc.) but that can be washed off, The water marks mostly happen when something hot (like a dish right out of the dishwasher, or a lid from an in-use pot) is placed on it. The hot item seems to "steam clean" the bee's oil right off the stone. I can't figure out any solution to this.
Removed hot dish from microwave, placed lid here: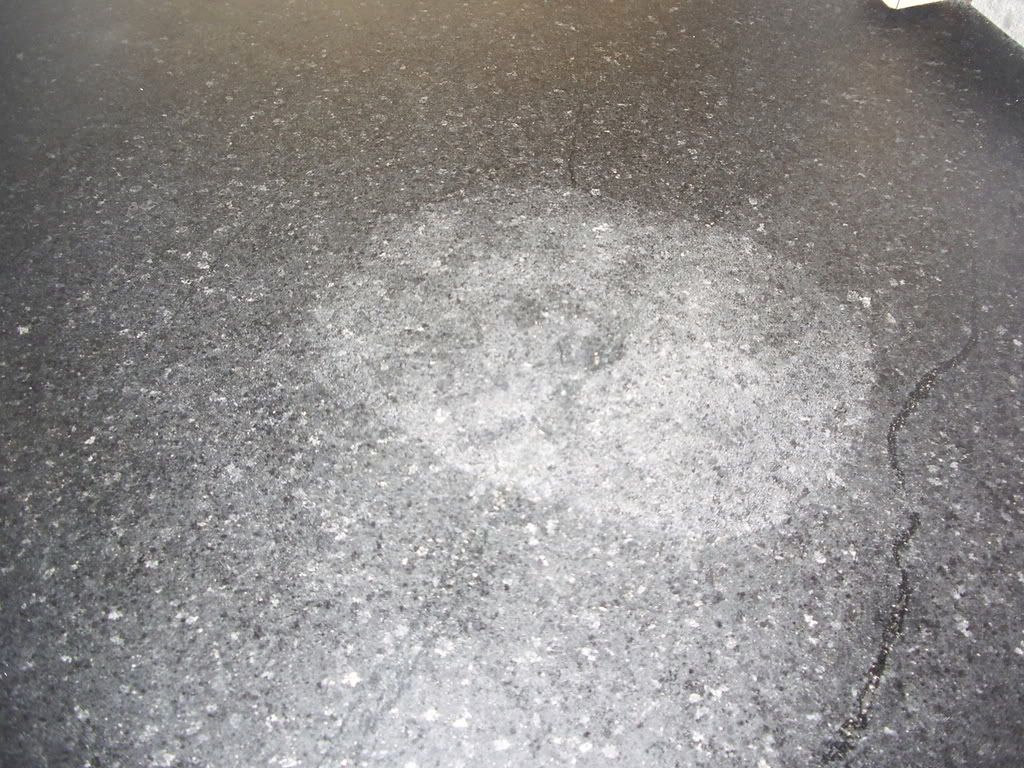 But the water marks I don't quite understand come from non-hot items. If the stone is freshly oiled, and I place a wet drinking glass on it, it will leave a ring. The ring (if faint) sometimes fades in a day or two, but not usually. Actually, I don't think think the ring is actually fading. I think the oiled area is fading to match the ring.
Water marks from regular glasses of water, and drips/puddles (these drive me batty). Am I the only one who gets these?:
Oh--the other thing that leaves rings is anything absorbent that can lift the oil out of the stone. So, I get a ring under my ceramic compost jar (the ceramic is unsealed on the bottom). Or flour spilled on the counter. Or rubber bottomed shoes (e.g. if I stand on the counter in sneakers or crocs, it will leave tread marks that won't go away until oiling. Or if I sit an appliance with rubber feet on the counter, it leaves footprints.)
All of these marks disappear with oiling. But constant oiling is hard for me and my poor elbow. So I'm thinking about "going gray."
Here is the everyday look in my other work area: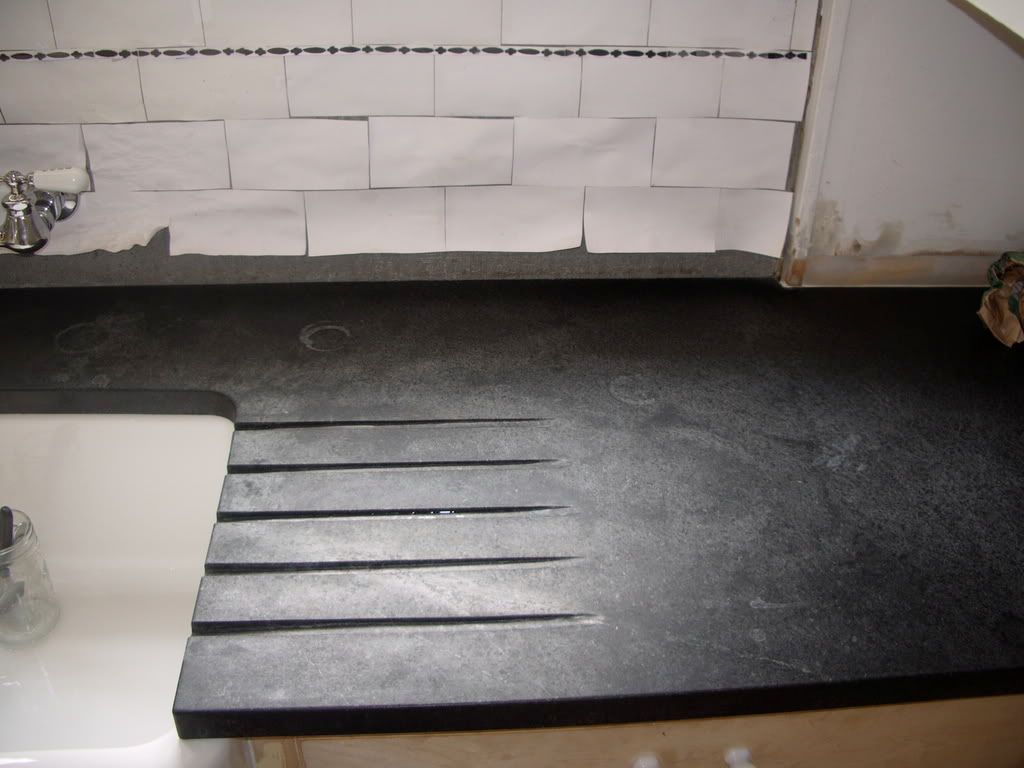 Another view (not for the faint hearted):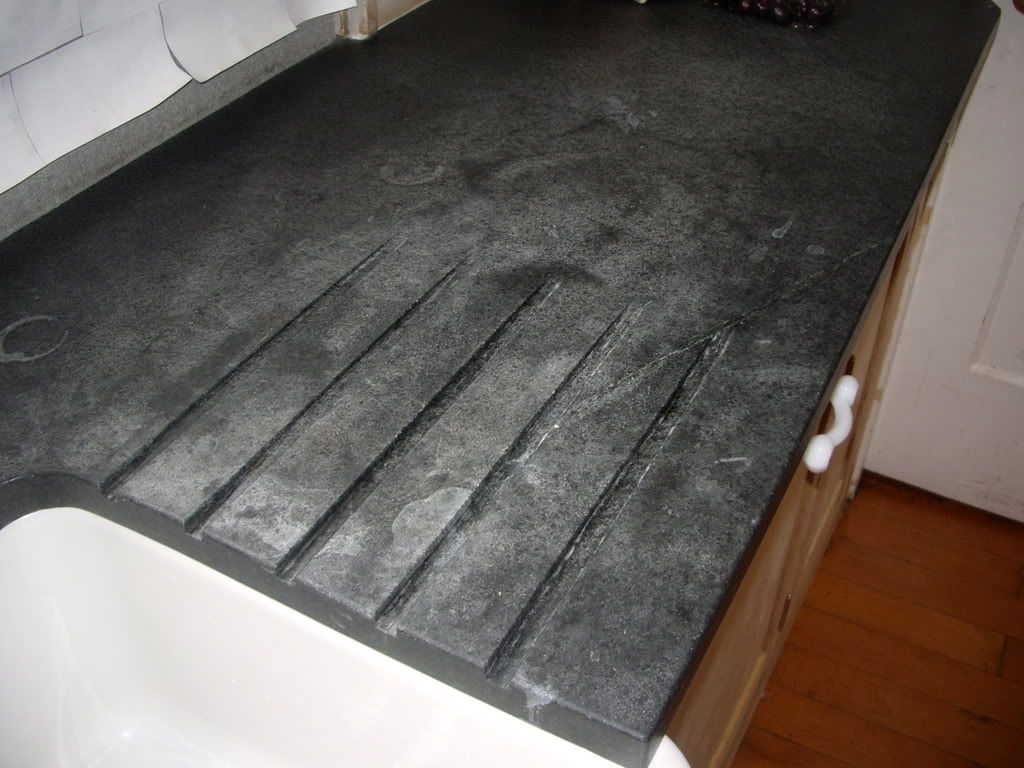 Of course, I still adore my soapstone. But I do with I could keep the dark look without battling all the water marks.
I've been painting the kitchen for a couple weeks now. It has been great to have mineral spirits and paint sitting right on the counters without worry. Of course, the mineral spirits stripped the stone back to gray. And I"m thinking of leaving it that way. Luckily, any color of soapstone works in my kithcen. But I do adore it dark.
But, black or gray, spotty or not, I love my soapstone!
:-)
Francy