Lighting Coordination Help xpost with kitchens
autumn.4
December 17, 2013
Cross-posting from kitchens. Any ideas? Will a drum light for the dining room go okay with this pendant and the semi-flush for the foyer?
Where do you start - match the base? Match the shade shape? Match the? Or is it a free for all and I am worrying too much about nothing?
I am working on choosing lighting for a new build. Both dh and I like this pendant - we are planning on 3 of them for a 9' island. The kitchen is open to the dining room (and the living room but that will have cans in it an a ceiling fan). Ceiling height is 9' throughout.
I like a lot of different things so I think it would be hard for me to peg it. I don't tend to lean toward contemporary or modern or country. So I guess that leaves transitional/traditional? We are not formal.
Where is the best place to start - trying to find a complementary shade shape? I like drum lighting but have a feeling that doesn't match at all. I have surfed through pages and pages and pages of lighting and I don't feel any further ahead in this process!
Any tips from anyone on finding a cohesive fit? I thought I'd try kitchens before home decorating but if I am in the wrong spot let me know! I appreciate your time and thoughts.
edit: Budget is $150-200 range.
Thank you.
Lisa
Link to the pendant:
Quoizel Grant Pendant
Semi-flush: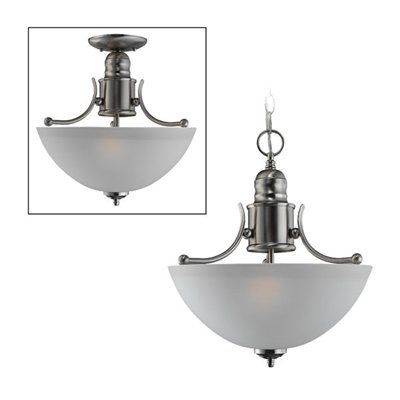 Here is a link that might be useful: Original Thread in Kitchens