All White but soon to be Oak New Kitchen
I thought I'd finally show some photos of the kitchen area of the house that we've had under construction for the past 15 months. We're hoping to be in sometime in October. Right now it's all primer white, but will eventually be inset Quarter and Rift Sawn Oak with soapstone and a colorful backsplash.
The kitchen has a "vaulted" ceiling and the three planes come together at a point over the 4x6 center island. There'll be natural stained fir rafters exposed in the ceiling where you see the cutouts on the sheetrock.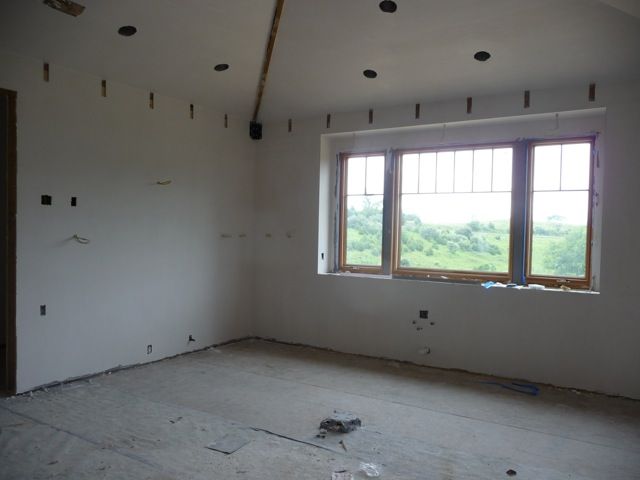 Window is bumped out and will have a 12" window ledge raised up behind the sink.
The sink will be the 60" Kohler ProTaskcenter and takes up the center glass section in the triple window.
I'm excited to one day see the CC 48" in black with a Modernaire barrel hood that I ordered from Trevor. It will be on the left wall and you can just see the entry to the walk in pantry .
Bar/Beverage area opposite the island on the other side of the room (behind the red plastic chair) will have a small sink, refrigerator/freezer drawers and glass cabinets above.
Here's my cabinet stain, soapstone, backsplash tile and Marmoleum choice!
Thanks for letting me share my excitement!!
Here is a link that might be useful: Blog about Our New Life in VA and Building the House