Kitchen Remodel #2 Post
OK..I will now post pictures and give you some idea of what I will be doing with my New Kitchen Remodel. As I said I had posted this before but think it got lost under the title I had put it in. First of all I am so Excited!! We have lived in this house for 30 yrs, the house was built in the 50's and the cabinets have never been replaced..Do I need to say more? LOL....We have redone every room except the kitchen and was waiting to be able to do a Complete redo of the Kitchen / Den....We had planned to add on to the small den and have a open concept Kitchen / Great Room (with raised ceilings) with a partial basement under the new addition. Seems the time nor budget was never right and guess I was stubborn, just didn't want to do anything if we couldn't do it All!..I of course over the years have painted a few times walls and cabinets, , put in a Black Leather Formica counter top that actually looked fairly good for years, until DH put a hot skillet full of grease on it...now it's a mess! And have did some sprucing up with new tile floor a few years ago but that's it! Anyway because of our age and health we have decided to nix what we have dreamed about for years and go ahead and do a Kitchen Remodel....at least I will have a updated kitchen that is both functional and lovely to look at! If you have never struggled with old cabinets that doesn't close well, with with blind spots that can hardly be reached, with drawers that are forever sticking I could go on and on....believe me you haven't missed a thing!
As this remodel begins to unfold and goes on and on I know I will have lots of Questions and need lot of help...But for now will Post Pictures and give a brief description of what each consists of:


This is looking into my Small U Kitchen AFTER the Remodel... ....Right now the stove is where the Dishwasher will be on the left side and the sink is where the stove will be. We are also closing up 24" of a 60" window over the sink on the right side (that looks out into an enclosed glassed entry porch) to accommodate the corner wall cabinet. The wall where the stove is now will be taken down from ceiling to floor and a 37" snack bar will be put there...this will help open the kitchen up to the small den. I will have one cabinet over the dishwasher for glasses, cups etc.
The Back Wall is 108" and the left wall including the bar is 127".... the right wall with the Ref is the same127".
The part of the kitchen not showing is the end wall with three windows and a very small table sitting in front of them. There is a very small pantry closet at one end of the table and on the other side a small short cabinet that I use to store potatoes and onions in the bottom doors and the top doors I keep snacks in. On top I just use decorative items. I have a hanging lamp over the table which will be changed out. My Entire Kitchen is 9 feet wide and 16 1/2 feet long.
I will also have frosted glass put into the two upper corner cabinets later.

Ref side....I have 30"wide drawers for pots and pans. The other small 12" cabinet will either be drawers or a pull out. I can either put the pullout on left side of the stove
(cabinet in picture looks bigger than it really is next to the stove) and drawers next to Ref..Or switch them...Haven't decided yet..Any suggestions?
There is a Lazy Susan in the corner of this side and the right corner of the stove. There is also a 3" spice pullout next to the right side of the stove. I tried to use every inch of space I could!


This is the side we are removing the wall to accommodate the snack bar and open the kitchen up..this was our only choice..Would have liked to have opened the entire kitchen but because of very little wall space in the den couldn't do it. There will be a SS under mount sink and will be using oil rubbed bronze faucet to match the hardware on my Antique Cream Cabinets. ****** I have a shelve with Crown Molding that matches the cabinets, going between the cabinets on either sided of the window...BUT I don't know IF I want that look or had rather just leave it plain without anything. I do want a Pendant Hanging down over the sink and was told I could do that with the shelf if I wanted to...Just not sure How that will look? Please Help me here!!!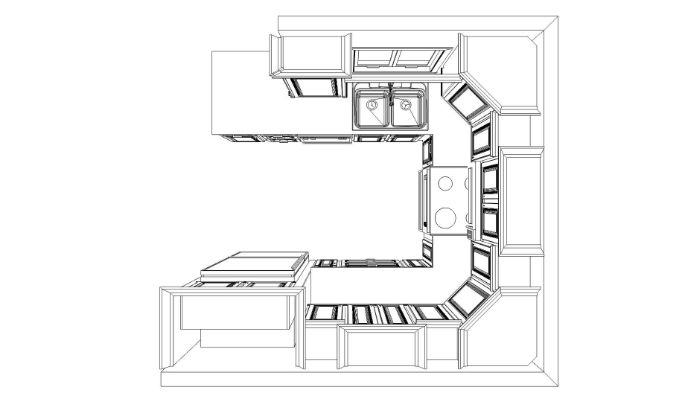 Birdseye View

This is the layout and dimensions . I plan to have my cabinet guy open up the under sink cabinet right side where the corner space is....so I can store things that I only use once or twice a yr.
My Cabinets are: Antique White (Creamy) Hardware will be Oil Rubbed Bronze as will my faucet. I also mentioned in the previous post about my Granite Selection...and which one to go with. I now have to choose my floor....as I said in another post Do Not want Tile or any Hard Surface...I have had two back surgeries and cannot bear the hardness underfoot. I am thinking of doing a good grade laminate tile ...But not sure of the color....Should I do a dark Cream or Darker?
I have thought about Wood...but can't do the wood on into the den and it would really need to be. I also have wood in the dining room that has a door into the kitchen..it is very old and would be hard to match....so felt doing something different than wood would be the best?
I also have to decide on the ceiling, under cabinets, pendant and over table lighting. Colors for the wall and wood work....whether to put my white crown molding back up or leave it off? And once granite is decided on...The Back Splash....and on and on....but those choices will be done later.
The contractor is suppose to be here the first of next week, hoping it works out....
Once I post the pictures of Before/During and After....Everyone will understand where I am coming from for sure.
.So sorry for making this so long...But so looking forward to everyone's thoughts and idea. I am open for any and all! thanks