Layout suggestions - MW placement
We're trying to remodel our kitchen and need help with the layout. The main reasons for the remodel are: our current island is too big for the size of the kitchen; the sinks are too small to wash any large pots or cookie sheets; the cooktop is on the island and has a downdraft vent which doesn't work well. My wishlist: a 36" range with a hood, a large single-bowl sink and a microwave/convection oven (would like to avoid drawer-microwaves).
My plan is to remove the island; make the window smaller and install a gas range with a hood agains that wall and vent it outside. Then the problem becomes where to place the sink, dishwasher and microwave. We cannot increase the size of the kitchen. Opening it up to the dining room is apparently also a problem. So I'm trying to place everything within the walls of the existing kitchen. Can place a sink and dishwasher, but not the microwave. Any suggestions would be welcome. more pictures are posted as follow-up.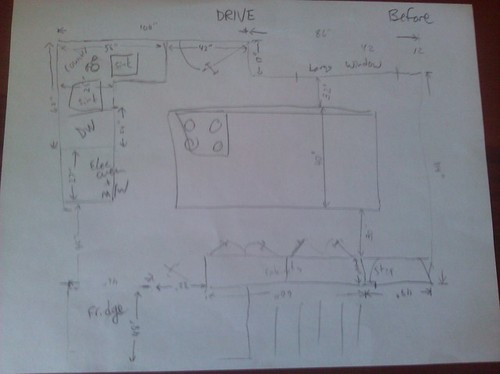 This post was edited by Emma2043 on Sat, Aug 17, 13 at 21:51