Kitchen reveal, a bit belated
mtnrdredux_gw
August 1, 2014
Okay, so I think, I am pretty sure, I never did my kitchen reveal. At least I don't think I did? And it has been done for 3 years. I was looking thru photobucket for other photos and decided, hey, better late than never.
Our kitchen was quite unusual to start with. Very long and narrow. Everything behind panelled walls that you had to open and slide back to get to counters, cabs, etc. If memory serves, a 17' long island. Some things I did like, such as original windows looking into the dining room. Thw biggest issue was flow. In the bottom right is a doorknob to a half bath! The finishes would not have been my choice, but they were nice.
BEFORE:

We gutted it and made it very "porous". There is an opening to the hall, an opening to the breakfast room, doors and a step down to the DR, and openings on either side of the stove wall to the family room. The flow is much better.
Here are a few photos. Floorplan is at the end.
Long view as you enter:

A few favorite shots (more in the link)

Materials used:
1 Custom cabs with sliding glass doors, Palladian Blue- washed beadboard backs
2 Subzero with custom tiger oak skin and icebox hardware
3 Lacanche stove with stone b/s to match FR fpl on reverse side
4 Hand hewn cherry countertops
5 Dolomya marble island top
6 FP dish drawers
7 Herbeau faucets (2)
8 Il Fanale lighting
9 Swedish antique breakfast table and bench
10 Island 1; zinc topped french pastry table, or so they claim
Island two; custom copy of old general store counter
12 subzero freezer drawers in pantry
13 garden faucet for pasta faucet
14 Pewter countertops at glass cabs
15 Benheim antique glass; very slight waviness
16 Carlisle random width wide plank eastern white pine finished in tung oil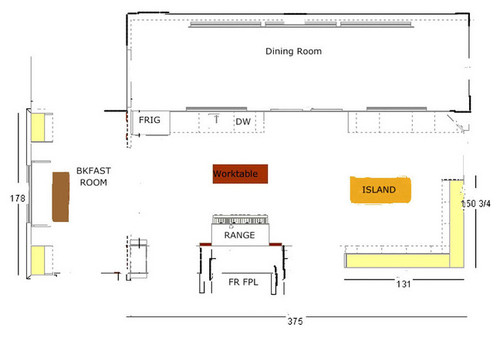 Here is a link that might be useful: Password is the site you are on
This post was edited by mtnrdredux on Fri, Aug 1, 14 at 21:58