Backsplash in progress--SOOOO excited!!
We are remodeling a second home--lot of DYI and some help from contractors as needed. It will be a long process, since we can only get out to the house about every other month. The house is a mid-century modern (prarie style) house. Very cool home. Very much in need of TLC and upgrading.
The kitchen is the first inside room we are tackling. Picking out things from afar is so difficult. It all started with a 20% off sale at IKEA. Since the entire remodel (including structural improvements) is going to cost a chunk, we decided to save on cabinets and spend $ on countertop, backsplash etc.
This past weekend we were out at the house and started installing the backsplash. I had looked a tons of backsplash options, toted many options out to the house over a several month period, and found "the one" in July (many thanks to Majra--her backsplash in her two-toned kitchen made me run down to Walker Zanger to get samples).
Anyway, I was tickled pink as it went in this weekend. I was trying to marry cool and warm tones (the cabs are a warm beech and we have stainless on the island cabinet fronts and some appliances). I wanted a little "bling" but needed to be careful because the opposite side of the kitchen faces south and is/will be all glass, so we get a lot of light and didn't want it too reflective. I'm bleary from the red eye back to the east coast, but I figure only GWers will appreciate this!
(The tile will extend all the way up the hood wall. We ran out of time.)
Here's a pic:
Cabinets: IKEA ADEL Beech
Counter: Caesarstone Dreamy Marfil
Backsplash: Walker Zanger Waterfall. Rain pattern. Color--Moss/Oyster/Onyx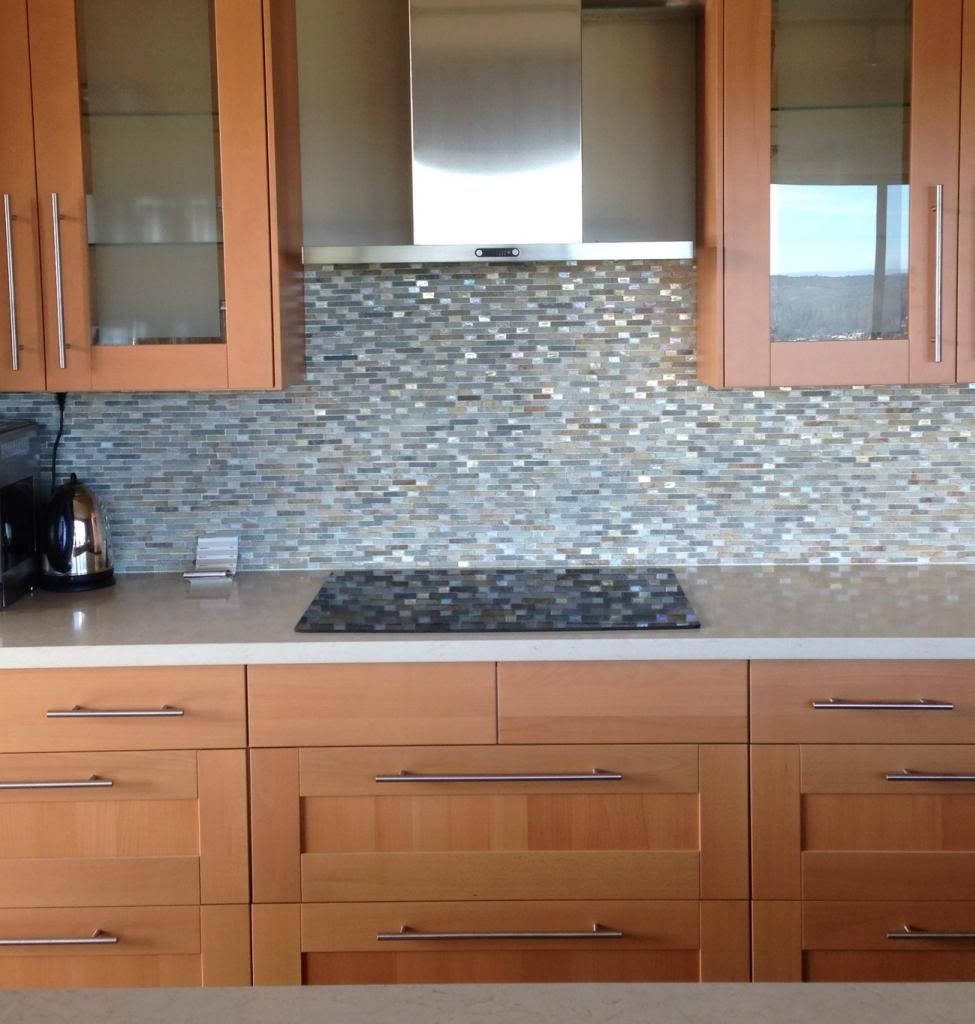 Here are two close ups. On my Apple computer/ipad, the colors are pretty true to life
And here is a long view of the kitchen. If you see the round globe in the next room, that is actually one of two original lights in that hang down in that two-story space. At first I thought they were awful, but I really like them now.

Now to get the floors refinished....