Gallery Wall help/Advice kitchen/dining area??
EllaInspired
August 17, 2013
Hello!
I posted before but it got lost.
I'm going for a bohemian/eclectic feel in my small apartment, but I'm challenged with my dining area.
So far, I know that I'd like to hang up some art, and maybe a place for mail. I know I'd like an 11x14 painting I made to display over my table.
The table I have chosen is the norden gateleg table. When folded down, it will rest like a sofa table under the artwork. For parties, this will be my bar or coffee station. I will store the (ghost chairs, wire chairs or modern stools, yet to decide) in the closet or stack in the center of the wall when not in use. The closet in the picture contains a small home office, so when you're sitting at the table, with the closet open, it functions as a desk.
Questions~
Do I paint the wall? It can be easily seen from my bathroom and living room, and is an open layout with my kitchen. I haven't painted anything yet, maybe I should go with an accent wall? Maybe I should paint a wallpaper pattern? What are your thoughts?
If I go with a gallery wall or picture ledges, I know I'd like to incorporate a mirror, maybe a clock, a round black/gold/silver metal award (the size of a dinner plate) into this collage. How do I blend finishes? The award is antique but I'd like some contemporary art, and some typography, and other things? What else can you incorporate on picture ledges? How do you leave space for large canvases without the ledges being too far apart? What else would you include on a wall like this?
How do I maintain consistency along this wall, when it is part of two separate spaces?
The opposing wall is 1ft wide, and the back wall is all closets. Any idea what to do with them? Do I carry this wallpaper pattern through? Do I incorporate white into my wallpaper pattern so that they blend? I'm afraid one brightly colored wall will make all of the white walls feel unfinished.
I have two cans of paint at home, leftover glidden wood smoke from my bedroom which is enough to do a morrocan lattice pattern, or a full can of glidden dusty gold. My front door is japanese kimono red, and opens directly into this space. Which do you think matches better? I would also like to bring turquoise into the space, because the adjoining bathroom is robin's egg blue.
There is a radiator behind the door that runs about 2/5ths of the way down the wall. Do I compose a gallery wall above it? Should I put an entry "station" for mail and things? I saw the Lunis by Ikea, can I incorporate that into a gallery wall? What is a good composition for the art I should use on this wall? I'm not a minimalist by any means, and want this space to be the most interesting focal point in the room.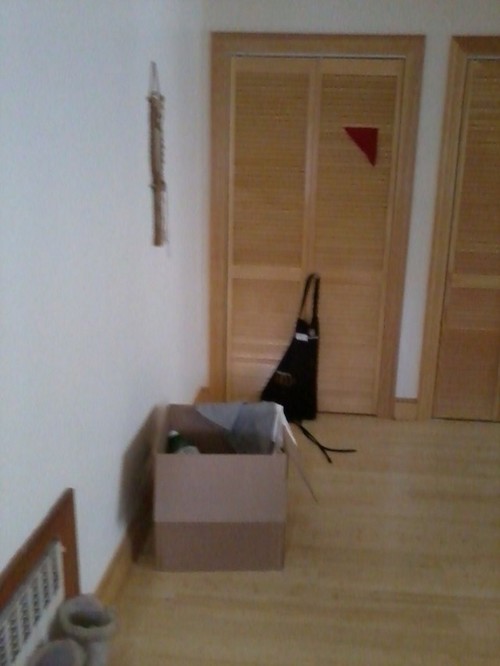 This post was edited by EllaInspired on Sat, Aug 17, 13 at 13:18