Please help! Coffee table talk
michoumonster
December 12, 2013
Hi all,
I am trying to put together my family room but have run into some issues. Things we already got: nailhead daybed, industrial style bookcase and TV stand. I am not sure if the TV stand goes well with the other pieces because it is a more reddish color while the others are more brown, but DH got a deal on CL for it, so it must stay, lol.
Can a coffee table or other furniture pieces somehow help tie everything together? any suggestions on wood tones, etc I should look into? any particular pieces you can recommend? thank you for your advice!!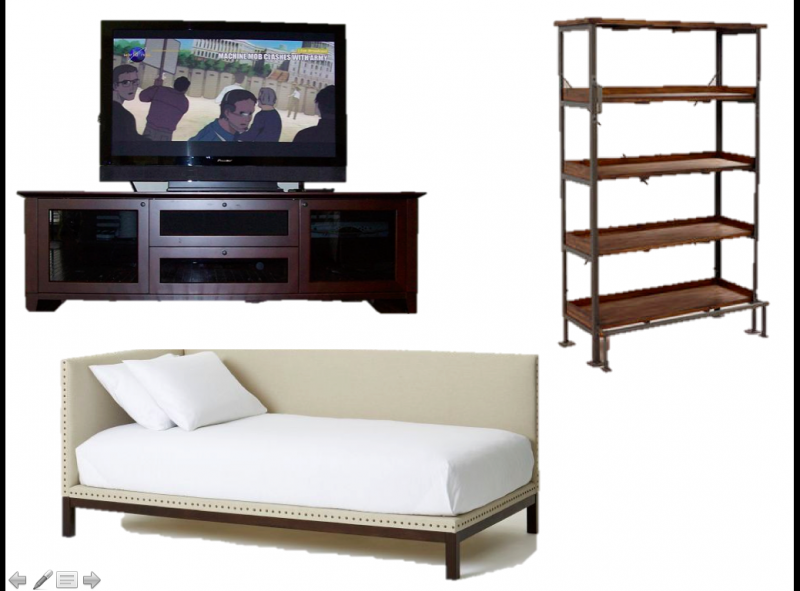 Here are some options we are considering:
option 1: steel frame coffee table with fancy wood top
i think this style and color would match the tv stand, but not sure if the coffee table is functional for us, seems like its edges might be too sharp for our toddlers.
option 2:
we both like this room's style very much and color palette too, but we need larger coffee table and side tables for all our junk.

option 3:
functionally, the nesting coffee tables woudl be perfect since I can see our toddlers each getting a baby table for activities and no sharp corners. DH agrees on the functionality, but thinks this room's style is too sparse.

option 4:
DH and I both like the style of this room, but coffee table ottomans haven't worked well for us in the past for drinks, etc and we are too lazy to get coasters or a tray (or train our toddlers to do it).

any other ideas?