Yellow cabinets Kitchen progress pictures DIY
jterrilynn
August 14, 2010
Finally making some progress on my little kitchen although husbands back is shot and so is mine. We still need to secure base cabinets,and have yet to rip out sink, dishwasher and upper counter area. Also waiting for the crown molding that both I and online cabinet site overlooked. Under cab lights are done, angled plugs done.
I can't wait for the install of the couple of mirrored doors and the glass backsplash. The special order 9 1/4" stainless behind range backsplash with a little 2" ledge looks way cool when I held it up. I'm reusing most appliances although frig & sink are new. The vases/pots up in the two display cabinets are just there for me to get an idea of scale and will not be used in final kitchen.
Friday was a good day on granite picks with me settling on two different granites, the warm golden color will be over on the section with the upper creamy yellow cabs with dark cherry bases. The dark granite will be honed and on the other side of the butcher block table at the sink and eat-in counter area.
I am still in search of a creamy light yellow subway or similar tile as a transitional peice between countertop and glass tiles in the two tone area. Seems most tile shops around me have gone out of business, those who haven't don't have much, the samples I ordered online are green-yellow...another pain! Help?
http://s1004.photobucket.com/albums/af170/jterrilynn/kitchen%20progress%20pictures/?action=view¤t=kitchenprogresspictures008.jpg" target="_blank">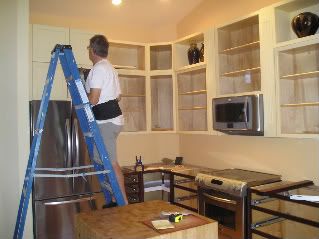 http://s1004.photobucket.com/albums/af170/jterrilynn/kitchen%20progress%20pictures/?action=view¤t=kitchenprogresspictures007.jpg" target="_blank">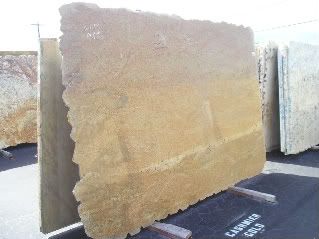 http://s1004.photobucket.com/albums/af170/jterrilynn/kitchen%20progress%20pictures/?action=view¤t=kitchenprogresspictures006.jpg" target="_blank">