Opinions please on stove backsplash choices
Okay, narrowed my stove backsplash to 2 contenders. (click for bigger images)
First is a copper panel to try to tie in the copper apron sink and the second is to continue the white (TBD which white) subway behind the stove wall and then have a lovely Motawi type center tile.
Please ignore the walls of the room behind the stove wall. I was playing with some wood brick options, but DH is heavily in favor of vertical knotty pine walls, so there won't be that brick pattern behind the brick pattern of the subway tile. I just didn't feel like changing the image right now :>/
Also is a pic of the sink (sorry for everyone that has seen that too much already) for comparison with the backsplash options. Please ignore everything in the sink picture but the sink. Another old playing around image.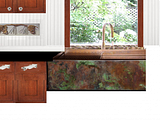 So, what does everyone/anyone think of the two options as far as the overall look?
addendum: it's just occurred to me that with the knotty pine walls in the room behind... will that take away the pop factor of the copper panel? Wondering if the copper will fade into the room behind it? hmmm...