Should I make this change (part 2) - Another option? HELP!
blackchamois
August 13, 2012
Help! I am off to meet my contractor and cabinet guy today and will be discussing this.
You all gave me great feedback on the raised bar/counter height dilemma.
Since my OP, I came up with another option (B) that I would be fine with. I could keep the raised bar on the long side of the "L", but eliminate it on the short side. This would give me 12" more in width to the counter height portion. Better than nothing, right?
So if you wouldn't mind, I'd love some thoughts on this:
- Option B - raised bar on one side only (below)
- Option A - counter height all the way (next post)
- Option X - Original plan to have a raised 'L'. Calling this Option X as I know I don't want this!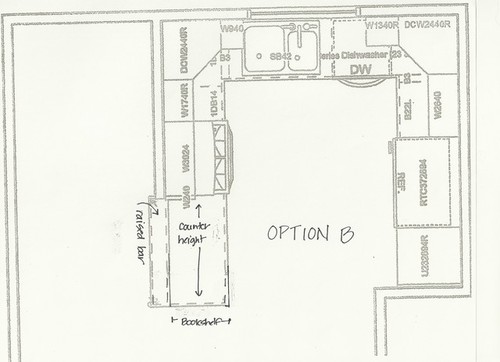 Here is a link that might be useful: Original Post - Should I make this change?