Urgent question about granite fabrication and seam placement
washergirl
August 24, 2014
We are in the middle of a kitchen renovation with granite scheduled for installation this week. It is a fairly large project and the planning process took several months. During the entire process I was told the granite countertops would have one seam - located at the sink. I personally selected my two slabs (don't recall the name, but a fair amount of movement and pattern like Delicatus) and was present for the templating. I requested to be allowed to be involved in the mapping of the granite. I had to make an appointment for this and was charged extra. When I arrived at the mapping, I was told there would be two seams but there was no explanation given as to why - just "we have to"
Below is a picture of my layout - apologies for my poor artwork. I cannot understand why this installation cannot be accomplished with one seam, and, if it cannot be, I don't understand why I was not given this information from the start. I would have chosen a different granite or a different countertop material as I think the seams and the pattern matching will be impossible to accomplish with this particular stone - especially with two seams on the same run of countertops.
My questions are: is this possible to fabricate with one seam? Am I unreasonable in expecting that I should have known the correct number of seams prior to selecting the stone? I'm not sure I have any recourse at this point as I would imagine the fabrication process has begun. Appreciate any guidance.
Edited to correct my terminology errors - originally said I was present for the fabrication - I meant I was present for the templating. Ugh - losing my mind with this project!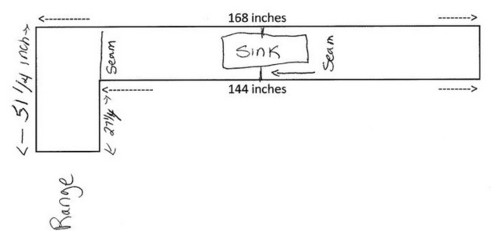 This post was edited by washergirl on Sun, Aug 24, 14 at 17:28