Painting Leather Furniture
funkyart
November 15, 2012
I know a number of people have painted fabric furniture.. but has anyone painted leather?
I had a guy from a local consignment store come look at furniture I need to clear out of my grandparents' house-- and we ended up chatting about a number of projects I'll be doing in the house. When I asked him for a recommendation for a local reupholster for my leather sofa-- he said, "you need to check into painting it!" He didnt know details but he'd seen a sofa someone had painted and he said it was gorgeous-- and cheap and easy.
Sure enough, there's lots of info on the internet.. you can paint with acrylics, chalk paint or spray vinyl/fabric paint (which seems to be the easiest). Paint won't solve all my problems with my sofa but I am tempted to give it a try.
The link below shows a sofa painted black.. but I've seen pink leather office chairs, blue sofa/chair.. the possibilities are endless!
I would love to hear from someone who has done it. I'll likely pick up something inexpensive on CL to give it a try.. but would love to know how long it will last and if you have any tips!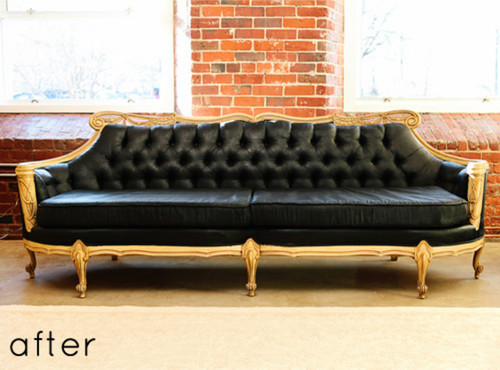 Here is a link that might be useful: The Before/After and Steps for painting leather sofa