DH is flipping out about lighting. Please weigh in with help.
Well, my DH is at the freaking out point about wiring up lights again. He gets like a bear trapped in a net over this topic and always thinks I want too much light.
Here is the dilemma: I have no uppers flanking my stove and need some task lighting so obv. there will be be no UCL. I wanted either pendants or recessed spots and have decided against pendants to get away from visual clutter in that area. Also, for them to be low enough for me to be useful as task, he'd be banging his head into them at 6'5". Thought about pulley lights but seemed to take away from the clean look around the stove. (please click to enlarge)

He fears there isn't enough room for the recessed light box to fit under the roof rafters. Something about scissor joists or whatever. I can't cypher out this recessed lighting stuff, it makes me crazy. And I can't seem to find the dimensions of the boxes for the led light cans. Are there boxes even?
Is there a surface mount spot light like on a track light but without the track that would give me decent task lighting from a 9 foot ceiling and be unobtrusive? I don't know what to do there, I just know I want task light and it has to come from 9' up and I really don't want much of anything hanging down.
In the overhead view below; the green dots are where I'd like to have these:
Sorry this image is no longer available.
and the red dots flanking the stove are where these recessed or surface mount or maybe flashlights hanging on a string :/ would go.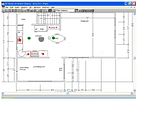 Does anyone have any ideas for visually clean, good task lighting other than recessed? Or are led recessed smaller overall?
I do have a related post on the lighting forum but so far no bites.
Would so appreciate some guidance on this.