Looking for some opinions (sorry, long post)
Hi, I've posted a couple of replies here and there but am mostly a lurker. I'm getting very close to my kitchen remodel (new Ikea cabinets are sitting in the living room and we're tearing out the old ones this weekend) and am looking for opinions.
We bought our house 5 years ago with big renovation plans that have slowly been ratcheted back as the economy tanked and my husband has gotten tired of all the projects. However, the one part of my vision for the kitchen that has never changed is the faucet. I really love the huge, professional-look pre-rinse style faucets, and my husband is A-ok with me getting one if it will make me happy. The problem is that the closer we get to pulling the trigger the more worried I am that it's going to look stupid and over-the-top in my house.
We live in a typical builder subdivision house, built in 1994 - all the houses in the subdivision have masonite siding, 3-tab shingles, steel front doors, wood windows with GBG, carpet or laminate flooring, etc. We have upgraded quite a bit: new architectural shingle roof, in the process of replacing the rotted masonite siding with fiber cement, new fiberglass front door, new Jeld-Wen windows with SDL, hardwood floors throughout (got a killer deal - the carpet needed to be replaced and the wood was cheaper than carpet), we have scraped the popcorn off the ceilings, installed crown moulding, nicer baseboards and casing, built a masonry fireplace with a custom mantel and built-ins to both sides, etc., so the house doesn't feel builder grade, but it is still a smallish house with a blah sort of floor plan and in a very builder-grade neighborhood.
We are using Ikea Ramsjo cabinets, brown-black on the bottom and white on the top, with the Domsjo single bowl farm sink and Numerar countertops. I think the big heavy sink is perfect for the type of faucet I want, but am still worried about it looking silly. Also, a few months ago the hideous, awful light above the sink died and we bought a new one that we thought would be nice in the new kitchen... but it is a fairly large pendant, and I'm worried now that not only will it conflict with a big faucet but the style won't match.
Here are the two (very similar) faucets I'm considering:
This is the light fixture currently over the sink: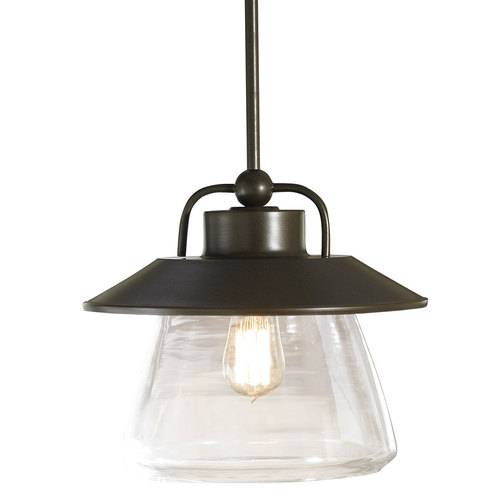 Here is the range hood:
And here is a pic of the ramsjo cabinets. (though it doesn't have the oak butcher block counters or the farm sink that we will have)
I'm not even going to think about backsplash till the cabinets and countertops are in, but I think that should give you a general idea of the style. Thanks so much for any input.