Redroze's Granite install - Bad seams and all
Okay, I am so over my last post of whining. I'm here to share my experience with all of you, just as I've absorbed tons of good information on this forum.
The granite install only took 4 hours. That's short considering there were 4 pieces to bring in, including a 3x8' piece for the island. We did all of the prep work thanks to GW - removed counters below main and prep sinks and cooktop, saran wrap and painters tape on glides. We also rolled out paper to give them a path on which to walk. They were awesome, I didn't know whether to tip them at the end but I gave them some home-baked brownies (from my mom) and bottled waters and they were so happy.
What went well:
- The fabricators were awesome. One experienced guy, two less experienced guys, but the lead guy was so good at directing them.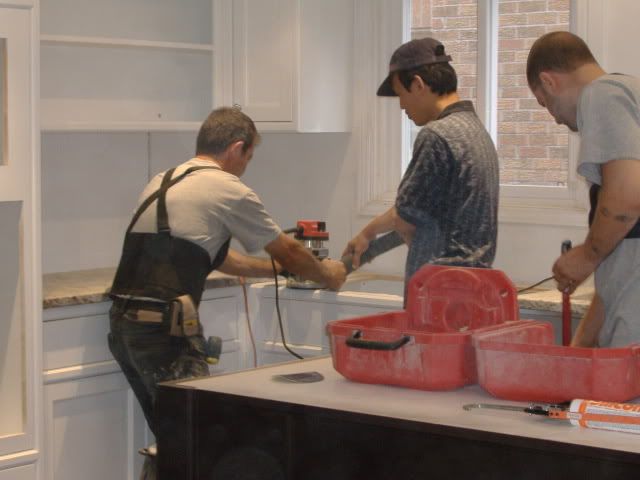 - They brought a vaccuum so there was barely any granite dust for us to clean up.
- The edges look great - square and chunky, and polished just like the tops. It's 1 1/4" and looks really good around the sink reveals.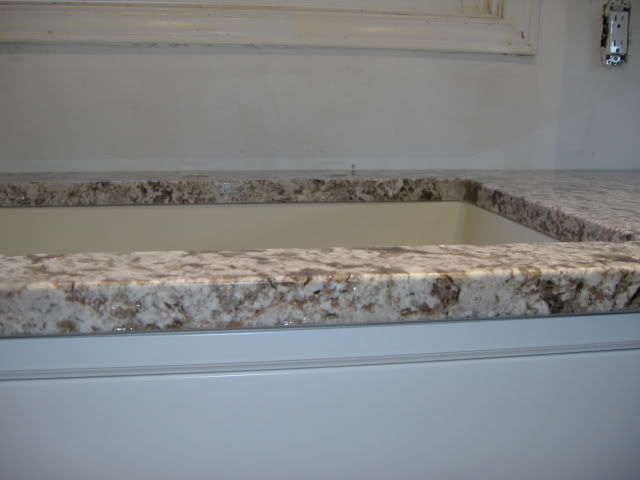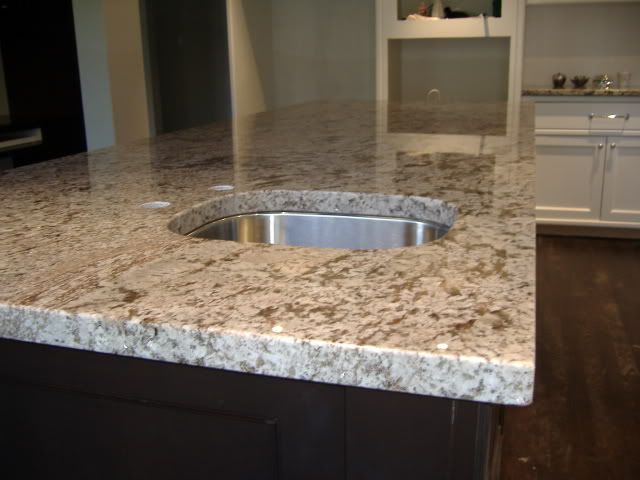 What could have gone better:
- Our granite doesn't have a defined movement, but the seams could have been done better. As you can see, they don't quite match up well. Especially the grey splotch in front of the cooktop seam that looks like grout (or whatever you call the granite material to fill in the seams) but isn't. The short story behind this, the guy measuring for us was a complete a$$ to hubby and I, I think partially because we look young, and rushed us when we insisted on coming for the templating. He told us to specify where the island would go, but all the rest was too difficult for him to explain. We had to come in after work one day as he messed up on the Saturday we were supposed to come in, and even though we were half an hour early for our appointment, he intimidated us and rushed us out before our appt was even supposed to start (claiming he had another client)!! We had a sick feeling and asked the cleaning lady to let us in, and we taped up our slabs as best we could to show areas we wanted to avoid and areas that we wanted facing the wall. In hindsight, we should have just rebooked another appt. He said they would phone before the cut it so we could look at it marked up, but when I phoned to follow up the woman said they already cut it. Maybe he was pissed that we marked up the slabs without him.
Lesson learned, demand that you approve all templates before they cut it. You certainly pay enough money to justify coming in.
Look near the top where the grey splotches are. It makes it very obvious where the seam is. This seam is to the left of the main sink, they wouldn't do it in the center of the sink. This is also at the main corner so they should have done a better job of making it flow, as it's an obvious spot to put a seam.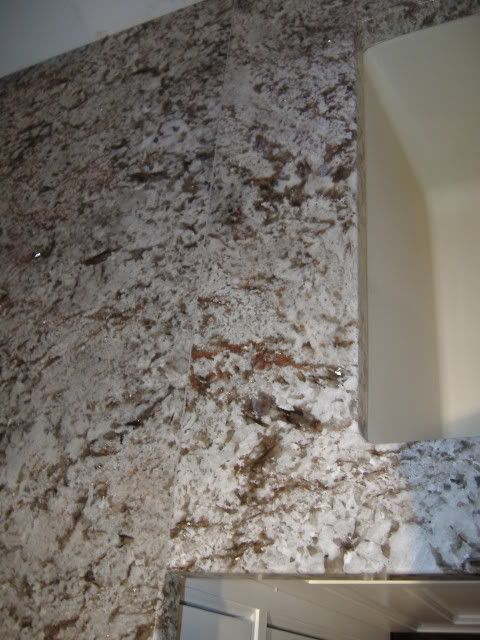 On the edge, to the left of the seam, notice the grey splotch that looks like grout but is actually a chunk of quartz. Looks worse in person.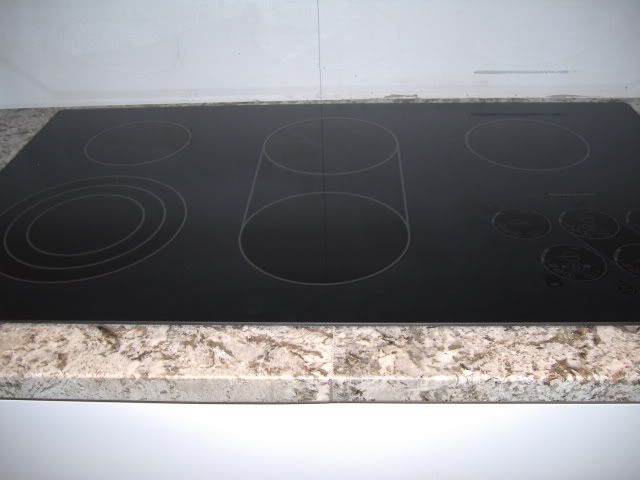 - Our GC friend comes in, and the first thing he spots is one small crack to the left of the sink!! Argh, we ran our hands over the surface to check but somehow we missed thsi one. We need to fill it in - any tips? Can we do it ourselves or need to bring them in again?
Notice the crack to the left of the red area, smack in the middle/bottom portion of the photo: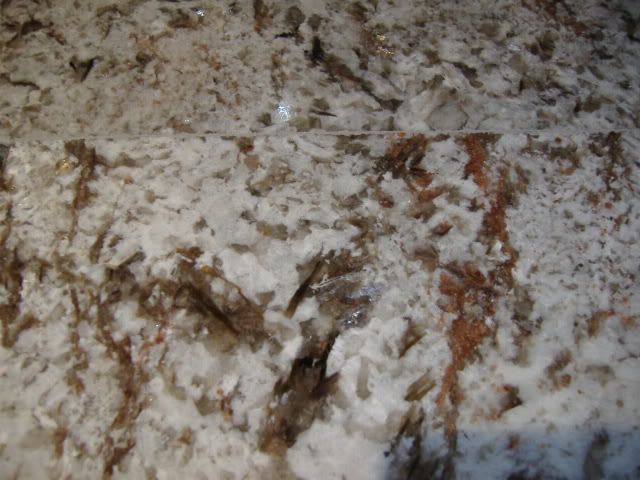 What I love (in a giddy kind of way):
- Our granite, Bianco Antico!! One one hand it has a very neutral base, is elegant, understated and has a vintage feel to it. On the other hand, especially in the evenings with the potlights shining on it, it sparkles and shimmers like nobody's business! It has bits of red garnet, silver leaf "sheets", black mica, and taupey grey quartz. LOVE it. It feels like having a jewel in my kitchen, thus its other name, White Diamond.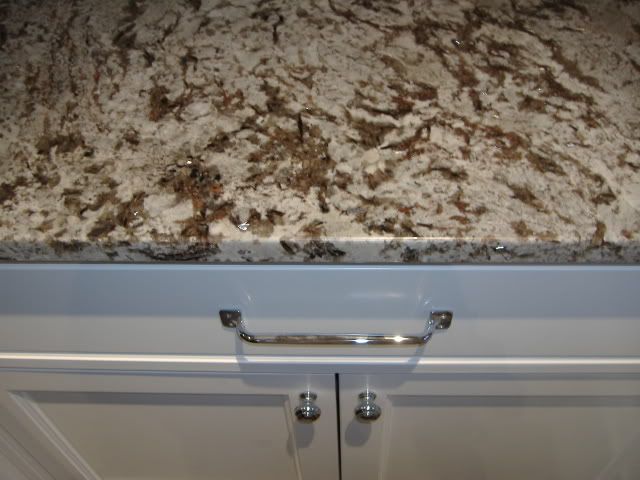 - My giant main sink and my tiny cute little prep sink! I wanted as small a prep sink as possible as I wanted tons of counter spce on the island.
Here are a few more photos: