Layout Suggestions - Please Help!
I just bought a new house and am completely remodeling the kitchen and breakfast area. I'm planning to use Ikea cabinets (Abstrakt gloss white) and I was hoping for some suggestions on my layout. Here is a link to the plan in Ikea's Kitchen Planner: My Kitchen
Background: Its just me. On a normal weeknight, I stick to quick cooking meals, using the microwave or cooktop mostly, or maybe the crock pot once I have room to leave it out. I don't use the oven much, sometimes for cheesecake, or the occasional casserole. I do like to cook though, and tend to go more elaborate when I have the time, or someone to cook for. (I'm an avid Food Network fan.) When I have friends over, I'd like to have seating facing into the cooking area to socialize while I cook. This is my first house and I'm moving from an apartment, so pretty much anything is more storage and counter space than I have now. Convenience is primary.
Info about the plan:
I'm planning on a FP drawer dishwasher to the left of the sink. I have a 24" wide drawer there as a placeholder.
My biggest concern is actually the breakfast area. With the bar, I'm not sure that I have enough room for a table. And without a table, it seems like a lot of wasted space (which isn't exactly limited, but I don't want an awkward empty corner). I like the idea of the bar for socializing while I cook though. (The breakfast area is open to the family room is part of the traffic path from the back door/mudroom into the family room.) Any ideas for this space??
Also, I was planning on extending the counter (quartz) in front of the opening between the family room and breakfast area as a desk of sorts, open underneath, with a waterfall on the end. I'm not sure what kind of supports it would need though. There was a half wall here, which I've already removed. Suggestions?
Any other thoughts on the layout?
I hope that's enough information (and not too much).
Thanks in advance for the help!
Update: Here is a top down view of the layout for anyone without easy access to the Ikea Kitchen Planner. Thanks again.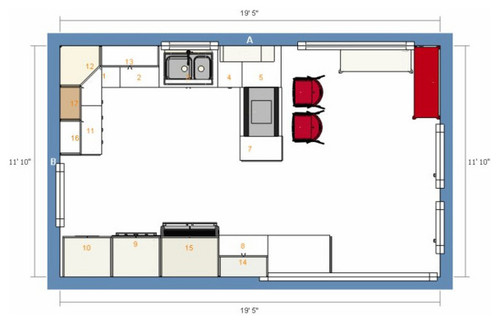 Here is a link that might be useful: Kitchen Plan in Ikea 3D Planner
This post was edited by Adlitha on Sun, Aug 18, 13 at 0:35