Finished Kitchen
First of all I feel like I must say a thanks to everyone here on the Gardenweb Kitchens forum. I found this site midway through the process while researching my countertop choices and quickly became an addict. I've found many useful, helpful, insightful ideas here that I've been able to incorporate into my new kitchen. It really is much better for having found this site. So thanks to all of you!
My DH and I were totally newbies to the reno process and ended up biting off a huge project. We started with a kitchen renovation plan, which grew into a general renovation of the main floor with some structural changes. Those spilled over into structrual upgrades in the basement and project creep turned it into a full on mainfloor and basement gut job. We had (mostly) excellent people working on our project, but there is also no question that the GW community here helped to keep me sane through the various bumps in the road. So again, thanks for that.
We've been done (or at least almost done ...) about 6 months now and I LOVE my new kitchen. I spend a lot of time in the kitchen and there is nothing like working in a space that functions well, with the details important to me having been chosen by me. And it helps that I think it's pretty too!
Without further ado, here are photos and details of my kitchen (including some details of the dining room since it's completely open). And there's a few more in the photobucket album if you care to open it. Enjoy!
Cabs: Norcraft, frameless, maple, door style - "Firefox", paint/stain colours - "Mission White", "Rapture Red" and "Weatherstone"
Hardware: Amerock Blackrock satin chrome finish
Countertop: Anastacia Soaptsone sourced in Canada from M.Tex via Greensville Soapstone. Crappy fabricator to remain nameless.
Backsplash: between uppers and lowers - Tierra Sol Rex Bianchi 12"x24" cut to 10"x12", behind cooktop - Tierra Sol 1.2x1.2 Palissandro Polished 3D Mosaic
Paint: BM colour matched to ICI "Wood smoke", hallway and stairwell "Mansard Stone"
Floor: existing red oak floor refinished with Java stain
Prep Sink: Kohler stages 33"
Cleanup Sink: Ticor S3650
Faucets: Grohe Ladylux3, Chrome finish
Drinking water faucet: Insinkerator HC-wave, polished chrome finish
Hood: Faber Stilo 36"
Cooktop: KitchenAid 36" Induction KICU569XBL
Oven: KitchenAid 30" KEBS107S
Microwave: KitchenAid built in KBHS109S
Main Fridge: LG 36" counter depth LFC21776
Bar Fridge: Danby 20" DAR482
Dishwasher: Miele Inspira series
Island lighting: Kendal "Optica" 6 light chrome & crystal light bar x 2
Dining room chandelier: Elk "Dione" 6 light chandelier polished chrome finish with white fabric shade
Bar stools: Chair tech "Venice", Black and chrome
Fireplace surround: refaced with Eldorado stacked stone "Black River"
Befores: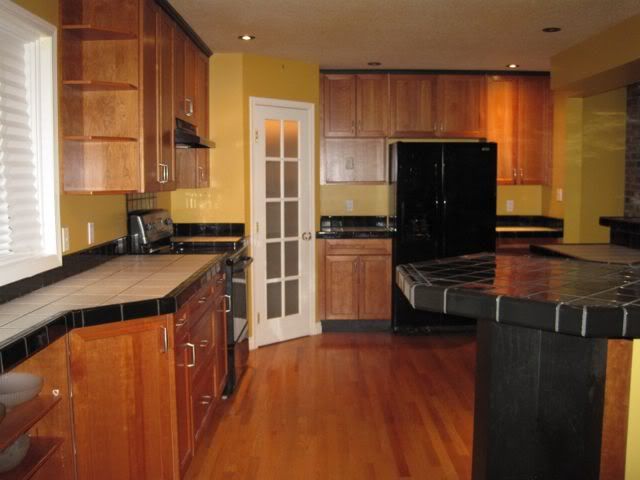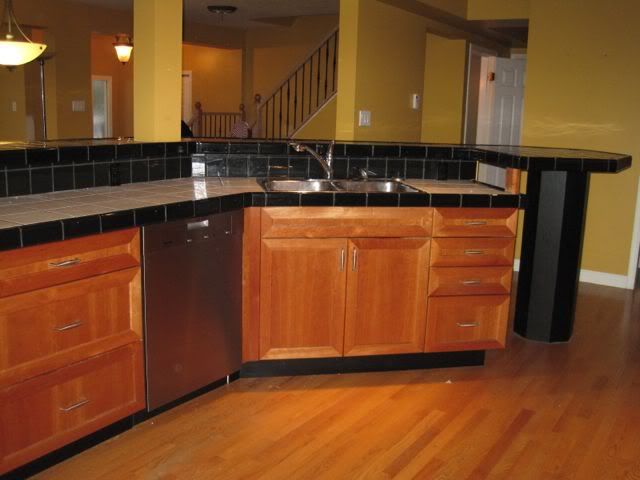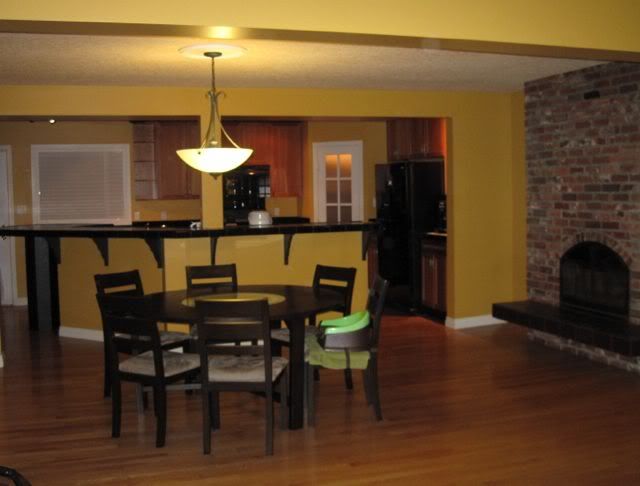 After: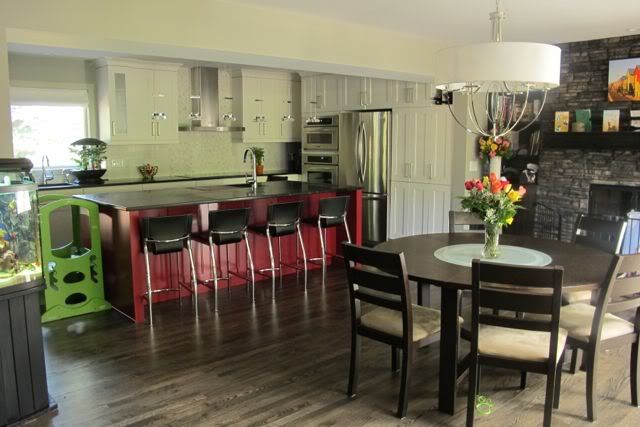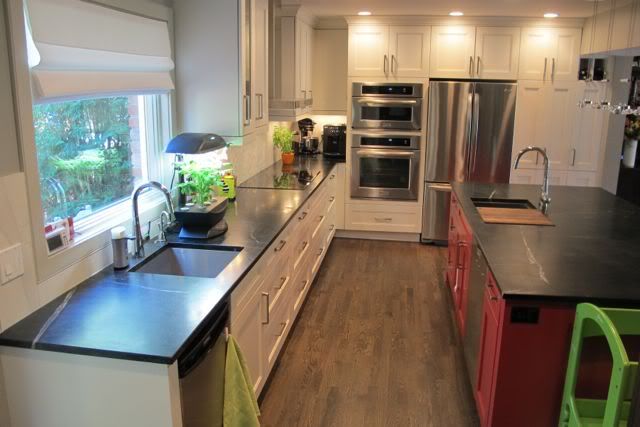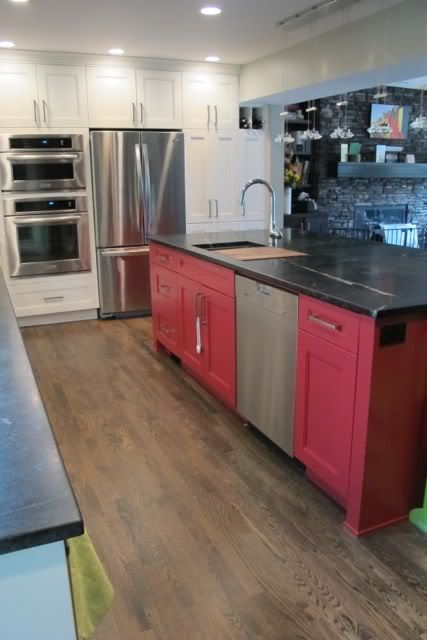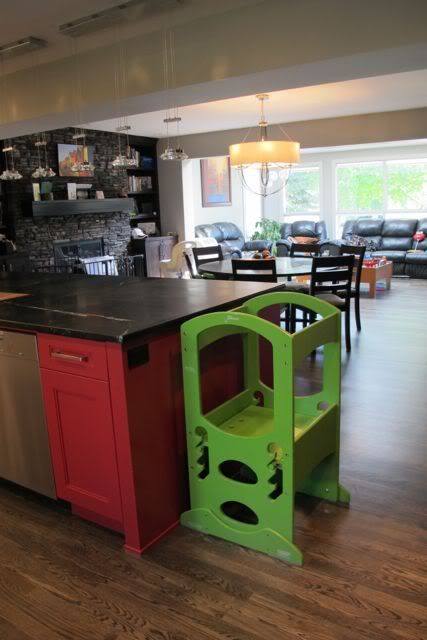 The kids' kitchen too ;)
Island cabs: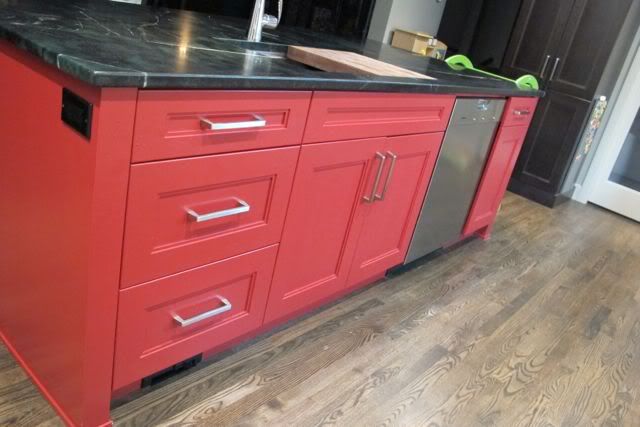 Island soapstone detail: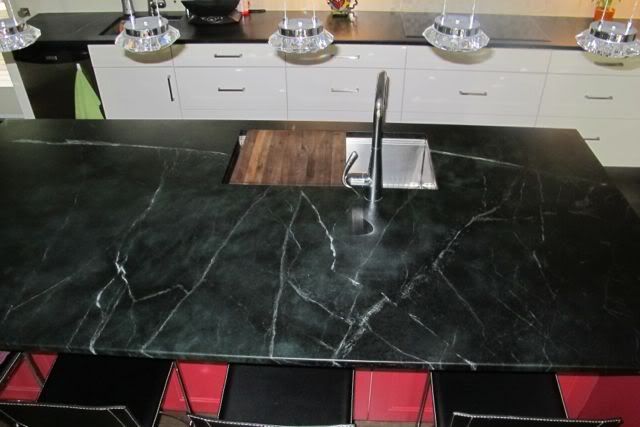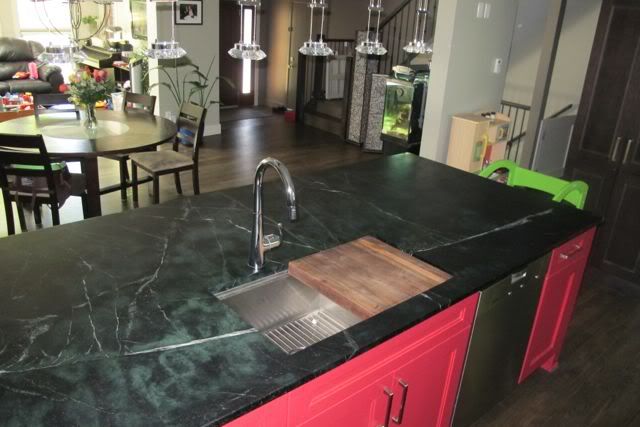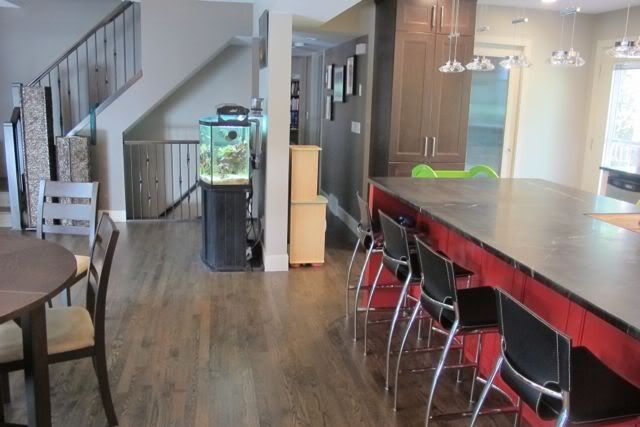 Island pendants: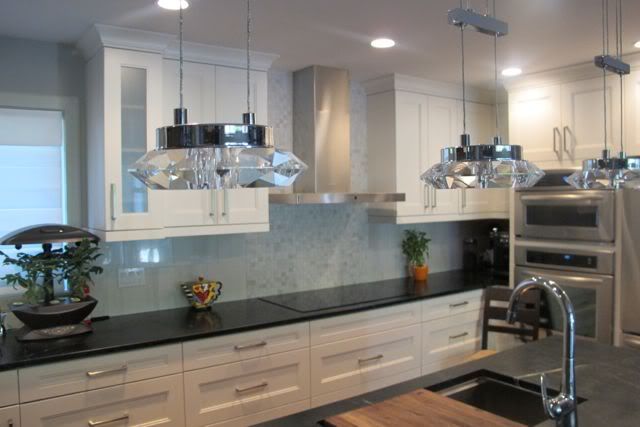 Backsplash closeup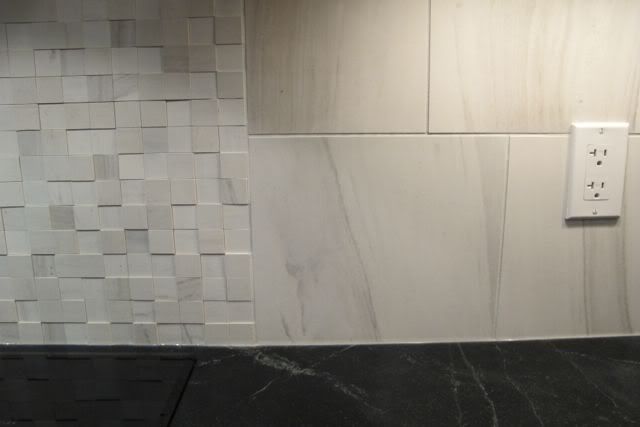 Spice drawer awesomeness (thanks GW!)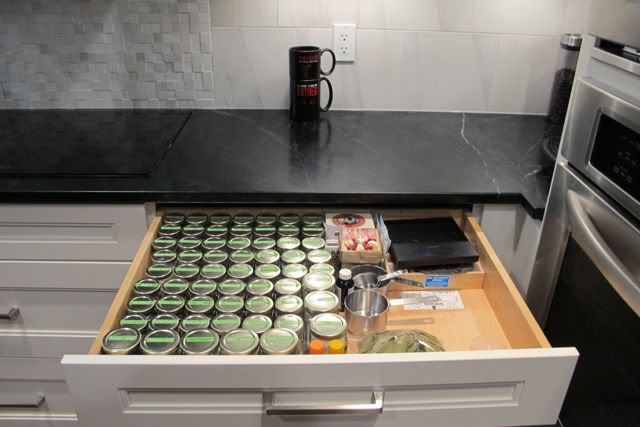 And one just for DH: