Need design advice: microwave in 28x40 upper corner space
In my small kitchen remodel, I do not want a microwave above my range and plan for a stainless, vented hood. My issue is finding a place for a small microwave (18-20 inches wide x 11.5/12 inches deep). I thought I had solved the problem by asking the designer to place it in an open shelf within a diagonal corner cabinet especially since I find the space in my current corner cab "frustrating"...I did not mind giving up the space!
The almost final plan has a corner cabinet 28" long x 12" deep. I have mocked this out on tag board; it is very large and will stick out 3 inches more over a right angled lower counter than my current 24" version. I nixed the idea of a corner appliance garage because I wanted useable counter space so I have issues about losing work space because of the corner cabinet's size. I am afraid a cabinet this size will also visually dominate. If I veto the larger corner cabinet, I need to find a place for a small microwave.
On one corner wall I am limited to 28" because of a window; on the other wall...there is 28" available, a 12" cabinet, a 30 " range, a 12 " cabinet, and a refrigerator. The designer will hate messing with the symmetry of those stove framing 12 inch cabinets but I see no other choice. I like the look of right-angled corners but agreed to the diagonal for symmetry. While I can "deal" with a blind upper corner, my husband HATES them and the easy door design because of scratching potential...definitely limits my options!
Has anyone ever cut down a corner cabinet to something like 18" or 16" wide x12" deep? This would leave space for a 24-22" cupboard available on the stove/ref. wall for the microwave. My idea was to use the corner space with an obviously small door for something like cookie sheet storage which would free up a lower 12" cabinet in my small island. The center of this size cabinet is deep enough to fit my cookie sheets but would this be functional?
Because my husband thinks this is the "stupidest" idea he has ever heard and maintains that I should just get over the 28" corner cabinet issue, any other ideas and input would be greatly appreciated. Is the loss of a 3" depth of workable corner counter space no big deal in a small kitchen with a small island?
P.S.: I have "lurked" here all summer reading and have learned a great deal from everyone's willingness to share their designs and give advice. I am sooo frustrated right now! This kitchen plan has been nothing but "What is the least worst option" and just when I thought all "issues" had been solved...
Corner cabinet looks huge on my tag-board mock up...cabinet is 28 inches deep from front to the back corner. Will a corner cabinet this size all the way to the ceiling over-power the space visually? As you can see, I have only two spaces larger than 12 inches other than the corner (The area next to the sink has a trash/recycle pullout) so I am very reluctant to give them up: the upper cabinet next to the sink and two 30 inch pullouts in the island where my pans will go. The lower corner cabinet is a bank of three fairly narrow drawers which I am excited about since it will eliminate a lazy-susan with an easy access door that constantly gets banged into the stove handles and the face frame of the corner cab. This is why my husband is against the same kind of doors in a 90 degree upper blind corner cabinet...sigh!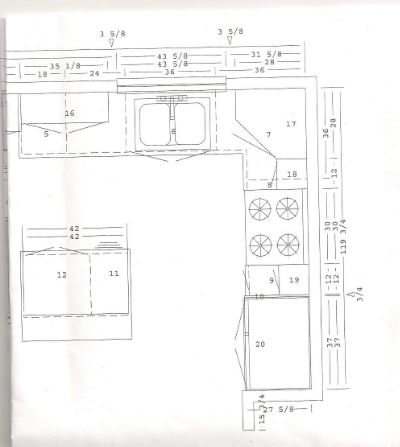 This post was edited by Ranton on Wed, Aug 28, 13 at 23:21