Trouble finding inspiration
My husband and I are in the planning stages of our kitchen remodel. I've been looking through the finished kitchen blog and so many pictures on Houzz. For the longest time, I hadn't found a picture I 'loved'. So many were pretty, or amazing, or so imaginative, but none made me say "that's it!" Here is a picture of my current kitchen. The house is from 1979 and the kitchen is in the middle of the house. There is a north facing door to the outside covered patio in the eat-in area, but no window in the actual kitchen. Even without a lot of natural light the kitchen is fairly bright. It has peachy tile, light gray/blue laminate, and we'd painted the cabinets a buttercream yellow. We're tearing out the upper cabinets on the shared wall to the living room and opening up that area.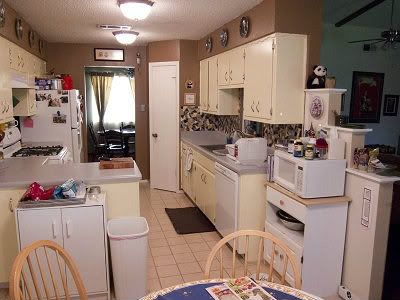 While looking for an inspiration, I kept telling myself that we needed wood cabinets, not painted. Growing up, painting your wood cabinets was the last thing you did before getting a new kitchen - but you always started with wood. But, so many of your kitchens that I've really liked have had painted cabinets - gray, blue, red, etc. Finally, I found these two pictures on Houzz that I really love-red cabinets with the black soapstone. The only decision we've made is that we're going with Soapstone for the counter top, so these really caught my eye. My husband likes the look of a stainless steel tile backsplash and that would work with the black/red combo. For the upper cabinets, we'll only have 4 and then 1 over the frig, and I think those would be natural cherry or some type of light color. If you look at our backsplash, it's a mosaic of a bunch of different colors which I put in after I bought the house - so I'm not afraid of color. But, I'm worried that I'll get tired of the black/red/stainless steel combo....but nothing else has really made me stop and say YES! We're trying so hard to not end up with a 'brown' kitchen but I'm afraid I'm going too far. Thoughts?
Eclectic Kitchen design by Austin Interior Designer Cravotta Studios -Interior Design
Contemporary Kitchen design by Seattle General Contractor Ventana Construction LLC