White Dove vs. Super White - Help!
Thanks to all for your thoughts on light vs. dark counters for my small kitchen! (Here is the original post: http://ths.gardenweb.com/forums/load/kitchbath/msg0700430721529.html?17)
I haven't found/settled on something yet, so I need to pick my white without knowing my countertop.... by, like, tomorrow... yeah, I know...
Based on my local designer recommendations, I'm down to BM Super White vs. White Dove. (Simply White looks too white in my space... whiter than Super White. And yes, I read the 2013 thread on Simply White vs. White Dove..) I am keeping my 12 yo white appliances... for now.
My designer suggests both will work with many countertop options (and she doesn't recommend Simply White for me... I'm going to stick with that.). She suggests Super White may work better with the appliances (a consideration to me, but not the only one). I am averse to ending up with really stark white cabinets. Door style will be 2 3/4" shaker, cabs full overlay (link to my OP included below). I will add LED undercabinet lighting (in 2700-3000K, so 'soft white'). And considering additional recessed lighting.
The attached photo, unfortunately in dimming evening light with incandescent behind, shows a couple of counter samples with these whites. Guess which white is which! The counter will overhang into my DR which has this carpet... I don't have kitchen floor yet but looking at going with a wood, tone/color dependent on counter selection.
One of the samples is a granite sample of Bianco Romano. If the slabs were coming in at these tones I would jump at it, but they are coming in more gray, or in deeper caramel tones (what I've seen so far). The other is a Cambria Windermere; just one option.
What are your thoughts on flexibility of these two whites? Super obviously pops more, White Dove blends more, and a particular countertop would dictate which would be best, pop or blend... but I don't have a particular countertop; these are just a couple ideas. (I think my fave could be Kashmir White that was out a year or two ago, but the little that is around here now is very gray). (I am attaching a link to a Bianco Romano that's a little too deep color but just for another example...)
Thanks in advance for any thoughts!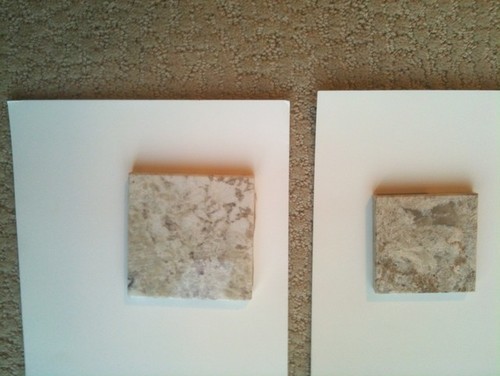 Here is a link that might be useful: Capital Granite
This post was edited by marg143 on Thu, Jul 31, 14 at 6:33