Removed Carpet.. now a few questions
funkyart
November 26, 2012
We removed the carpet from all but 2 bedrooms yesterday. I was not at all surprised but a little disappointed that I have orange oak flooring underneath. I could refinish to a darker color but there are many projects that are higher priority for me.
I know that greens help minimize the orange tones.. and I had already been planning a neutral paint color with green undertones. Ignore the paint swipes on the wall-- none of them work for me and the paint is very thin there on the paneling. BTW paneling will be primed and painted.
Questions:
1. the room gets a lot of light but the connecting hallway is very dark (until I improve lighting). Can I still with a light gray-green or will a darker color better neutralize the orange tones?
2. We removed a behemoth fireplace insert and will add gas logs soonish. I had plans to paint the fireplace & mantel. Would you paint? go off white? dark gray-green? Do I leave the elevated hearth alone or paint that too?
3. The curtains. Oh my. I will change the panels but the lace curtains have a lot of meaning to my grandmother. They were custom made and a large splurge for their frugal sensibilities. She's mentioned them repeatedly and I know she'd love for me to keep them. I am not opposed to lace curtains.. but these are not the lace I'd have chosen. However, they do provide the level of privacy I'd want while still allowing light through. Can I turn down the precious factor by using a loose weave linen or even a burlap like material for panels? I thought about trying Bosporus Flax Toile here (I already have plenty of yardage) but my mother said she just can't see them working together. I don't disagree. Mom's solution is.. "grandma, we had to remove the curtains to get them dry cleaned and so I just threw up this replacement.. " and then never replace. I'd like to make her happy by keeping them-- but only if i can make them work for me. The window is curved rather than three distinct sections so a replacement will be a small challenge.
So what would you go in this space? One last thought to a long set of questions. I'd planned to add some mid century flavor to the room but now that it's mostly clear, it is reading more cottage to me--which I am fine with. It would go even more cottage if I could put bookshelves on either side of the fireplace, but the fireplace face is only 3" from the wall. The big twist? The ceilings have a swirl design.. and that must stay for now. I am not prepared to remove it from each room.
Note.. photos taken before the floor was cleaned. They are very dusty and still have nails/tacks, foam backing remnants in this photos.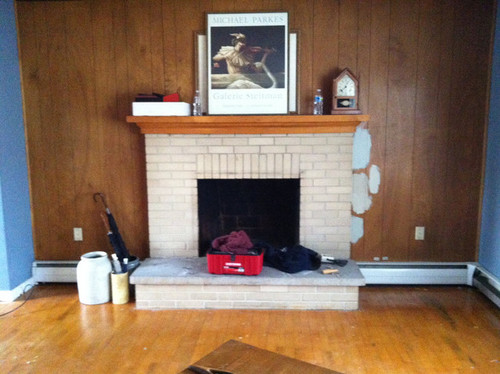 This post was edited by funkyart on Mon, Nov 26, 12 at 17:16