Shopping for a mantel shelf
franksmom_2010
November 30, 2012
I posted about our mantel a while back, and now can't find that old thread. We removed the mantel shelf when we moved in, because it was dangerously precarious. It's a rough cut piece of raw lumber which we think is either cedar or redwood, and it was also a bit splintery. This is what it looked like when we moved in:
I dug it out of the garage the other day, and decided to see if I could sand down the splinters and finish it. Sure enough, this is what I ended up with after sanding and a clear stain: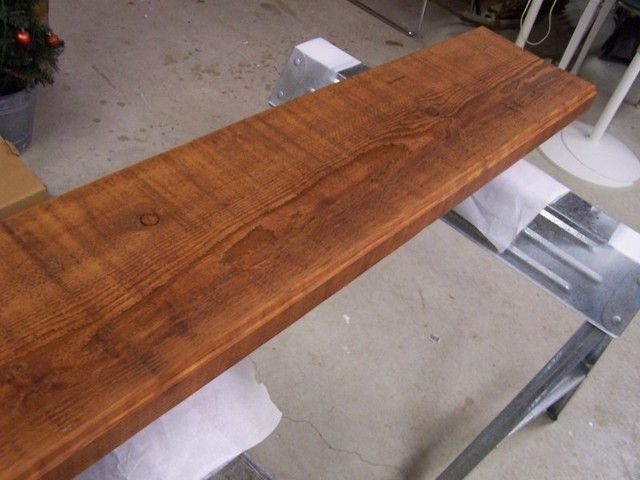 Brought it in to check the stain color, and remembered why is was so unstable. The brick supports are 6.5" deep, and the shelf is 11.25" deep. It really needs to be no more than 10" deep to be stable when it's installed, so I'm considering my options. The shelf is also 60" long, the brick is 62.25".
One other tiny problem...one end of the shelf is a wee bit warped. It's not terribly noticeable, but I wonder if that will bug me.
Here are my questions:
1)would you have the current shelf cut down to a 10" depth, or buy something new?
2)if I buy something new, would you go with a shorter length? Here is what a 48" wide shelf would look like:

The 60" length just seems out of proportion to me, but I'm bad with scale, so???? And I don't know if it seems out of scale because of the depth.
3)would you keep the current shelf and have both the depth and length cut shorter to minimize the warp?
I'm going to browse at a wood carving place today, and I suspect that if they don't have anything ready made, they can certainly either make me something, or cut the existing shelf.