Rift Oak Kitchen Reveal
First, THANK YOU to all the people that helped with the advice and help with the layout, colors, counter materials, well - just about everything! Couldn't have done it without the help of the people on this forum. You are all so great! Here we go...
Cabinets - rift cut oak vertical grain with a custom stain of base walnut with a gray/black wash. The finisher was like a cook mixing a little of this and a little of that. They turned out to have an earthy appearance (like the color of rich soil) and they feel like silk. This was not my original plan AT ALL, but when I saw them I loved them and then picked everything else to match.
Cabinet pulls - Schaub Sorrento - thought I was set on finger pulls because I wanted the sleek wood to be the showcase, but when I put them on (without screwing them in) they made the cabinets looks like lateral files. I really like the Schaub ones because they are a little softer with a very slight edge curve. I used some Atlas ones for the little cabinets where I had the outlets.
Perimeter counter is Ceasarstone Cinder. Looks green/gray to me but when I first picked a sample, many people said it looked brown/khaki. 2" mitered edge detail.
Island is White Princess polished. Really wanted honed but after much consideration and discussions with several fabricators and looking at my budget I decided to stick with what came straight from the granite yard. Turns out I actually really like the polish. It's not really that shiny after all.
Backsplash is Stone & Glass Blends "Stick Mosaic" in light gray.
Oven: Wolf AG 4 burner with griddle (scored a floor model), it was supposed to be delivered with red knobs, but I actually like the black so I'm just leaving them.
Miele Speed Oven - loving it so far. Don't microwave too often but love the 24" size convection oven. It's really perfect for everyday cooking and I don't have to heat the room with the big 36" oven.
Dacor paneled warming drawer below speed oven - this was an impulse purchase (not made my me :)) and I don't think we needed it.
Miele Futura Classic DW - got a floor model of this too, but wish I would have gone one model up to get the water softener.
Refrig - Kitchen Aid Architect Series Pro model. It's OK, but is noisy!
Hood - Modernaire (would not do again). The range hood was the trickiest part of the remodel because of window clearance and the tile. We decided to use an island style hood because we were running the backsplash to the ceiling, wanted to have some dimension to the wall and thought overall it would be easier to implement because with an island hood the chimney does not touch the wall thus wouldn't interfere with the tile.
Sink - Kraus 33" 70/30 sink - the largest one they make. We had a single sink before and I wanted a prep sink. But I wish I would have had a custom one made because I have a 38" cabinet and the 70 part of the sink is smaller than our old single sink so it feels cramped.
Faucet - KWC Luna
Floors - red oak floors (to match the rest of my ranch style house) but with a water based clear coat finish. This makes them more neutral in color and they feel like they have more of a matte/satin finish. I didn't want them to turn red/yellow. With water based finish they will remain this light color. Hoping my dog won't destroy them too quickly.
Paint - Benjamin Moore Gray Horse at a 50% reduction and the blue is Ben Moore Oxford Gray at a 50% reduction.
Lights - Tech Kable lighting. All LEDs. Still TBD if we will install pendants over the island. Don't want to detract from the windows and the ceiling design. The light fixture over the breakfast nook area needs to change too as it is too large for the space.
Still to do - art for the wall to the right of the range and furniture and landscaping! The stools are a loan from a neighbor and the family room red couch has seen better days. Also, the intention is to put a breakfast table in the window nook. We originally were going to put a built in bench/banquette but opted against it simply for flexibility.
Also finally finished the guest bath that is behind the kitchen. You can see pictures here. http://ths.gardenweb.com/forums/load/bath/msg062309138932.html?14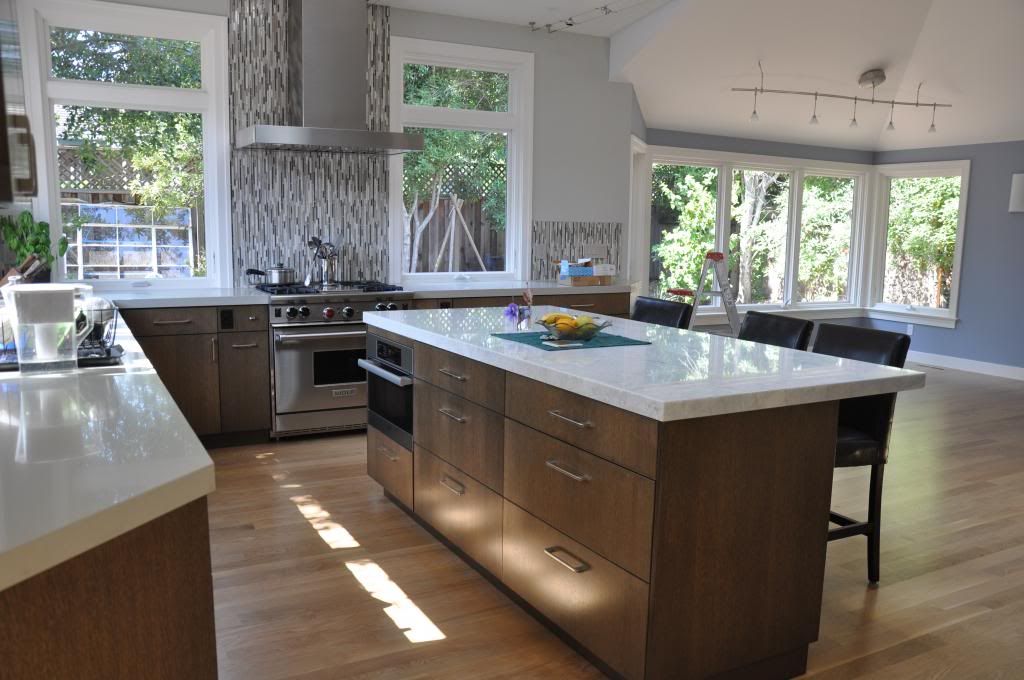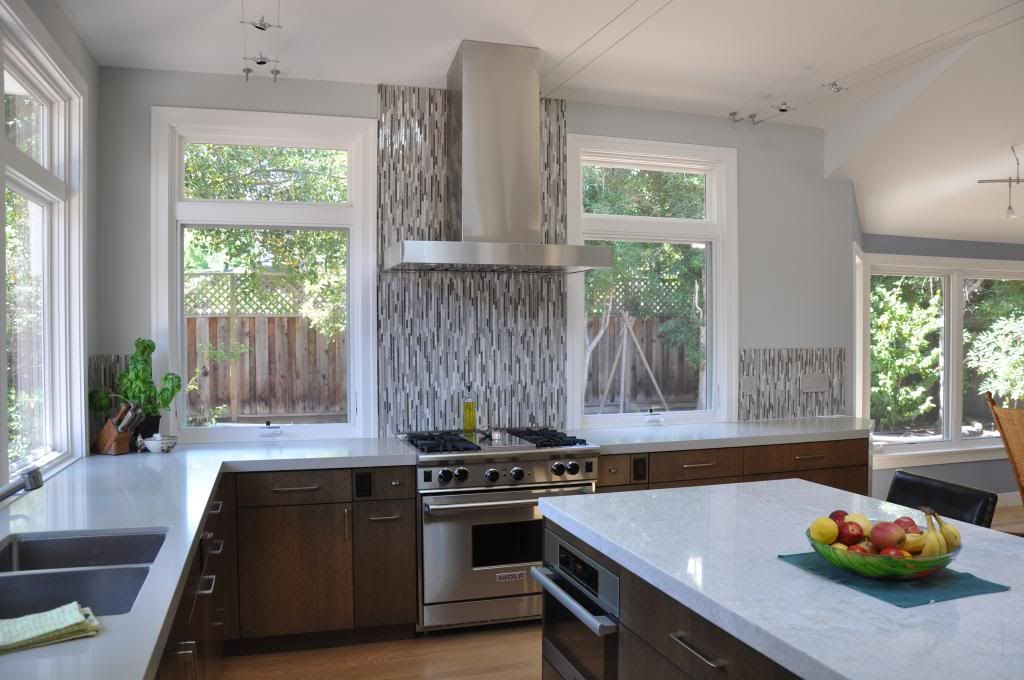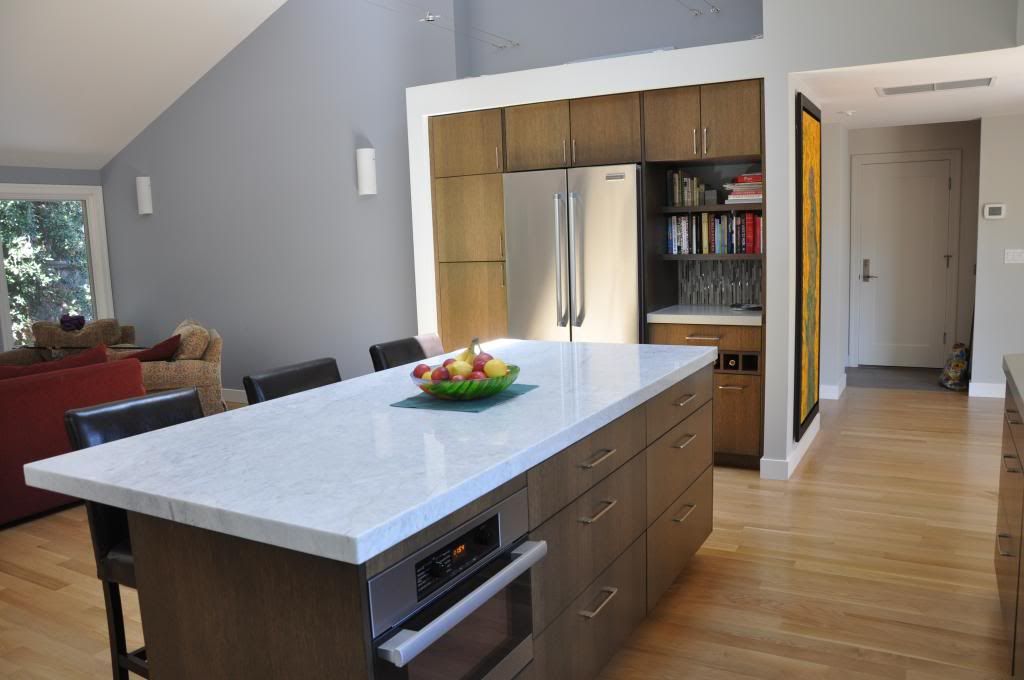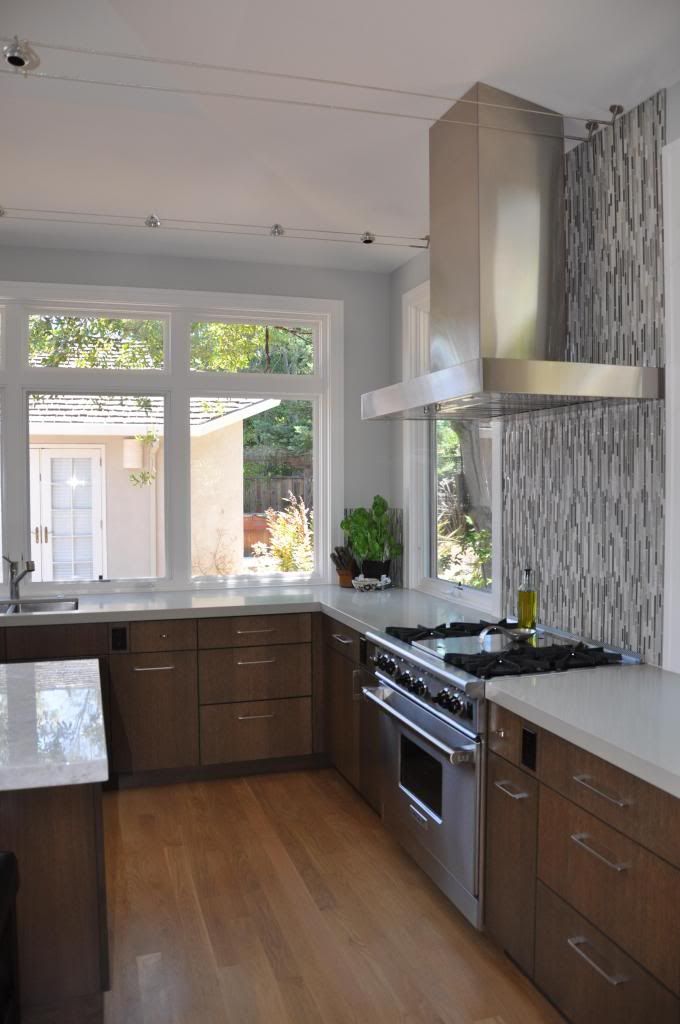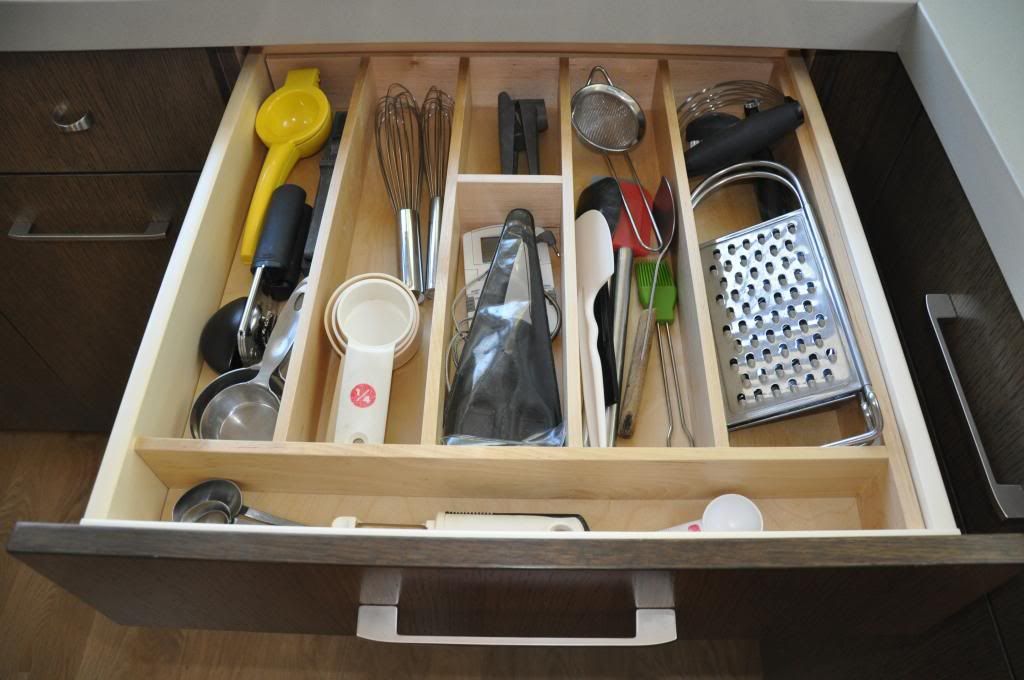 These are the tech lighting pendants that we haven't put up yet. The swirl in the glass really complements the grain in the cabinets. I'm just not too sure I want to detract from the windows.
Here is a link that might be useful: Guest Bath