Need reassurance/opinions on counter top and backsplash
Dear GWers, I could use your sage advice! My DH and I are trying to nail down the final look for our kitchen and are at wit's end.
Our home is a 1920s dutch colonial with all of the original unpainted woodwork, so we're trying to go for a design that suits the house but is also slightly transitional. The kitchen is roughly 9.5' x 17'.
It's a challenging space - 5 doorways lead off it plus a large window over the sink. All of this woodwork is dark cherryish stain (like "Acres" in this photo https://amishhandcrafted.com/sites/default/files/styles/large/public/cherry_stains_10.jpg?itok=5SIqehni)
For better or worse, we went with Brookhaven Alpine white frameless cabinets to make the space feel less dark. Now we've got to figure out the right countertop and backsplash to tie all of this woodwork to the white cabinets.
I'm attaching a pics of our rendering (ignore the blue cabinets, they'll be white. and that back door is dark, not white).
We've been toying with two looks, each with a darker counter to tie in the woodwork:
1) Raven caesarstone + honed calacatta subway tile backsplash and maybe a blue gray paint (inspiration photos: http://bit.ly/1oJZnDW, http://bit.ly/1ricD96)
2) Belgian moon caesarstone (an almost black look) + a very light gray glass subway tile (and we're totally stumped on paint color). (similar to: http://bit.ly/1ncxeK8)
We're totally on the fence about these.
With Raven + Calacatta, we worry that the calacatta will look cold and make the cabinet look to yellow/creamy.
With Belgian Moon + glass tile, we worry we'll be stuck with a rather drab monotone look on the walls (we really can't find an appropriate paint color). Also, given our smaller kitchen and the galley-ish layout, we're a little concerned that the belgian moon will look too dark.
Any and all thoughts welcome! Especially curious if anyone has white cabinets with calacatta tile. Or likewise, if those of you with Raven or Belgian Moon have thoughts on backsplash.
Thank you in advance for any feedback. We have immense decision-fatigue!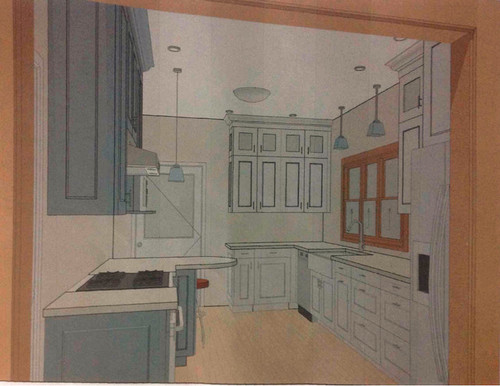 This post was edited by SophiePW on Wed, Jul 16, 14 at 21:47