Excited!! Help with Kitchen appliance layout
Hello! We are doing owner builder and will break ground soon. It will be large ICF mountain home, we are a young family with four children and many family members nearby and far away that will stay with us often.
I would LOVE some help in figuring out a few things for the kitchen layout to start with. (I've followed here for a couple years and love the advice you guys give!)
1. ISLAND: This is stinkin huge. Is this island really too large to get around day to day? Should I forgo the L-shape island and go with one long piece? Maybe even not that long? How long would you go?
2. APPLIANCES: I like the layout of the sink (looking into backyard), and the induction cooktop....but am wondering where the best location would be for the double oven and refrigerator (which is down at the bottom near the pantry right now). I'm possibly thinking the double oven might be best to the far left of the sink...next to the bench seat.
3. TRASH AT ISLAND? Since we are putting two dishwashers in to flank the sink, I'm thinking of putting the trash/recycle across from the sink in the island....does anyone have that set-up?
4. GENERAL INPUT? Any input on the kitchen layout before I get too far into sizing cabinets, etc?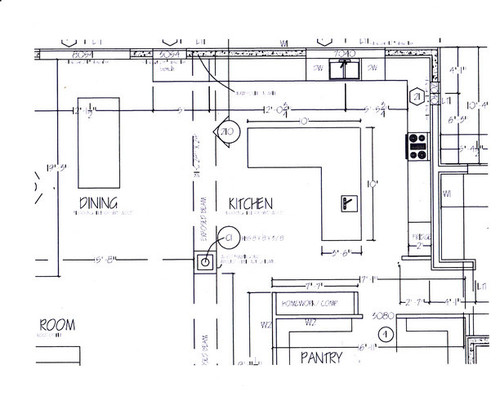 This post was edited by tempe110 on Wed, Jul 9, 14 at 13:18