Minor layout critique
NEW QUESTION in Post 18.
My proposed layout is attached below. Our current layout has a 30" range and refrigerator on the wall where the cooktop will be and an additional doorway roughly in the proposed refrigerator location. The current island is approximately the same dimensions, but the seating is currently on the proposed refrigerator side, not the window side.
I am aware that there are aspects of this design that are less than ideal. We are working with a full wall of original cabinets and sink.
1. The dishwasher has to be in the island. My husband vetoed sacrificing an original cabinet as an alternative (and it would have still been less than ideal, given the cabinet/sink layout).
2. I know our aisles are tight, but we are actually working with very similar clearances right now. I think correcting a lot of the inefficiencies in where things are located will make a huge difference.
3. The door "south" of the cooktop is the pantry closet. The second doorway on that wall, on the other side of the cooktop, leads to the dining room. The bump out cannot be corrected, because it's a structural chimney.
4. The cooktop will have open wall cabinets on either side, drawers beneath, and an under-cabinet hood.
5. The "double wall oven" is actually a speed oven/wall oven combo.
6. The "pantry" cabinet will be appliance storage, with retractable doors.
7. The mudroom/bar side will have a kegerator (we have one there now, but this will be undercounter), a small cabinet (which will likely be standard depth, even though it is pictured as 17" deep), a locker area, and some shelving above the cabinet/kegerator for glasses.
So, my primary question is, does anything look like it could be tweaked to be more efficient? I know some of you will have major problems with aspects of this design, but we have been through several possibilities - on our own and with kitchen designers - and this is the only one that makes sense with our parameters. Of course, I'd love to be surprised with an amazing layout that we haven't thought of!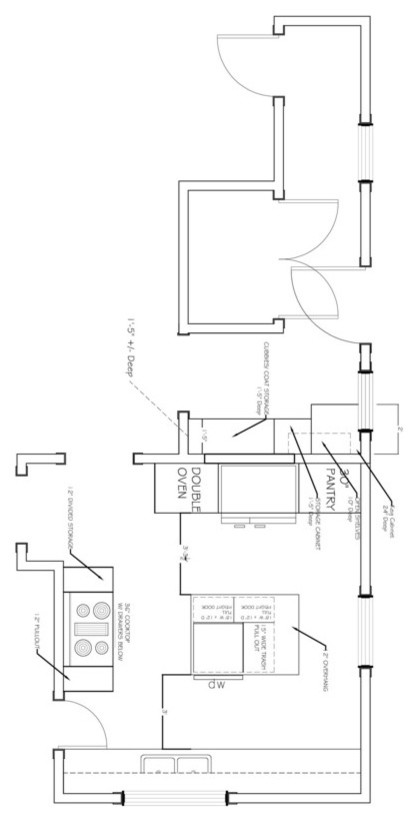 This post was edited by alerievay on Thu, Oct 30, 14 at 15:10