Finished Traditional Cream Kitchen
I found this forum after most of our decisions were made, so I post my finished kitchen with some trepidation! Some of our choices may put it in the "quirky" catagory, but it's a good kitchen to cook in and fits the style of our home (1987 version of Victorian) and our personal style.
We didn't make many changes to the lay-out which we had lived with for three years and liked.
The mantle/hood is a replica of a mantle in the farmhouse my grandfather grew up in. We originally thought we'd use that mantle, but it was in too bad of shape (house has been empty for years). I want to decorate the shelf better so that there is something interesting to reflect in the mirror: we didn't want a pendant light over the island to block it since it is the focal point of the room.
We started with deconstruction on April 21, and finished on June 27.
I've enjoyed reading this forum as a border-line lurker: this is a good, generous community, and even those of us who do not post as often are enriched by the wealth of experience and expertise shared here. Peace to all. Amy
Before: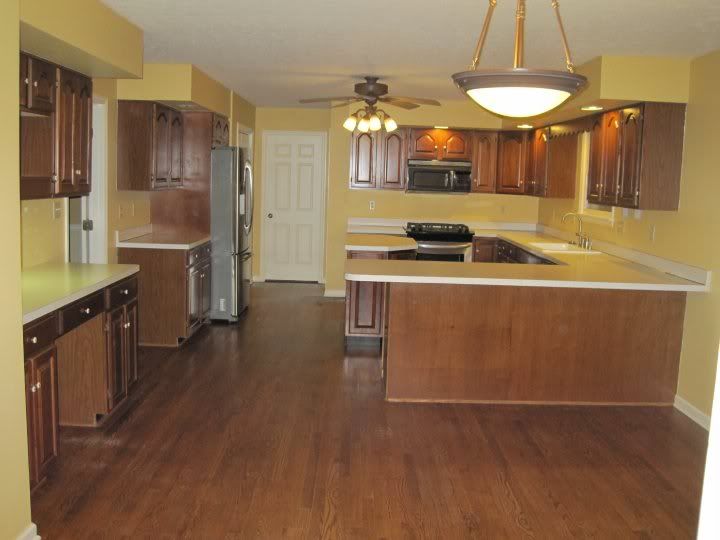 After: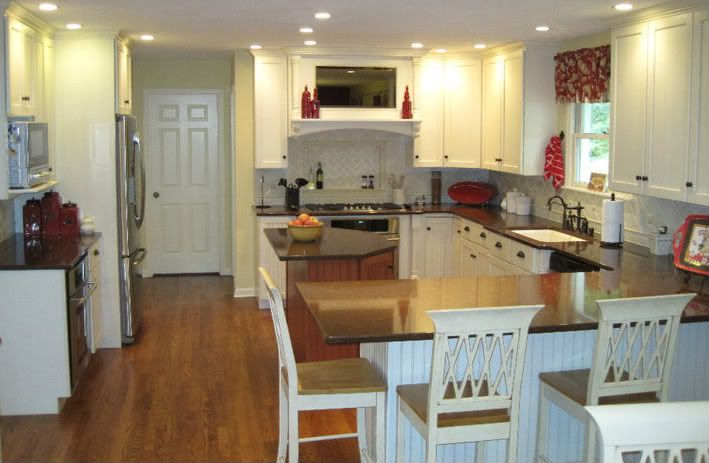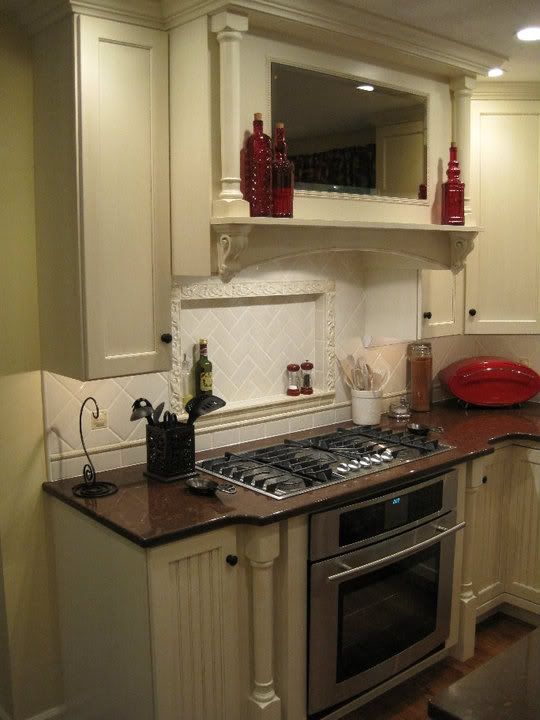 Here's some details:
Shiloh cabinets, full overlay, in soft white with cafe highlighting, beaded lowers, slab drawers,seeded glass inserts (desk uppers), red cherry island.
Cambria Quartz countertops in Branbury
Grazia Rixi tile in Crema (subways and field tile) and Dore (decos)
Whirlpool Gold 5 Burner Cooktop
JennAir Ovens
Kenmore Microwave/Pizza Oven
GE Profile Refridgerator (2 years old)
GE Dishwasher (3 years old)
Hickory Hardware Pulls and knobs
Kohler Cast Iron Undermount Sink in Cane Sugar
Elements of Design Faucet "New Orleans"
Insinkerator Instant Hot Water
American Traditions Paint "Pear"
Here is a link that might be useful: clergychick's kitchen 2010