Layout help/comments, please
PaintAnything
July 12, 2013
We're buying a new house later this month. Before we move in, we're removing a wall in the kitchen to allow a view of the water. :)
There are two sections of bearing wall outside the kitchen area that will remain in place. Because they will frame the view of the water, my inclination is to center the island between them.
In addition, there won't be a lot of space for upper cabinets, so I'd like to keep the existing 16" deep pantry on the left wall if possible.
I've sketched a plan that seems to make the most sense, but I'd appreciate help tweaking the layout (or scrapping it altogether, if necessary!).
Thanks,
Lisa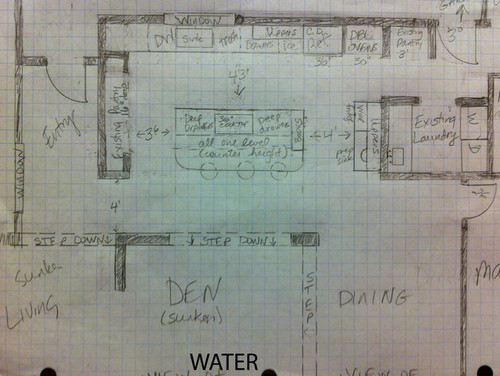 This post was edited by PaintAnything on Fri, Jul 12, 13 at 19:39