Paint It Black! .... or ?????
When we purchased our dated/fixer home, I knew the kitchen remodel was going to be near the finish line on the long list. However life happens between the DIY projects, and we are entering year 5 with no kitchen remodel. We are going ahead with some cosmetic adjustments and inexpensive upgrades, but choosing a paint color for the walls has had me stalled for almost 4 years and ticking.
The lighting is being changed real time. (Finally---yes!) But the existing cabinets, white laminate counter, appliances and the at-least-it-isn't-orange-this-time floor are going to be just as you see them a while longer. Wall paint, ceiling color, and possibly a cabinet hardware switch, are the toys for tinkering. Sorry 'bout that lean toy box.
So what wall color would help even an itty-bitty bit with this circa 1969 kitchen? Bold to jazz up the dreary? Or neutral to make it so bland as to slide the focus to the lovely garden outside the window? I'm open to considering almost any color (and have!). Pink, peachy, yellow/gold and that yellowy-chartreuse Valspar Lemongrass (the current offender http://vendor2member.wpengine.netdna-cdn.com/wp-content/vendor-images/Hardware Express/images/web_139578_usn_tif.jpg) would require a very strong pitch. But I'd be interested in hearing your suggestions for any color you think would be an improvement. See? Thousands to choose from! :)
Considering that I seriously weighed painting it jet black several years ago... yeah. If you don't want to see the reveal for that result on the kitchen forums, please help with your suggestions! Actually, even if you would like to see that reveal for your own amusement, please help me choose a workable color instead.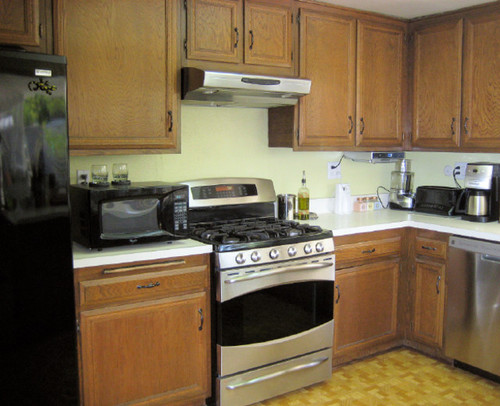 This post was edited by Gyr_Falcon on Tue, Jul 15, 14 at 18:22