Painting staircase railings - need advice!
thermsen
November 30, 2010
I am currently painting all of my oak trim white and only have the staircase to do on the first floor. I need to get this done so that I can get my garland on the stairs! I have painted the ballusters white and the carriage (I think that's what the molding underneath the stairs is called). I just have to paint the banister. I considered restaining the banister a darker stain that we refinished the floors in the kitchen/dining with. However, I have always loved the way the black painted banisters looked with the white ballusters. My house was very traditional looking with all of the wood and since I've painted the molding, it's taking on a cleaner look that I really like.
The inside of our front door was an off-white and I painted it BM Bittersweet Chocolate. I also painted my lower kitchen cabs the same color (uppers are white). So, my question is whether I should paint the banister the BC in a gloss on the banister or if I should go with black. I love the BC when the sun isn't shining directly on it. It appears black only softer. When the sun shines on it it's a lot more brown. The sun doesn't shine much at all on the staircase. I am thinking that I will get the BC and have them add more black to it? Any thoughts on this?
Here is a photo - I'm embarrassed to post it with this color on the walls next to the wood. That lasted for only a few months!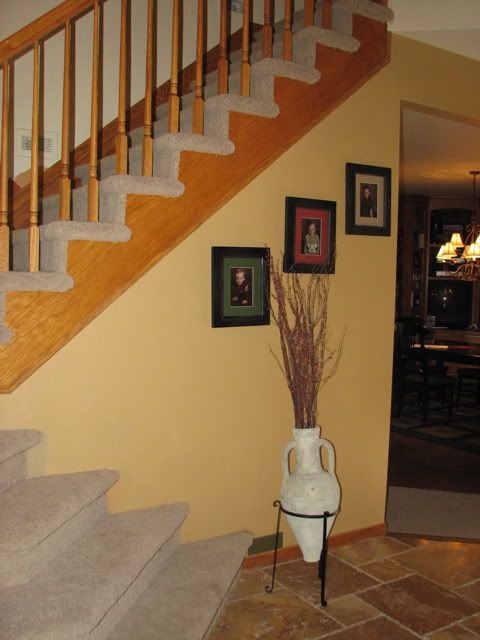 This photo is of the door and molding before being painted. This is directly accross from the stairs.