Kitchen layout help
Hi all, I'm looking for some help with the layout of our new construction kitchen. I have a couple of specific issues with the plan as it stands. Here is the current plan: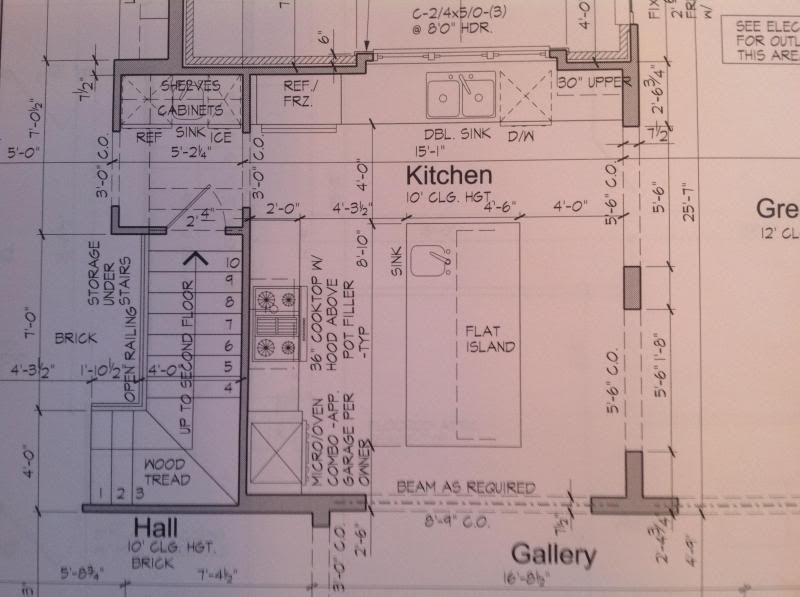 Wider view of the first floor:
Problems:
1. We moved the stair closer to the bottom of plan so we could get the doorway to the kitchen Closer. The garage entrance is from the top left of the plan. That took away our walk in pantry, and we'll have one under the stairs, which will barely clear the bottom of the stairs with a 6'8" door. I'm concerned this will be too small.
2. Three, yes count 'em, three sinks. The main and prep are needed. The one in the back hall across from the new pantry we added because we'll have the bev fridge and ice maker there. But 3? Is that really necessary?
3. As the plan is now the only place I see for the coffee pot is in that back hall. My husband HATES this idea. Any solutions y'all can see to get it back in the kitchen proper?
4. I think the DW needs to move to the left of the sink, but dish storage will be in the 30" cabinet on the far right of that run (cab will run to the counter). Is that too far? Should we move the sink off center of the window so we have DW, sink, then immediately the 30" cab?
5. I'm thinking we will have a 36" range then a micro and smaller single oven stack, with no other uppers on that wall. Is the micro too far from the fridge? I can make the window smaller and put a micro next to the fridge, but I'm reluctant to lose the light. Thoughts? Ideas?
By the time we get this built our youngest will prob have a year or 2 left of high school, so it will mostly be just 2 of us. I am the primary cook, and we entertain fairly often, mostly very casual.
I appreciate those of you who made it through my dissertation and can offer some help!