Suggestions for layout? (Finally!)
Ok, we have some basic plans from our architect. Our plan should be quite do-able, and I am happy with the ideas we have come up with so far. Now I need to shop it around a bit, to see what kind of prices we are looking at for the cabinets.
A few of our builders we are meeting with are actually carpenters who can make their own cabinets, so we will get pricing from them, but I'd also like to go to nearby Northern Indian to see about some Amish-built cabinets as well. And I suppose I will try a few local shops as well.
So, now I want to get more specific on my actual layout, and I'll really need your help here, so please, please chime in!!
To review: we are a family of 6, DH and I, and 4 kids, 3 boys (8, 5, and 2.5) and one girl (2.5--yes, twins) so nowhere near done growing kids(but definitely done having them!) The house is old, 1916, so we very much want to keep the character of the place: simple, white painted cabinets, to match the rest of our white, painted woodwork throughout the house.
This plan allows us to use our dining room as our eat-in portion of our kitchen, but also do quick meals at the island. I want 4 seats at the island, but not necessarily 5, if that end of the island could be put to better use, which I *think* it can. This plan also allows me to keep my windows along the back walls, which is so important, as we usually have 4-8 kids playing in our yard on any given day. The backdoor will be at the top of the basement stairs, and a new mudroom will be outfitted down at the bottom of the stairs, in a currently unused portion of our basement.
I need storage, for costco boxes and bulk foods. I need an area for my baking gear and kitchen-aid mixer. I need a landing zone for keys, chargers, etc, somewhere near the backdoor. I'd like a 36" range and an undercounter micro somewhere. I also think I'd like a prep sink near the bottom of the island, but many people tell me I'm crazy to do that. I need things to be as efficient and sensible as possible, as I am not neat or tidy, and I'm always rushed. I don't' have much help right now in the kitchen, but I have lots of interested helpers, so I anticipate there will be more than 1 cook someday. I also really, really wanted a dry bar area butler's pantry, and didn't see that fitting in here anywhere--until I saw shareher's finished kitchen, with hat sweet little bar area under her stairs--and I think I could do that, too!
Please give suggestions on this layout, and more specifics on how to arrange the island, garbage pullouts, prep sink location, micro placement, etc. I'm just not good at seeing all of this--
It's basically a simple L-shaped kitchen, with an island. The room itself is 18'-4" x 17', but the DR is 13' wide.
Ok, without any further ado--here it is: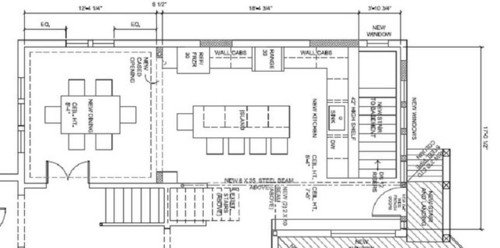 Here is a link that might be useful: previous iterations of my layout