I think I've fallen in love, please tell me he's ugly and not goo
good for me!
I was not looking for a backsplash, I'm waiting until my kitchen is done. I was looking for a fireplace surround.
Anyways, my mother was with me looking for whatever she was looking for, and showed me this. I think I'm in love.
But I was going to go for a cooler (as cool as I could go with my counter) look in the kitchen, perhaps a whitish subway. It's already painted revere pewter while waiting for the cabs to be installed.
Now, I will not order this right now or anything, so you don't have to talk me off the ledge, but damn it looks good with the counter!
Too much brown going on? Beautiful? You'd be foolish not to pick this? You'd be crazy to pick this. I need a poll. What does the collective wisdom of GW have to say? And as always, thank you for contributing to the crazy with all your wonderfully thought out opinions so I can mull them over :)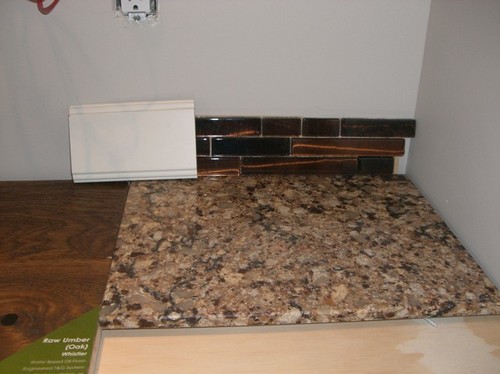 This post was edited by aklvdb on Fri, Jul 18, 14 at 17:52