I Finished my White Zen Kitchen!
Ahhhh, it's good to be done.
What fun this whole process has been!
Here's the low down.
We had a slab leak in February. The entire downstairs had wood floors and water had been leaking into them for weeks/months? we don't know. But long enough that the walls and cabinets were wet as well. So they gutted and we got to work.
Our old kitchen was a dark place for me. We have north facing window and the light was always dim. We also had light wood cabinets and dark greenish black granite (Uba Tuba?) on the counters, island and backsplash!!!! ugh! what a light sucker that was!
I had always known that if we changed the kitchen it would be to white. I know people say timeless doesn't exist in kitchens... but every decade I can think of has had white as an option. So I never thought of this a trendy thing. -til i got here, lol.
Anyway, White cabs and grey counters were the only things I had in mind for sure. The rest fell into place the more I looked around and if you see a part of your kitchen in here... THANK YOU!!!! I stole SO many details from GWer's.
Details...
Apparently we have a small kitchen,lol... didn't think so til i got here either, it's 13'x12'
Counters.... Qortstone perimeters in Cemento
Island & Bar is Statuary Marble
Butcher Block on Island.... oiled Dark Walnut End-Grain 18"x38"
Cabinets .... shaker, inset, framed
Paint on Cabs ...BM Cloud White
Paint on Walls ... BM Smokey Taupe
Hardware is mostly RH & Rejuvenation for the Latches (way worth that investment!) All Polished Nickel
Island now measures 38"x 84"
walkways are 38" on sink side; 42" on oven side; and 36" on fridge side... all plenty wide, i was worried about pushing these measurements.
Bluestar RNB 36"
Proline 36" Hood
Sharp MW Drawer
Kenmore Elite French door Fridge
Fisher & Paykel Dish Drawer Washer
Sink.. Krauss 33" double Bowl Stainless
Main Faucet is Hansgrohe Pull Down PN
Befores...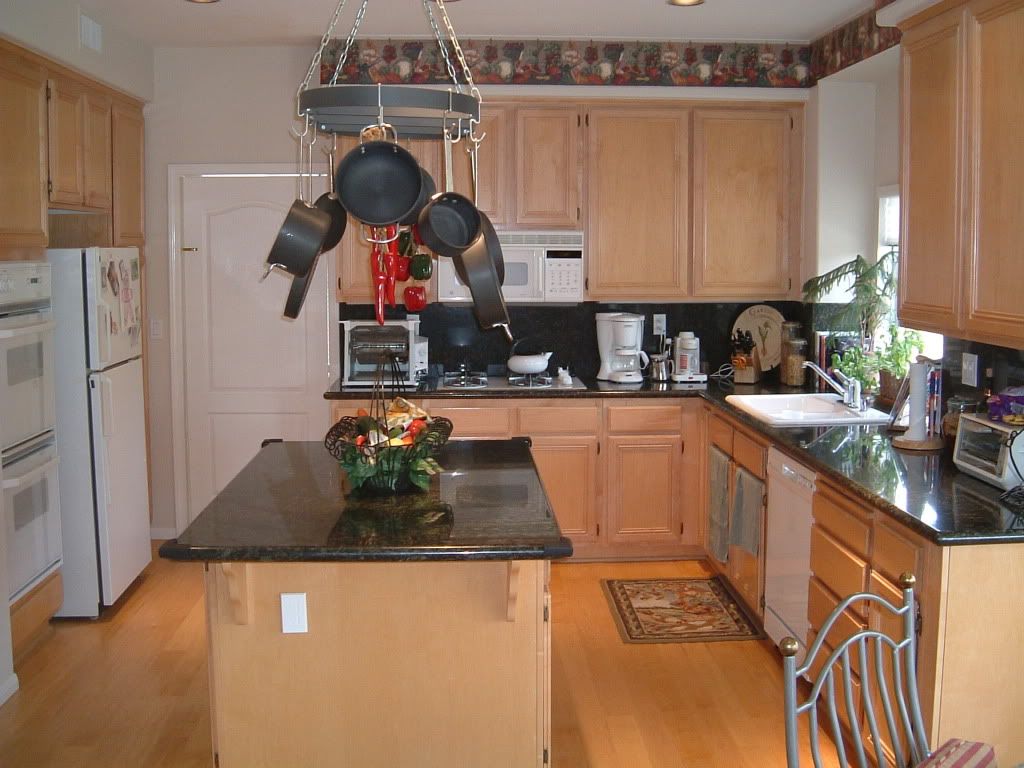 and after...
Fridge wall, Appliance garage on right and coffee station on left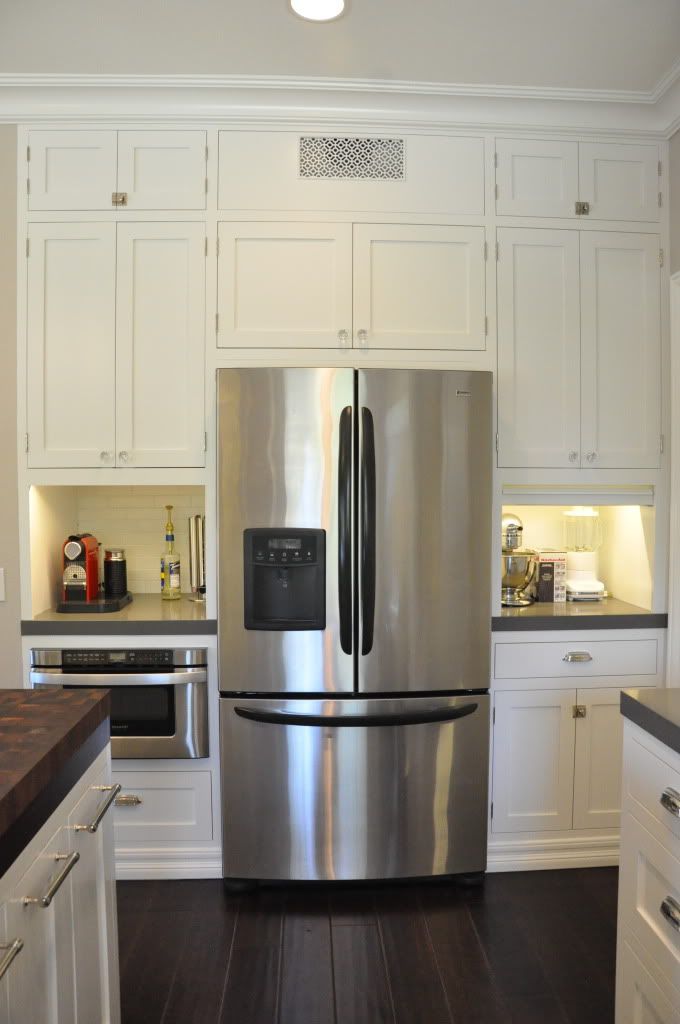 Island with BB and Rubbish/Recycling Bins/drawers - love these!
Bluestar tee hee
I'll post some more pics of fun details. Things i liked seeing from other's kitchens and ended up adding to mine.
At one point, I had chosen everything and had a huge set back of worry that the whole thing would be boring instead of calm and bright and peaceful. Thank you all for your encouragement and opinions on various choices and ideas. This is such great forum with wonderful people.
I love how my kitchen turned out!
xo