Updated layout: What do you think?
PaintAnything
July 25, 2013
After I posted a rough layout a week or so ago, I've taken others' comments to heart and updated the floor plan.
The layout below seems to allow us to have most of the things we want in this kitchen and integrate many of the suggestions we were given. (Updated with floor plan instead of 3D.)
In addition to having a functional layout, we'd like:
-- to open up the floor plan.
We're removing the wall between the kitchen and the living areas next week!
-- a large, cabinet height island with seating.
The island below would be 42" x 110" when an 18" seating overhang is added to the depth of the cabinets.
-- lots of drawers and few uppers.
The room has two huge windows and we'd like to keep them, so we're willing to have fewer uppers.
-- to plan for storage for my Candlewick (glassware) collection.
The glass front upper cabinets above the large windows are for the glassware. They're too high to be used for everyday items, but might work for this purpose, as the items aren't taken out for use more than a couple of times a year.
Questions:
1. The cooktop is currently penciled in on the island, and the sink is on the long wall in this drawing, though I know that some would suggest that the sink should be on the island and the cooktop on the long wall.
If the cooktop is put on the long wall with the windows, we'd likely have to have a downdraft vent that is vented straight out (not up through the attic, as it's currently configured) due to the windows across the top wall. Is this feasible?
2. Will the horizontal cabinets feel like they loom over me if they're higher than typical? (FWIW, the ceiling height is almost 14' on this side on the wall with windows, and there are long transom windows above the cabinets shown.)
3. In this drawing, the island is 47" from the front of the fridge, the island is 48" from the cabinets on the window wall, and there's 70" between the island and the blank wall to the right. (This is the main path from the back door to the rest of the house.)
Comments? Ideas? Suggestions?
Thanks,
Lisa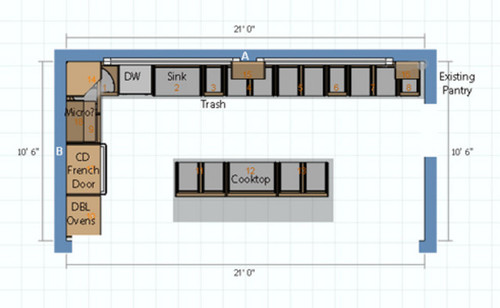 This post was edited by PaintAnything on Thu, Jul 25, 13 at 18:44