After many of you have told me I'm not on the right trail...
I tried to really think outside of the box and rework the first floor plans to change where things are located. Green Designs, I will admit at first my feelings were a bit hurt by how quickly you dismissed my work, but I am really trying and this is what I came up with based on your thoughts. I particularly appreciated your thought that the pantry was taking up prime real estate. I scooted over the bump out to that corner (which ultimately would also have a good effect on our basement plans, too) and tried to come up with an entirely new look.
Please check it out. You all are awesome to stick with me. I'm sure I'll never make all of you happy but the truth is, this exercise is helping me really define what I want and what is going to be the ultimate kitchen.
Edited to add link to one of my old threads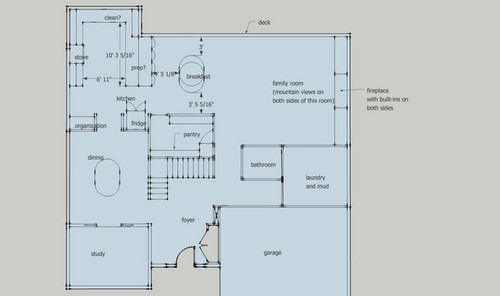 Here is a link that might be useful: the last thread of my struggle
This post was edited by swfr on Wed, Jul 24, 13 at 15:55