What we did in 3 weeks
I think as I look back that this forum was the most influential place I went to for information and ideas and answers. I'm pretty sure I don't have the whatever to hold up under a kitchen remodel that would take months. I don't know how some of you have done it. I felt really really badly about spending about $18,000 on this remodel in a 27 yr old kitchen, after I read a magazine article about a husband-wife DIY team who did a whole kitchen for $1600 - albeit much smaller than mine. Then I read that it took them 7 years to do it a little at a time as they found free or nearly free materials. I would probably kill myself! But here for your viewing pleasure I am sending photos of what we accomplished. The deadline was 3 weeks because we had 17 relatives coming for a weekend. And I asked each person working for us what they could accomplish and to please tell me if we hit a natural stopping point that made sense to stop and wait till after the company left. We are really about 90% done because - well, you know mistakes do happen when you are working day and night and the paint and dry wall dust is flying. Here goes. We still need to do a lot of touch up and clean up of details with paint and there is still grout to be applied in places. I'm hoping for some feedback on what I chose and how it turned out because I am still kind of shell shocked. I am also looking for some feedback on quality of the tile contractors work and what my expectations should be, which I'll post separately.
Befores....
The soffit ran all the way around the kitchen and featured a border of houses and willow trees that had been airplane glued directly to dry wall. The wallpaper was extremely difficult to remove. We removed the soffits and sanded off the ceiling and put up a new one. I chiseled the wallpaper off everywhere I had to and we re-skimmed the damaged walls. The 27 yr old Merillat cabinets were dark stained solid oak door, vinyl covered box w wood front, and still in good shape so one place I saved was by having them painted instead of buying new. Our appliances never warranted having photos but the dishwasher door was broken and the frame for the crisper drawers in the very ancient refrig was broken completely.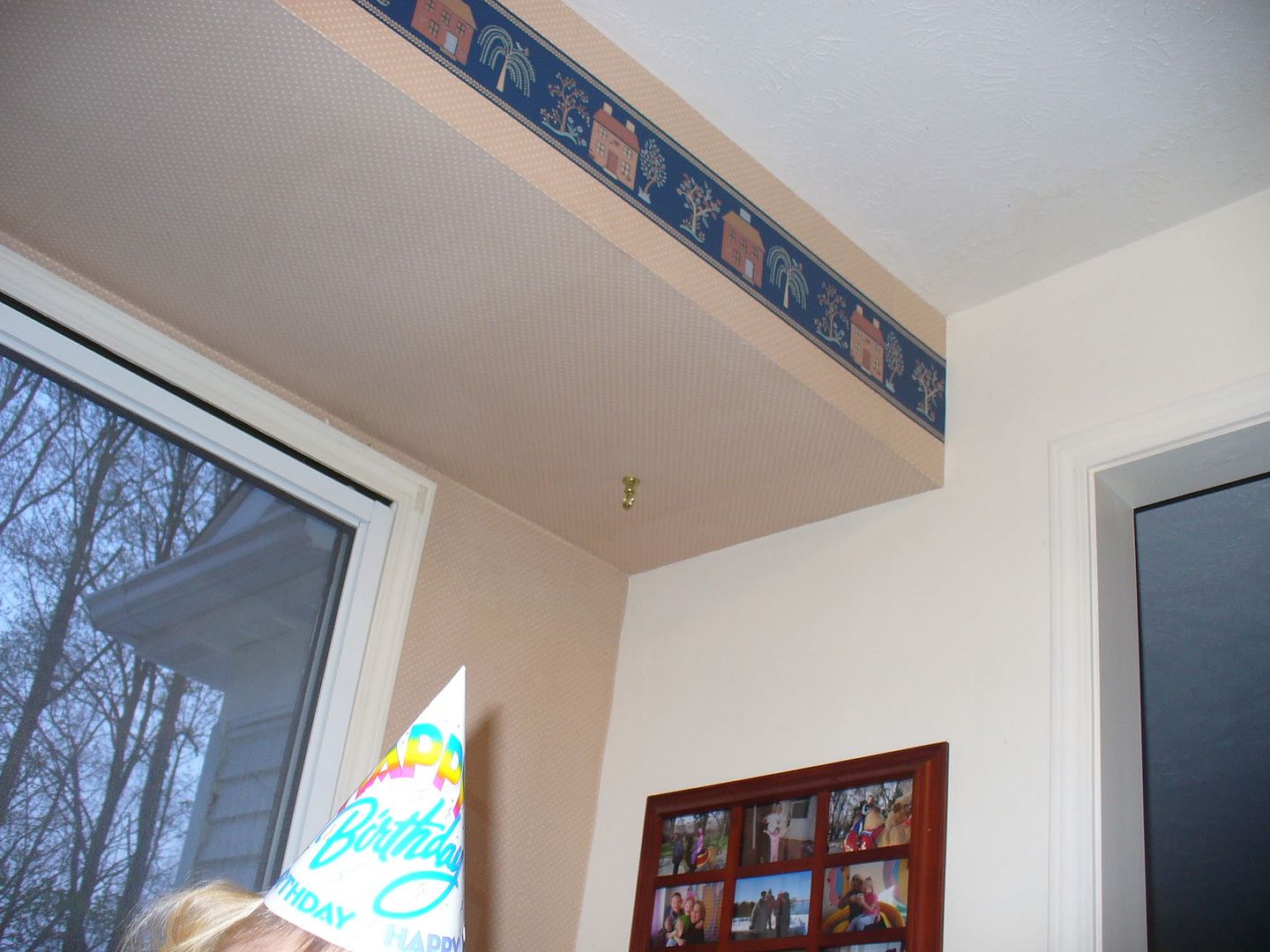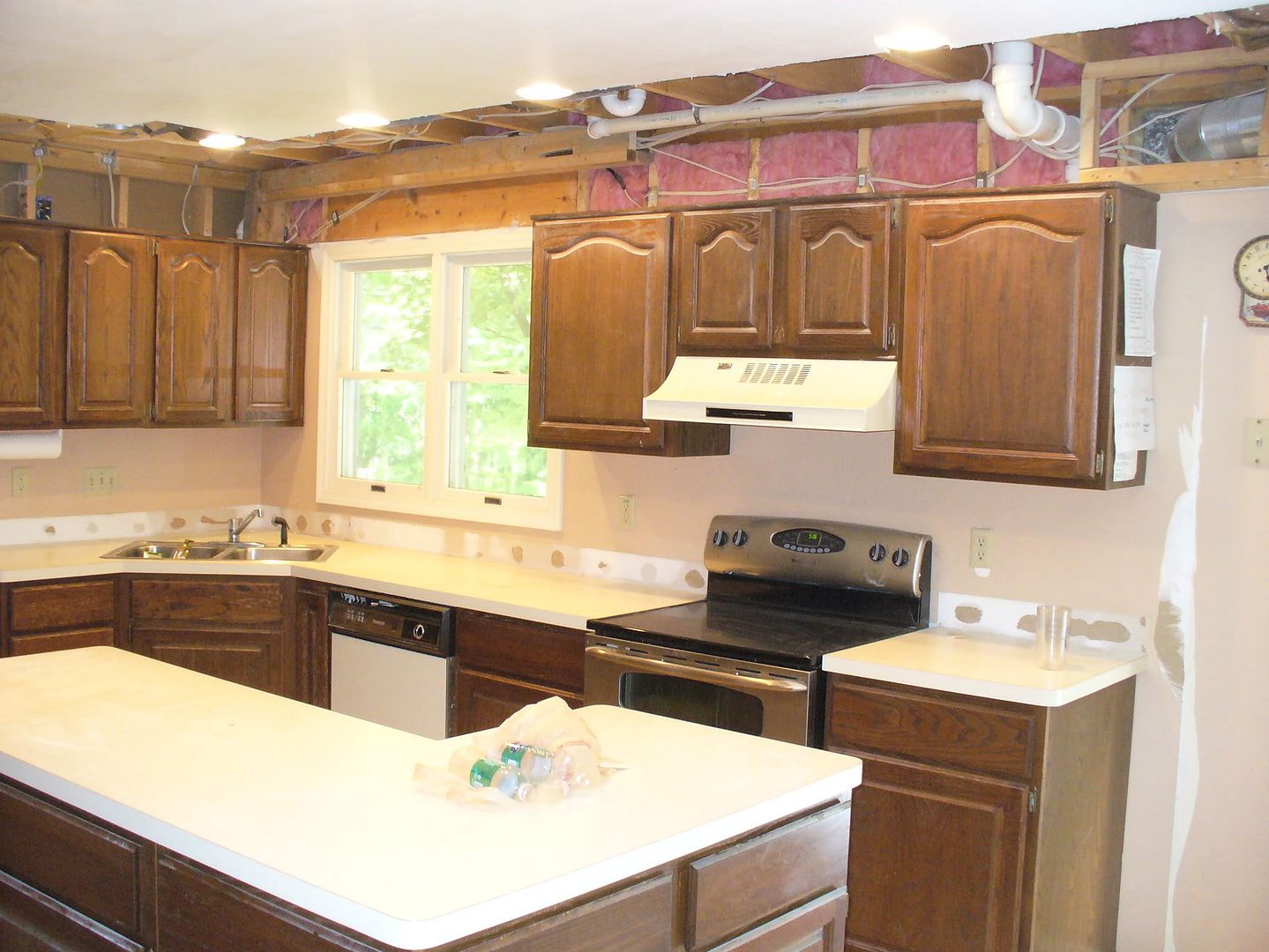 The new kitchen has a Samsung French door refrig, Samsung Energy Saver dishwasher, simple stainless range hood because it was the only thing I could find that fit - not yet installed in these photos, Kohler single basin stainless sink with Delta Touch2-O faucet, under counter halogen lighting with 3 way dimmers, new 4 and 5" cans in the ceiling - both halogen and regular, island and kitchen table with dimmers. Floor is dk brown porcelain leather look with TruColor Bostik urethane no-seal grout, The cabs are painted Sandy Brown fm Behr and glazed with a mix of gray and brown glazes, polyurethaned.
The island was reduced in size by 1 cabinet, painted a distressed black and poly'd. The backsplash is Tanzu slate from the Sonoma Stone line from Market Collection. The laminate countertops are Flax Linen with a bevel edge. The wall color is Olive Branch from the now defunct Pottery Barn color collection which was mixed in a Behr paint. We still haven't picked a trim and door color but you probably can't tell that from these pictures. The hall and 1/2 bath were kind of a miracle to me - I could not get the wallpaper off and finally bought 4 x 8 ft sheets of beadboard and we covered it. We painted them Old Prairie - same color card as Olive Branch and they look amazing - it is so cleaned up compared to before.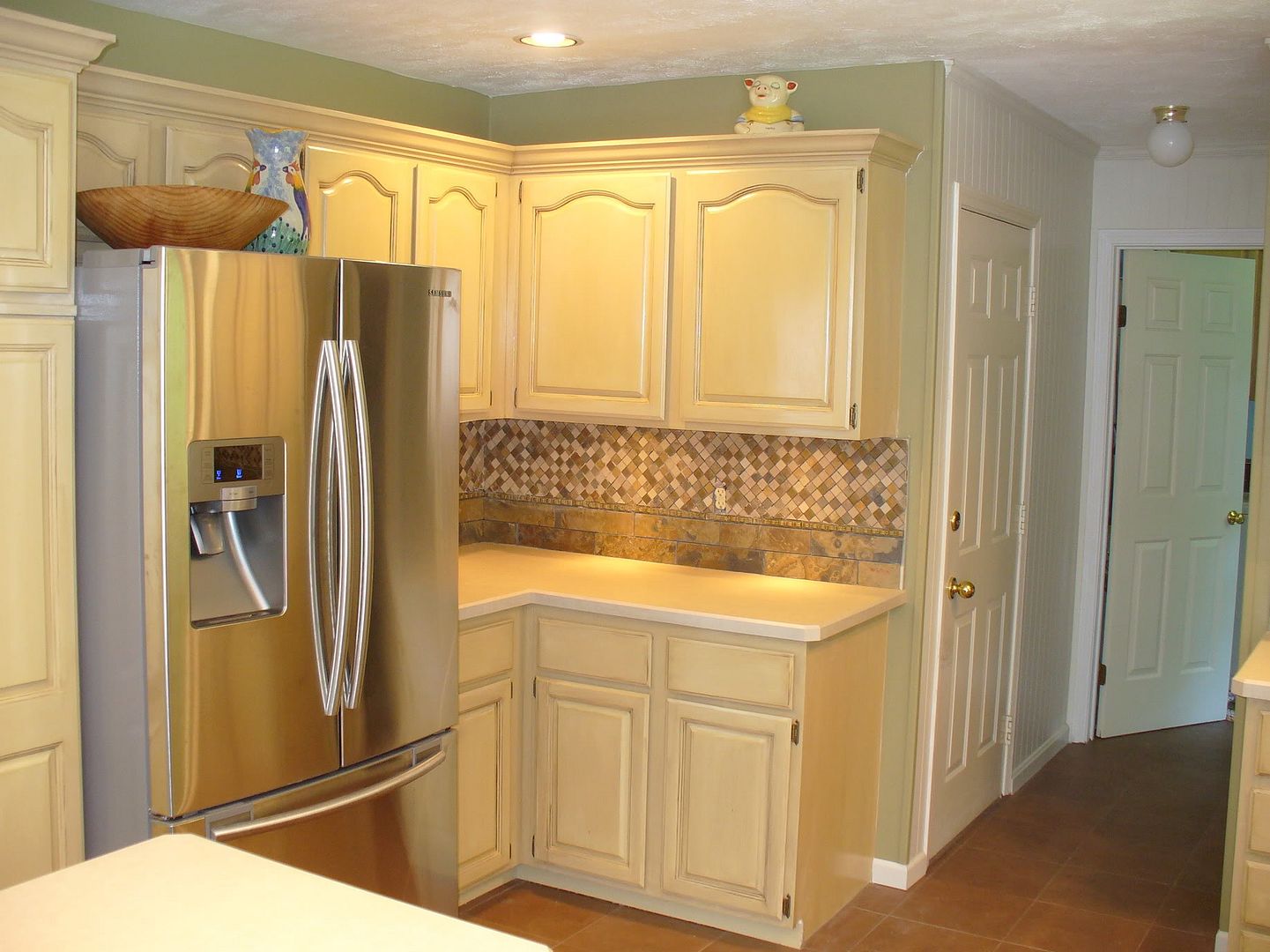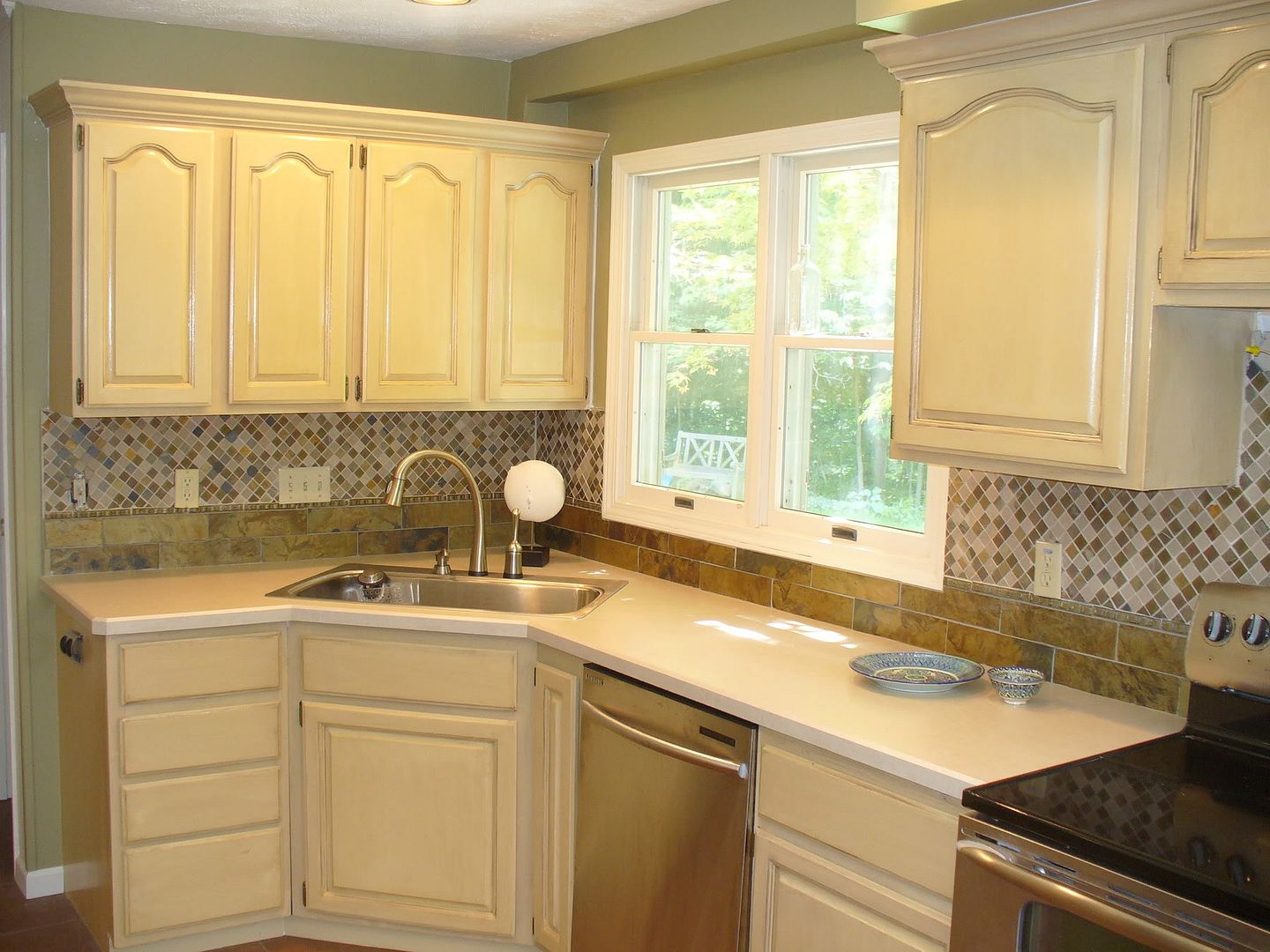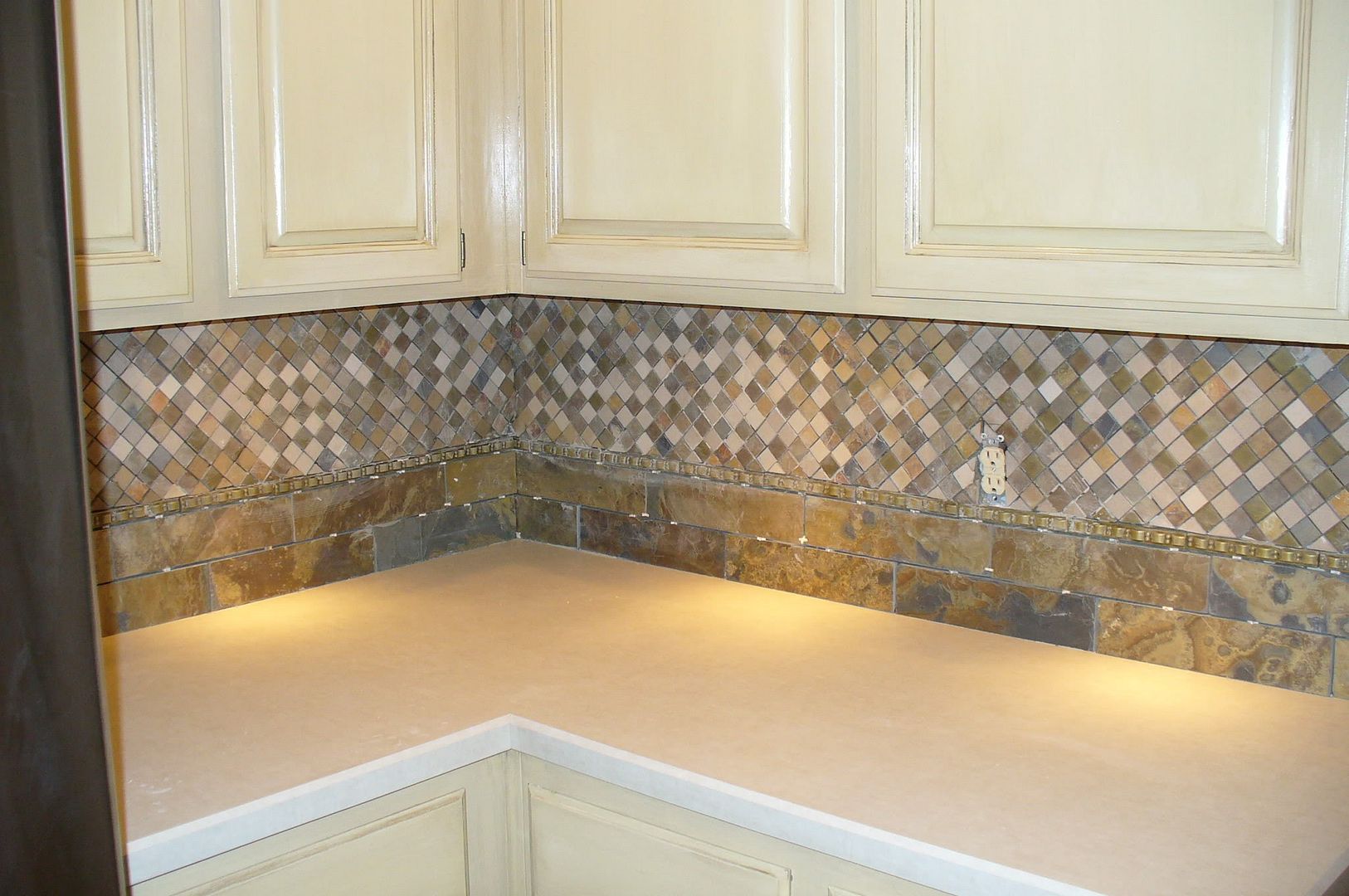 Part of what drove the color selection was the antique hand made brick fireplace in the family room