vintage kitchen-DIY redo
In our 1908 home, the before kitchen was a 10'x11'+ kitchen with the range right next to the doorway to the breakfast room (originally the back porch). It lacked counter space and the main storage had to be located in the breakfast room area behind the door. I love to cook and love the original kitchen cabinets, so my goals were to get more counter space and to keep the vintage cabinets and the vintage feel. Bmorepanic solved the problem by suggesting a long skinny island.
This was accomplished by taking out the wall between the kitchen and the breakfast room (old back porch). We had a structural engineer come in to advise us as to how to handle this. This began our great DIY adventure. We took the wall out, put in a beam, patched and painted the walls, papered the ceiling, pulled up the crummy oak floor (not vintage) and laid down Marmoleum Click.
It took me almost two years to layout the kitchen, and design the island and I am glad I had this time to get exactly what I wanted. My husband built the island pieces, a table-like piece for storing my pots and pans, and a solid, high-backed piece for the range and dishwasher. He also did all the electrical and plumbing for the island. I did the painting and staining.
We removed the old countertop on the old cabinets (refinished by me) and put in porcelain tile. The whole redo cost about $16,000, appliances being half of that.
New pieces:
Electrolux slide in range (LOVE the range in the island!)
Hood: Broan
Electrolux CD, FD refrigerator
Advantium oven
Bosch dishwasher
Kohler cast iron 60/40 sink, Moen faucet
Marmoleum flooring in Whisper blue and Caribbean
Countertops: main is linen-like tile, island is refinished butcherblock from an old desk I had (free!)
Prep sink is Houser, faucet ??
Mocket and another outlet in the island
Pull out spice cabinet in the island
Paint for cabinets is Cabinet Coat in a custom color (amazing paint!)
I hit the flea market, Habitat Restore and our county recycle center for all freestanding cabinets, which I refinished, including the Advantium cabinet which was an old entertainment center that we cut down and topped with a black-stained piece of butcherblock. This became our beverage center. We paid almost nothing for these pieces.
Here are some pictures. IRL, the blue is really a gray blue (BM Oxford Gray) and the walls are more manila rather than so yellow.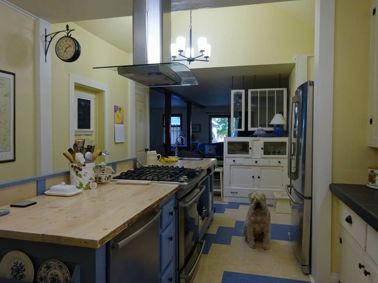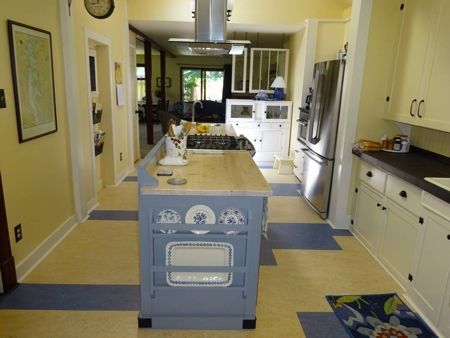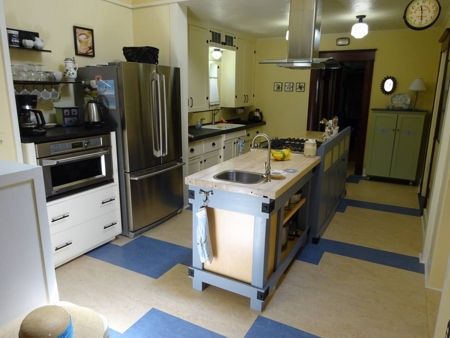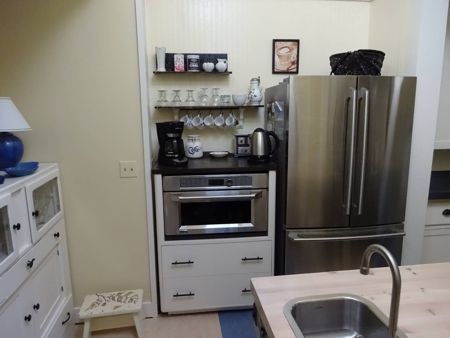 I know this isn't a kitchen for everyone but is suits us just fine!
Diane