Reality check on my kitchen plan before I get in too deep
I live in a 80s split foyer and have hated the kitchen since we moved in six years ago.
We're finally starting to get serious about a remodel and I have a plan from a kitchen designer but I wanted to get feedback here before I commit and start moving forward.
First I need to apologize for the quality of the drawings. I just threw them together with sketchup. It's my first attempt, and it shows. The goofy bump-out over the sink is my attempt at a window.
We have four kids age 0-10. I cook and bake a lot and practically live in the kitchen, usually with a toddler underfoot. I care a great deal more about function over form and don't really have a "grand vision" of the aesthetics. (Which is a good thing, I think. It gives us a lot of flexibility.)
I loathe the "big box" that is my current kitchen. I know it's intended to be eat-in but we don't use it that way. The dining room is immediately off of the kitchen and we eat 100% of our meals there.
It's impossible to work on anything with the kids. The kitchenaid mixer is in the interior corner so two people can't access it easily.
There's nowhere logical to put dishes. The way the dishwasher is tucked in the corner means that when open it blocks every cabinet in that corner. Consequently we have the dishes in the cabinet to the left of the stove so everything has to be carried across the room.
We put virtually everything in the dishwasher and spend very little time at the sink so it feels like a waste to have it under the window. In fact I often find myself balancing a cutting board over the sink so I can work in front of the window.
Either I end up "banished to the kitchen" while everyone else is hanging out in the living room, or people are hanging out in the kitchen with me but I inevitably have my back to them and there's nowhere to sit.
The bookcases are half-height and hold cookbooks, small appliances, and some of those 12x12 fabric bins to store water bottles, lunch boxes, playdoh, etc.
I can't figure out how to attach a second picture (without linking them from somewhere else) so I'll reply with the proposed kitchen layout.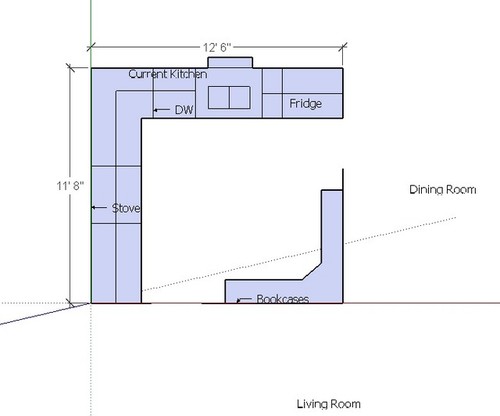 This post was edited by cevamal on Sat, Jul 27, 13 at 13:37