White kitchen in Southern Spain
Nearly a year ago we started the complete renovation of our kitchen and now we are finally finished. We had planned to be ready by Christmas, some hiccups in the process prevented that... Never mind, we're done!
My name is Petra and I share a small Spanish country home in Andalucia, Southern Spain with my dad and a Labrador named Quinn.
I have learned a great deal just by reading on this forum and by looking at the pictures provided by many of you, so writing this post is, in a way, a big 'Thank you all so much'.
This is my home, the kitchen is situated on the righthand side, with a covered porch in front of it.
These are three shots of the old kitchen, I especially loathed the open storage and the double round sink plus the fact there was no dishwasher.
Left side (north wall):
Centre: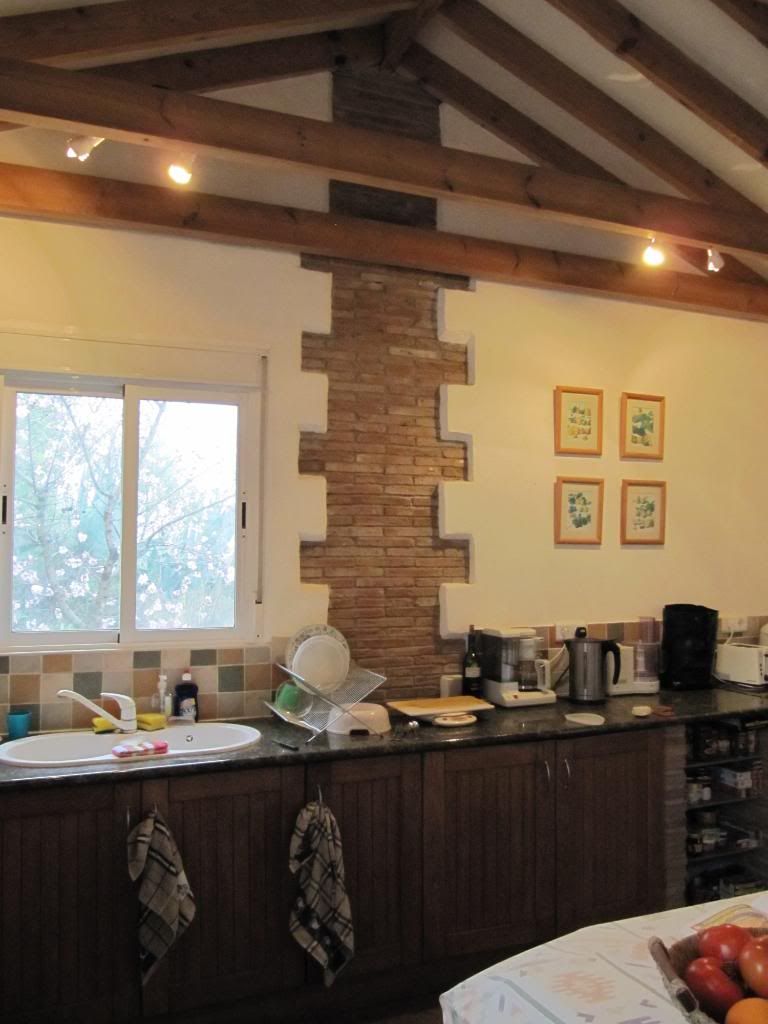 Open storage on the right (south) wall:
In these photos you can see we set up a temporary island to see if this would work for us. It could be argued that it is a barrier island, but it works very well for us. This is the layout we finally decided on, we received many good and thoughtprovoking ideas from members of the Ikeafans site. I had not discovered the GardenWeb Kitchen Forum yet, otherwise I would have posted these plans here as well.
The kitchen is roughly 14' x 14'.
We demo'd the kitchen ourselves, cleaned and lightly stained the beams, painted the walls and built the cabinets. The rest of the work was carried out by Kelly, our wonderful GC or by subs (floortile and granite).
Underfloor heating: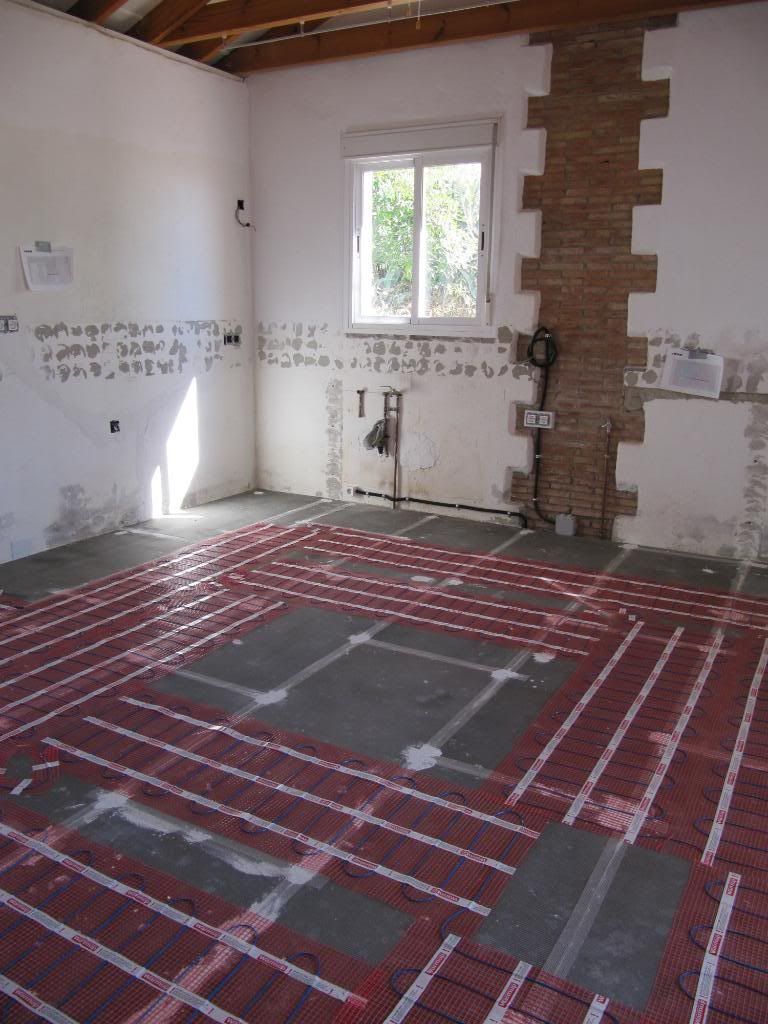 Building up: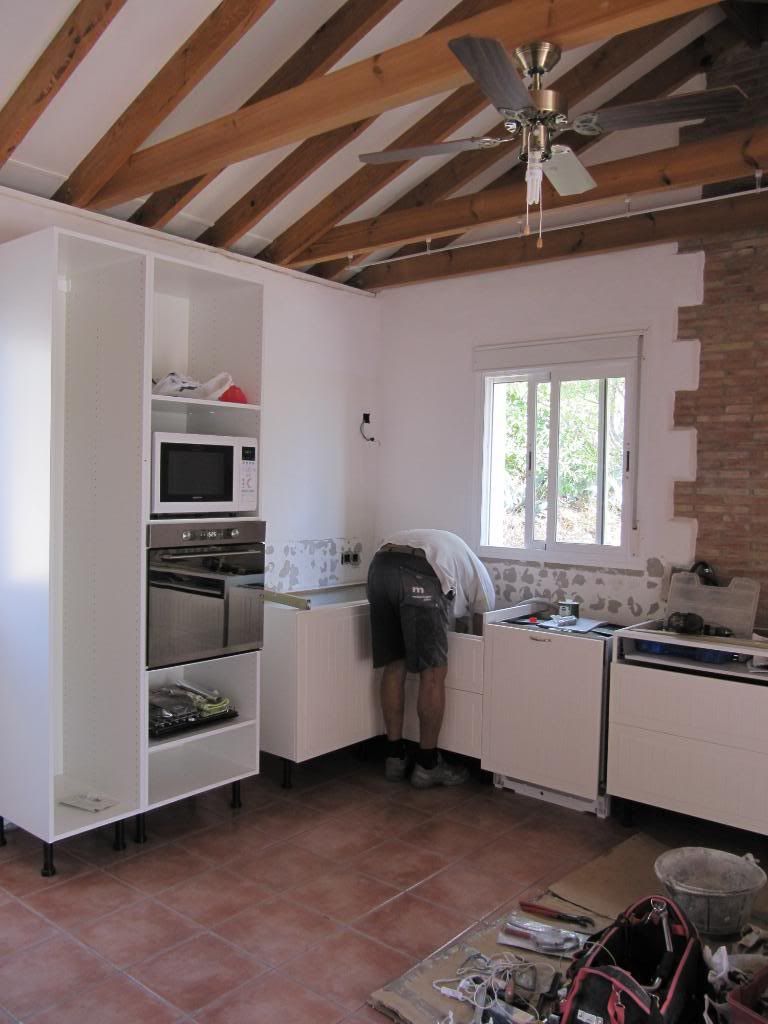 Temporary kitchen: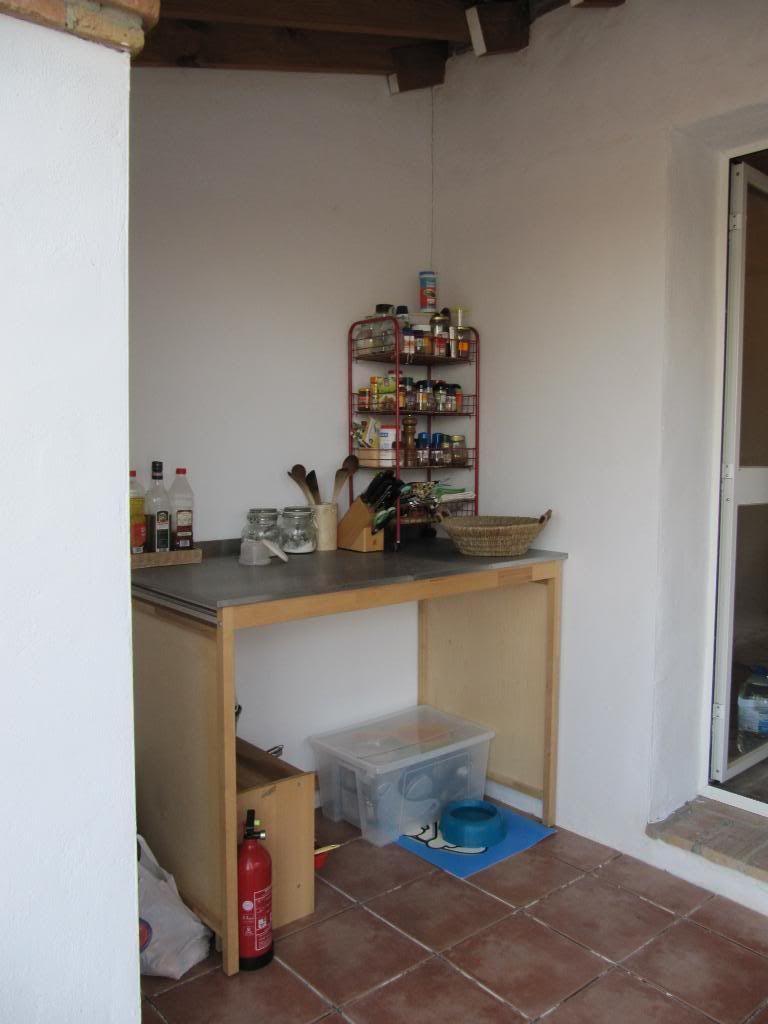 Granite going in: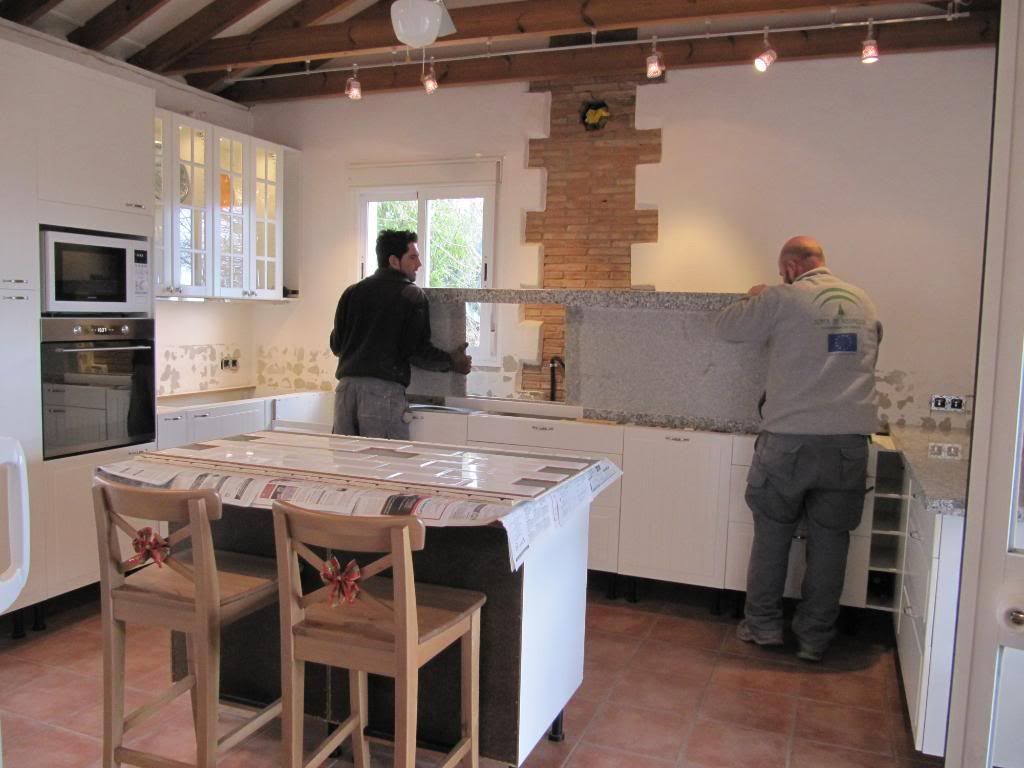 Kelly busy with tile install:
End result:
Left (north) wall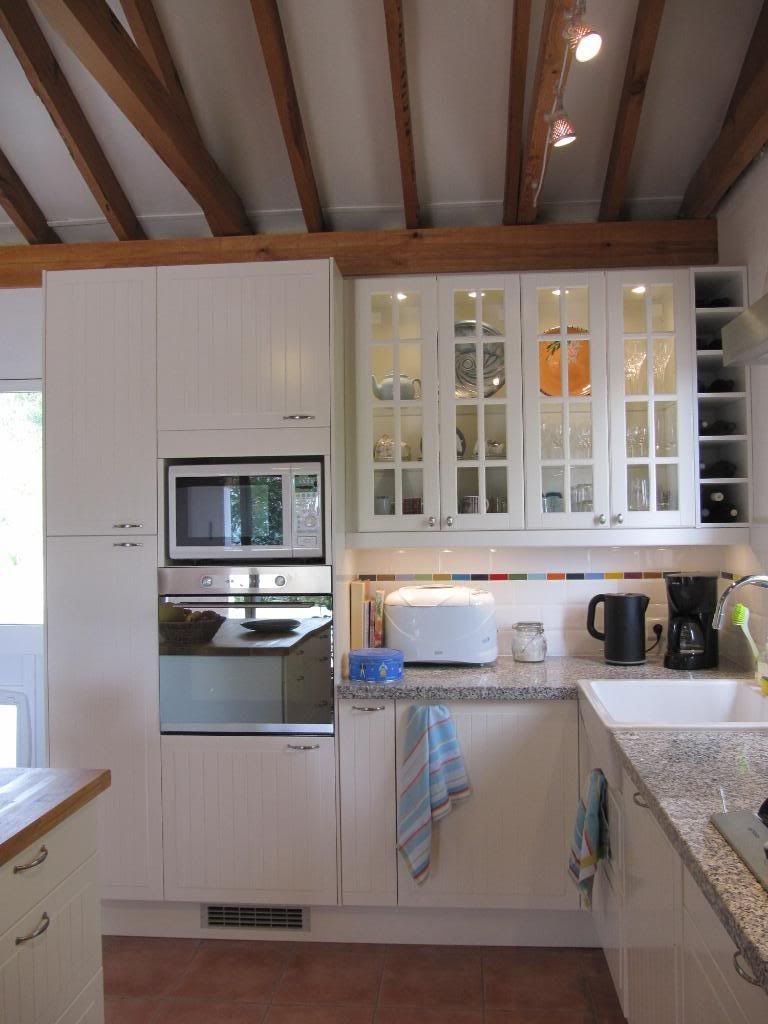 Centre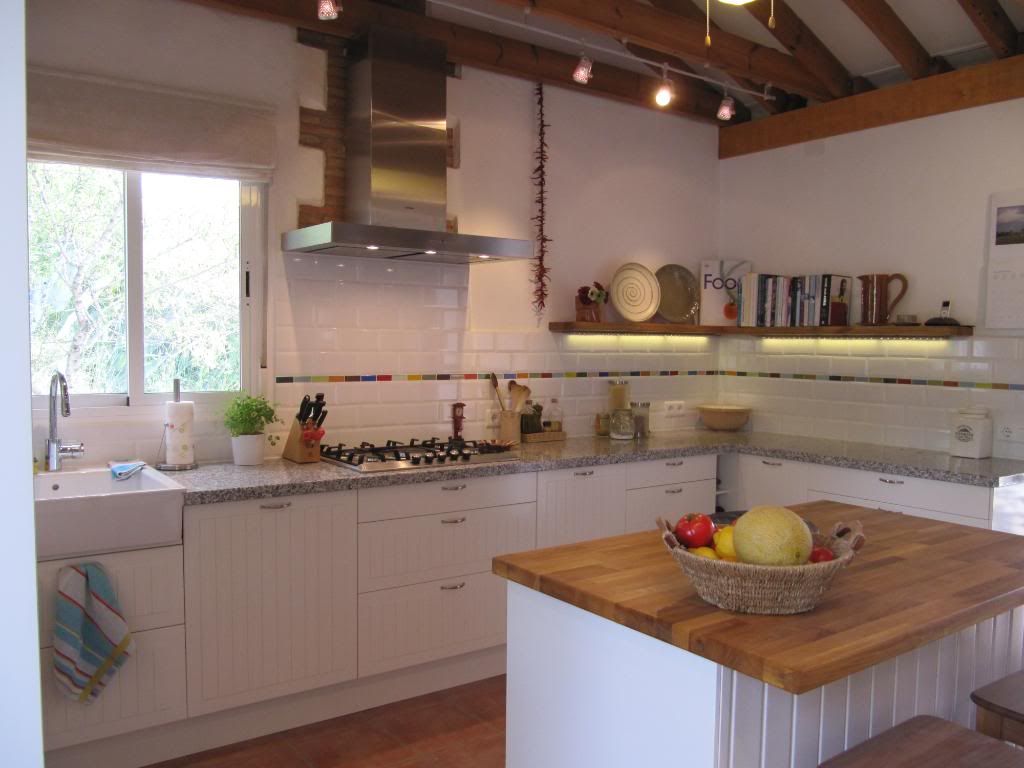 Right (south) wall:
Island:
Detail of backsplash (lovely yellow plum jam thanks to a neighbour's gift of 6 kgs of yellow plums):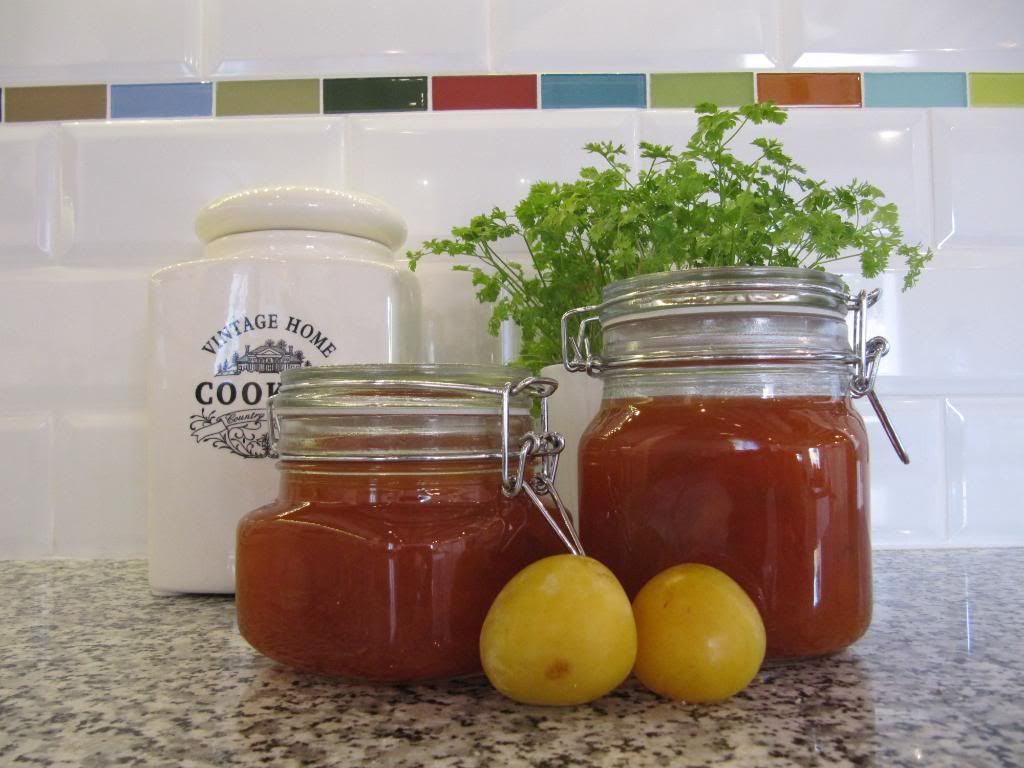 Details:
Kitchen: Ikea with Stat fronts (colour is comparable to BM Simply White)
Granite: Blanco Perla, also known as Luna Pearl, Bianco Sardo
Island worktop: Ikea Numerar oak butcherblock
Stools: Ikea Ingolf, counterheight in antique pine.
Sink: Ikea Domsjo, single bowl apron front fireclay sink
Faucet: Grohe Concetto with pull-down
Cooktop: Bosch 5-burner gas
Hood: Siemens
DW: Siemens
Oven: Ikea Nutid with pyrolitic cleaning
Knobs and pulls: Ikea Antik brushed nickel
Lighting: Ikea Magnesium track lighting on the beams, Ikea Grundtal pucks (under-cabinet lighting), Leroy Merlin LED-strips
Backsplash: Ceramicalcora white beveled subway tile, shiny white 4" x 8"
Backsplash accent: Susan Jablon Mosaics Bijou 1x3" subway in glossy and frosted.
There is a funny story to how the accent in the backsplash came about, I had ordered two sample sets from Susan Jablon and decided against a whole backsplash in glass. However, I could not bring myself to just throw the lovely glass subways in the bin, either! So I thought up the accent stripe and used nearly all sample tiles there, glossy and frosted alternating. Here you see the tile just before I picked the order in which I wanted them put up on the wall: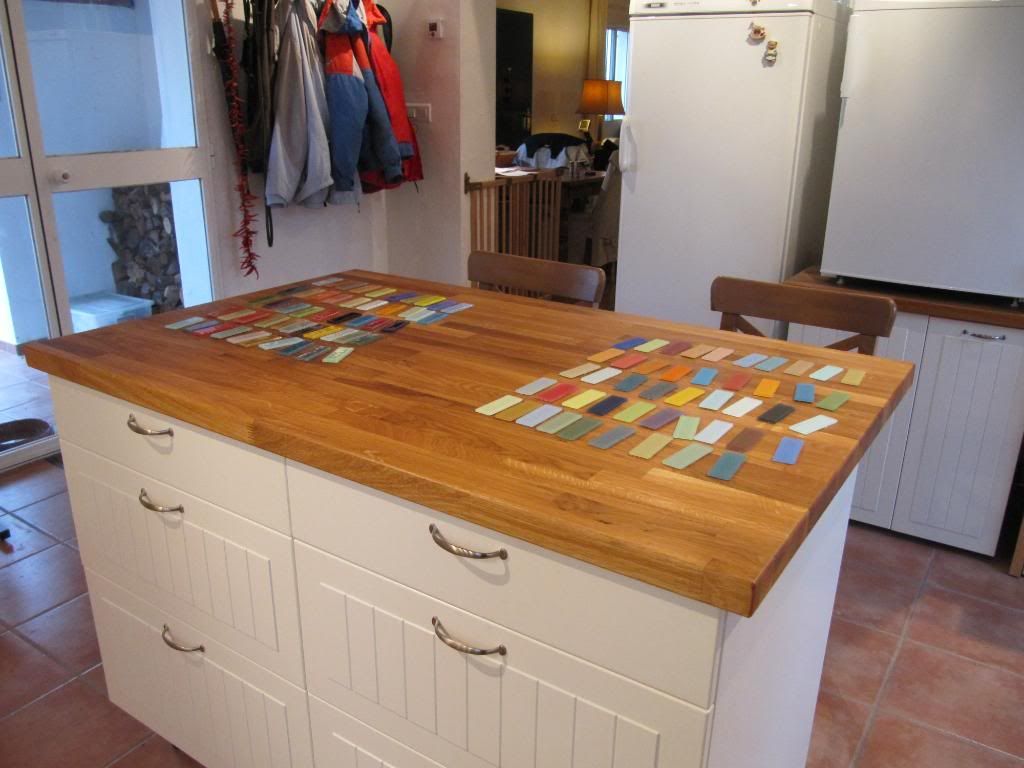 More photos of the kitchen and the rest of the house can be found on Photobucket, I have provided the link below. I'll be happy to answer any of your questions on details of the kitchen.
It has been quite an adventure, I would not have gotten this far without the help of many, this wonderful community included! Thank you!
Love, Petra
Here is a link that might be useful: White kitchen in Southern Spain