I'm back - 1st draft of our houseplan and kitchen input please
Hi all. I have been (im)patiently waiting for our house plans to be drawn up. I finally have our first draft and wanted input on the kitchen area. It is fairly open which my dh loves and I am a little nervous about but I do like the angled window as our view will be all woods and that would give a good site line while working at the island. Our first idea was to have some sort of casing to visually separate the kitchen from the great room and make us both happy but this is how the first draft shook out so I am doing some thinking on it. It appears it's either casement/separation OR angled window.
I have gotten such great ideas and feedback here (from others posts as well as my dreaming layout posts) so I thought I'd solicit your advice before we sit down again to go through modifications.
Kitchen faces south. 9' Ceilings. Island is 8x4.5 with 18" overhang for seating - hopefully 4 stools but at least 3.
I think it has a pretty good work triangle just as shown by the designer although he just drops stuff in and relies on KD's to actually design the layout of the kitchen. Unfortunately I do not have the dimensions of the pantry but have asked for them. The kitchen is 11x15 with the dining area being 13-4 x 13-3. It will be our only eating space besides the island for snacks and quick breakfasts.
My questions:
I was hoping to avoid a corner but I will have one with the way it is currently drawn. Any ideas on how to work that? I have a lazy susan but do not like it. Would it be best to just put in one of those corner cabinets that follow the corner so you can see and reach the items? Or - having the pantry open there instead of the proposed door and then I could avoid a corner. Thoughts?
I really wanted a 'coffee/toast area' that could look something like a hutch - maybe with seeded glass uppers for coffee cups and such? - possibly 36" wide would do it. How would I work that in opposite the sink wall in the half bath. Would that look funny? Is it too far OUT of the kitchen space? Would I need to have a small wall built on the stairwell side to separate it and keep it part of the kitchen? I'd think it wouldn't have to be 24" deep - 15-18 might work. Does anyone currently have anything like that they could share a picture of?
Any glaring NO WAY thoughts or red flags?
I either want to get a CD fridge (KA has a highly rated one that is within our budget) or make those cabs deeper to have it not stick out. I also included a sketch I drew to scale to help me visualize space.
Finally moving forward which is great but a little unnerving at the same time. We just sold our home, found a rental and hopefully will break ground by this fall.
Thanks in advance for your input. I value your time and willingness to share your ideas and expertise. If I have missed any important details please let me know. I included the surrounding areas so you could see how they relate.
Kitchen Layout with surrounding areas: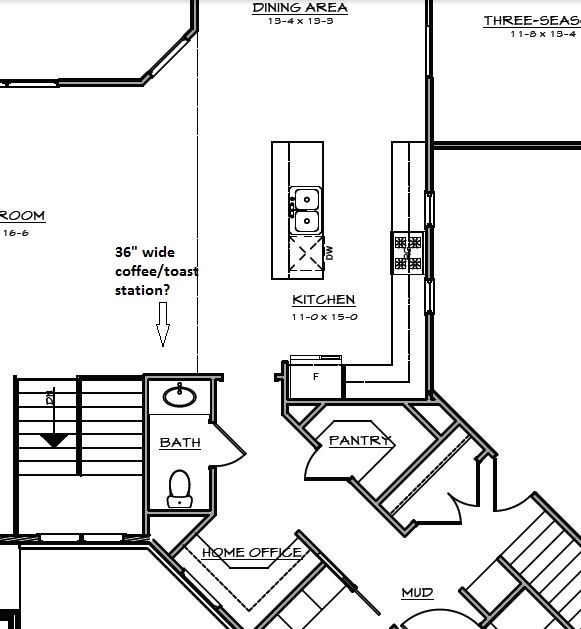 Kitchen Sketch (for some reason it appears faint so you can't see the squares):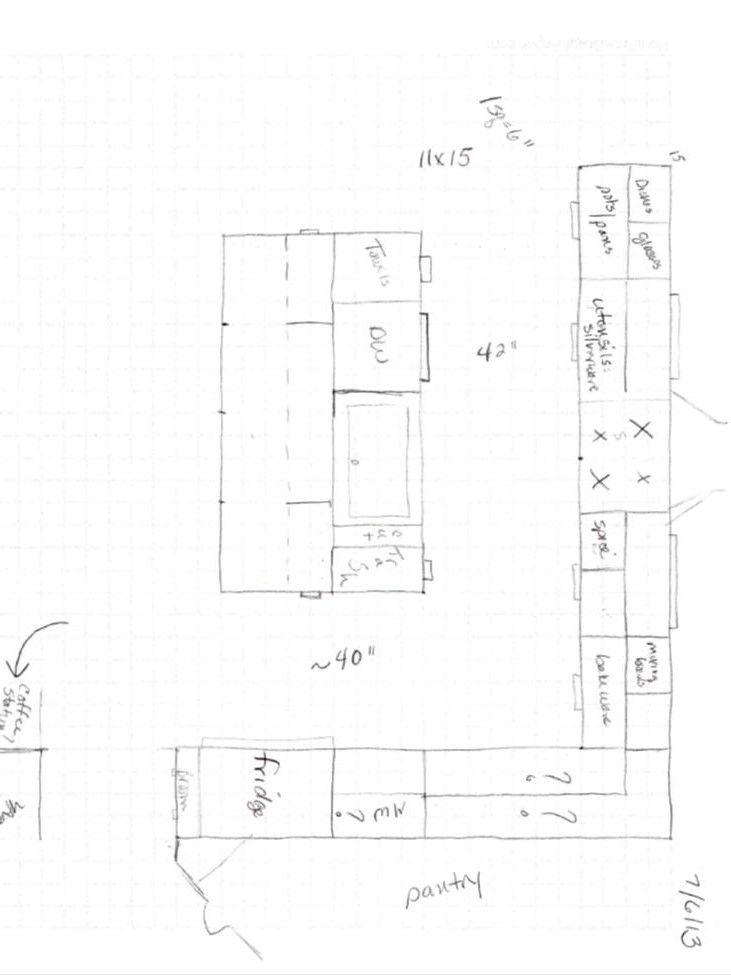 Lisa