New kitchen layout. Need feedback!!
Hi everyone,
Well, I posted a few weeks ago and scrapped what you all helped me to see was a truly awful layout. Last summer, I almost went ahead with a reno with a wonderful layout but structural issues caused me to back out (that, and being 8 months pregnant and unable to deal with the drama of it all). However, I asked my new KD and her contractor to see whether that old layout might actually work, and lo and behold, it will!
It all hinged on removing the wall between the existing Kitchen and existing DR.
Here is my horrible current layout: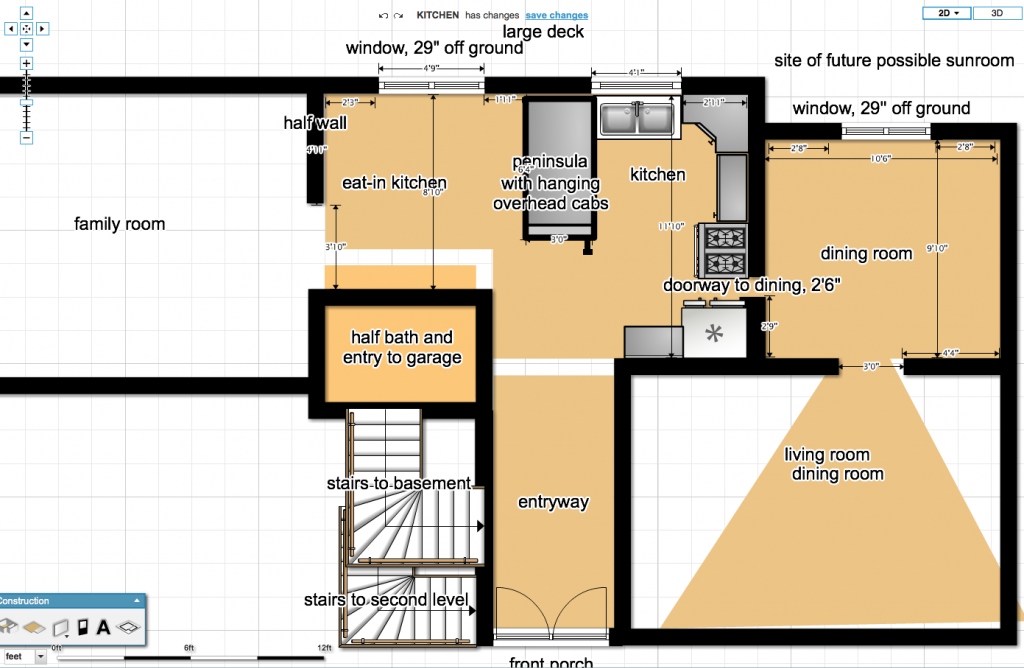 Main things I hate:
- small, boxed-in feeling; only one person can be in cooking area at a time. Hate hanging down cabs since they obscure view to living room.
-hideous old cabinets from 1962 (of course, these will be scrapped)
-z-brick, other cosmetic lovelies from that decade
-door to dining room suffocatingly narrow. My original desire was to either remove that wall or to create a half wall with a large counter on top, the kitchen side of which would provide great prep space, and the DR side of which would make a breakfast bar of sorts. This was the part of my plan that got scrapped last summer, when another contractor told me that it was "impossible" to remove any part of that wall due to hot/cold water supplies to the second story of the house, and a cold air return. Current contractor can reroute water supplies and says it's code to cap off the cold air return because our upstairs doors are high enough off the floor (who knew??). Anyway, main thing is that I'm thrilled that we can now open up this closed-off space.
Pics of original kitchen:
Looking from kitchen behind peninsula into family room:

Looking from entryway into kitchen

kitchen into dining room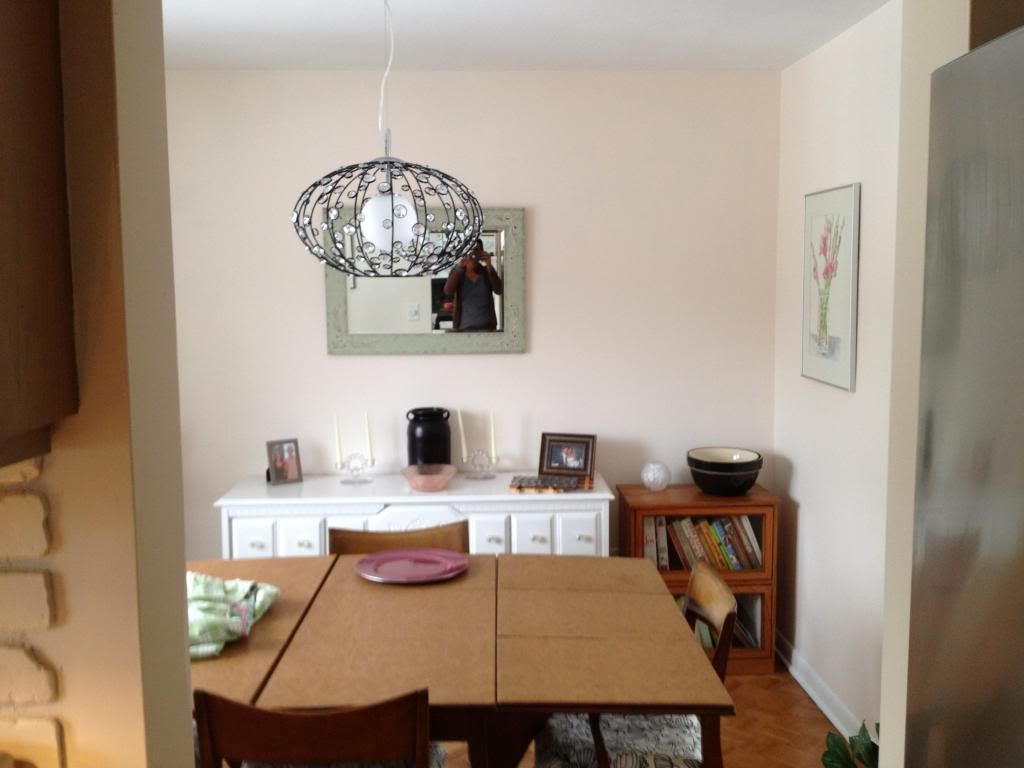 Wall with refrigerator (inner wall)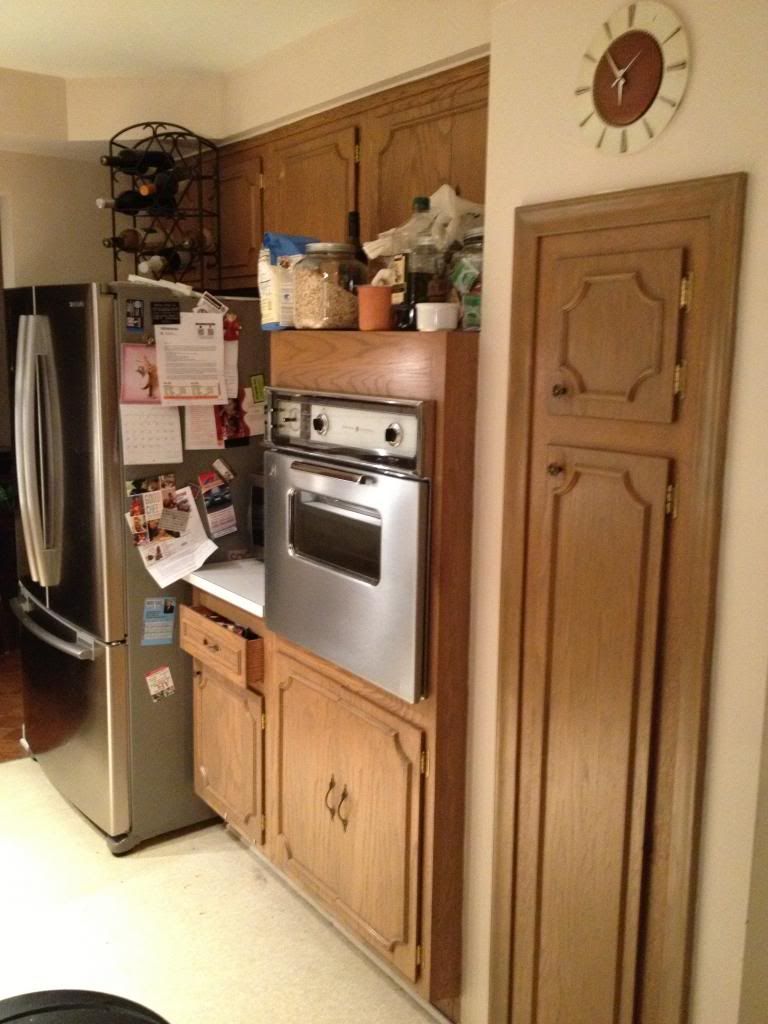 Current eat-in kitchen looking toward kitchen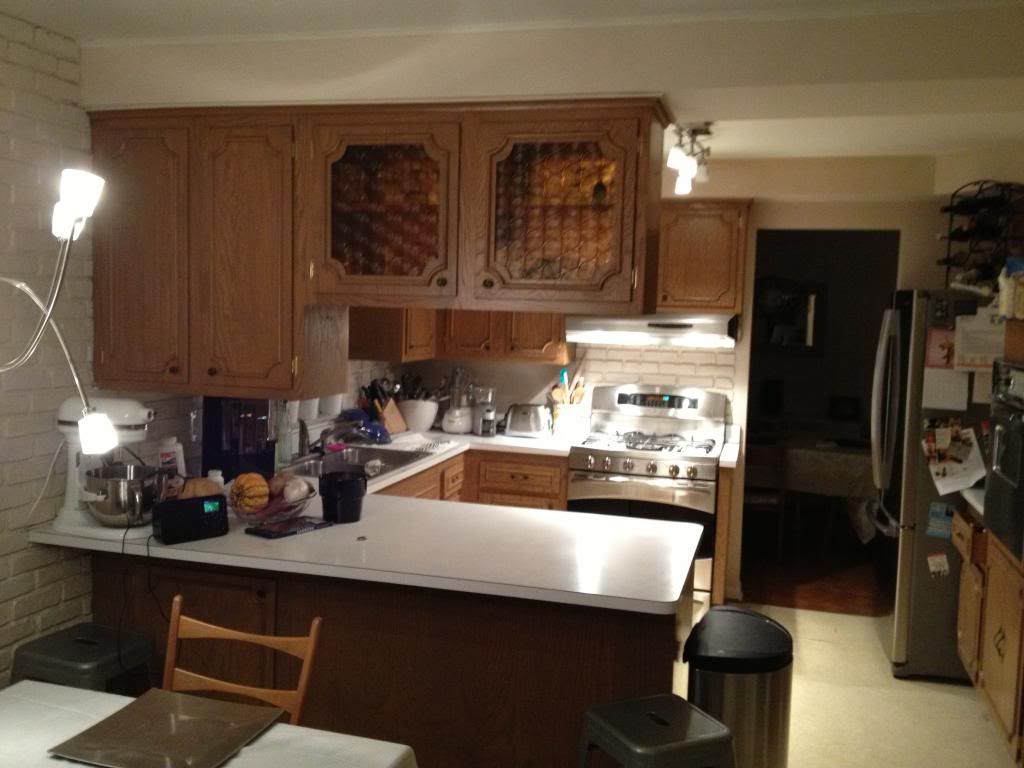 New plans are posted below. I know I need dimensions; however, we cannot get those from the new KD until we've made a deposit, and I don't want to do that until I'm happy with the layout, so it's a bit of a catch-22. So, I can't give those because I don't have them. Mainly I am looking for feedback about flow and aesthetics, as well as where you'd put things if you were me.
We are removing the low window that is currently in the plan to make way for a far better layout. I played around with keeping it and having short cabs, or even putting a countertop in front of it and I just don't think any of those suggestions would work well in that particular space.
Concerns: I don't know where I'm going to store spices. I really love to cook and I want to make sure they are near the range. I guess a drawer would work but I have TONS of spices... seriously, tons. Thoughts on this?
Is range too far from other stuff? (Again, I don't have measurements, but these drawings are roughly to scale.)
Do I have enough storage in drawers, etc? Some of the lower cabs with doors have pullouts, which the KD advised was good because those are adjustable, whereas drawers are not adjustable. I had never thought of that before and was initially set on all drawers. Thoughts?
Lastly, for the sake of our budget (since I'm getting a really great layout), I need to use laminate countertops. After looking at some awesome examples in this forum, I was really inspired and not disappointed at all. My KD told me that laminate looks best in dark colors because of the edges??, however, I had my heart set on a white marble-looking or quartz-looking countertop. (My cabinets will be painted white shaker style, with a glossy subway backsplash in white). However, from what I've read on this board, light-colored laminate can look great if you get the right finish and edges. Any ideas on this? I think my KD might be undereducated on this point, though she works for a really terrific local kitchen design company with a great reputation. I am hoping I don't have to settle for the square edges. Anyway, I would love some links to examples of your favorite light-colored laminate.
Oh, and we are going to have stained wood floors to match all the other original wood floors in the house.
The current dining room's far wall (that faces the kitchen) will become a banquette. I'm going to build this myself, next summer (I hope).
So, that said here are the new plans. Would love your thoughts.
refrigerator wall:

Long wall (outer wall), with window removed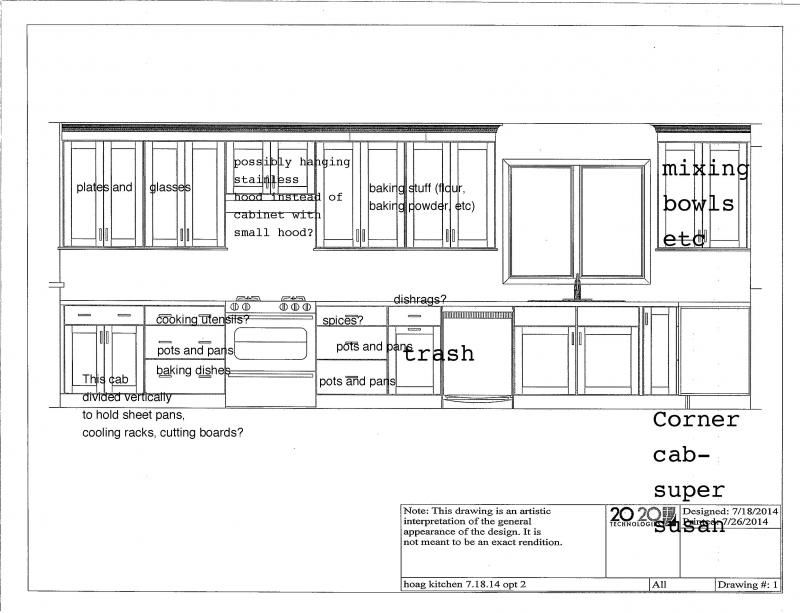 3D rendering of long wall with breakfast bar/corner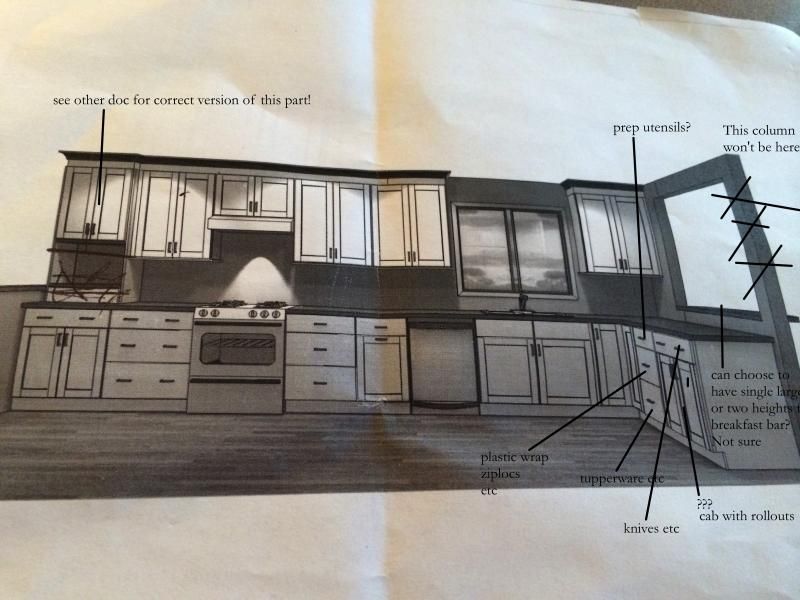 I've been trying to nail down my kitchen plans for over a year now, and since I am on a research sabbatical this fall and will have a more flexible existence (I will be writing full-time, but would be able to be around to keep an eye on things as they are put into place), I really need to get this underway ASAP since my life will be very crazy starting in January (and we might also start trying for a second child then and from experience I know I can't handle something like this while pregnant, hahahahaha). I am very, very interested in your experienced feedback about all of my questions and anything else that might occur to you. (Additionally, we are hoping to have the kitchen done by November 4, which is my son's first birthday. I know it's a quick turnaround, but I'm ready to devote myself to this full-time!)
Thanks!!
Purrus