Small Kitchen Help!
I am completely stumped on how to make my current kitchen more inviting. I want to take down the wall that separates the kitchen and dinning room, if its not load bearing wall. Thought about solar tubing to bring in more natural light. The floors are NOT real, the cabinets are not real wood. I have updated it with a new fridge and dishwasher but I know there is so much more that needs to be done.
The measurement for the counter top is 88 inches (back wall to napkin holder) + 50 inches for where the cooktop sits. (the child's drum is laying against it)
If the wall is able to come down (between the kitchen and dining room) what flooring would be recommended?
I enjoy entertaining, cooking and baking. The kitchen is where the family spends most of the time and I want a better layout.
Thanks in Advance for all your suggestions!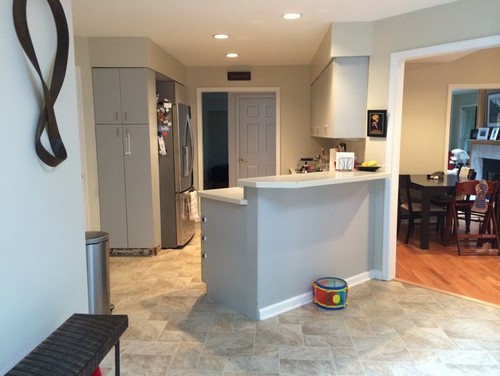 This post was edited by special2usa on Mon, Sep 1, 14 at 18:53