Installing first cabinets - A few quirks with molding?
Kristen Hallock
July 8, 2013
We finally started installing cabinets yesterday. Woo Hoo!
Our ceilings are about 8' tall. And this is a complete DIY kitchen remodel. This is DH's 2nd time installing cabinets.
We have 39" upper cabinets and then a 2 5/8" molding that goes around the top of the cabinets. DH has never installed molding like this. We figured that standard countertop height is 36", right? Our base cabinets are 34.5" tall and we plan to get Quartz countertops. That will bring the counters to 36" tall I think.
I had wanted the regular 18" between counters and upper cabinets but I think we are more at 19.5". I'm not sure if this will be an issue? I am short (only 5'2") so this is not ideal to me, but its not awful either. Also I can store a step stool in a lower cabinet to help me reach the upper shelves. We've tested the molding at the top of the cabinets and with the molding placed at the top we have just enough room to open and close the cabinet doors. Thats how its supposed to work, right?
We have Kraftmaid cabinets and have the Large Cove molding.
Here is the first picture! We've only got 4 upper cabinets installed so far. Some of the doors have not been put on yet because DH still has to screw the cabinets to each other.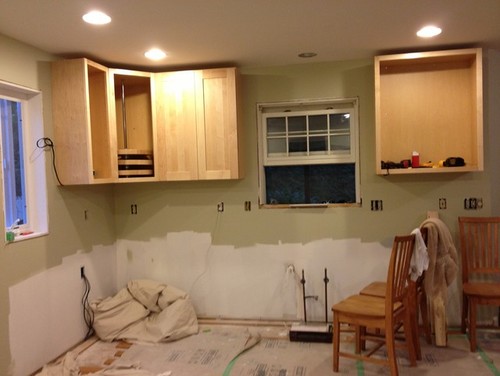 This post was edited by khallock on Mon, Jul 8, 13 at 9:51