Demo Starting 2 weeks ago. Progress report with photos
mamadadapaige
July 10, 2012
hi, have only been able to lurk occassionally lately with kids out of school, demo in full swing and work being very busy but I wanted to let you know that our renovation officially began 2 weeks ago yesterday.
So far, very good progress. The demo of the kitchen and the basement room below it took two days. In the basement they found an enormous bee's nest underneath a wooden platform that always made me suspicious. They said it sounded like an engine starting when they started to disturb it.
We discovered 7" joists spanning 19' so were required to put in a beam but it will be totally buried in the walls and unapparent. This lowers the ceiling height by 3" but I sort of knew going in that this was a possibility and ordered the cabinets accordingly - plus the ceilings are almost too tall (imo). We will still be at 109" since they ended up pulling down THREE ceilings during demo and many layers of flooring.
I LOVE my 8' tall door. I felt with the height of the room and the fact that the door would be right next to the very tall refrigerator cabinet that we needed something tall.
So far we've done the demo, framing, windows and door are in, siding put up, casings put on (my contractor had a knife made to match the casings original to the house), beam in, plumber is here today doing rough plumbing.
The cabinets arrive in 3 weeks but we probably won't be ready for them.
Our temporary kitchen is working out fine - we can do everything but boil water. Not a spec of dust is coming through to the rest of the house. We don't have laundry but I have been doing the wash and fold routine and keeping it to a minimum by having people reuse their towels, bathing suits, pajamas more than we normally would. But still we've spent $108 so far ... would be a lot less is i slugged it out in the laundry mat but i just don't have time for that right now. A couple of friends have offered for me to do laundry at their houses which i will take them up on. BUT, still we'll spend a lot less than the quote to have a temporary washer/dryer set up (over $1000).
Right before the renovation - everything cleared out of the cabinets: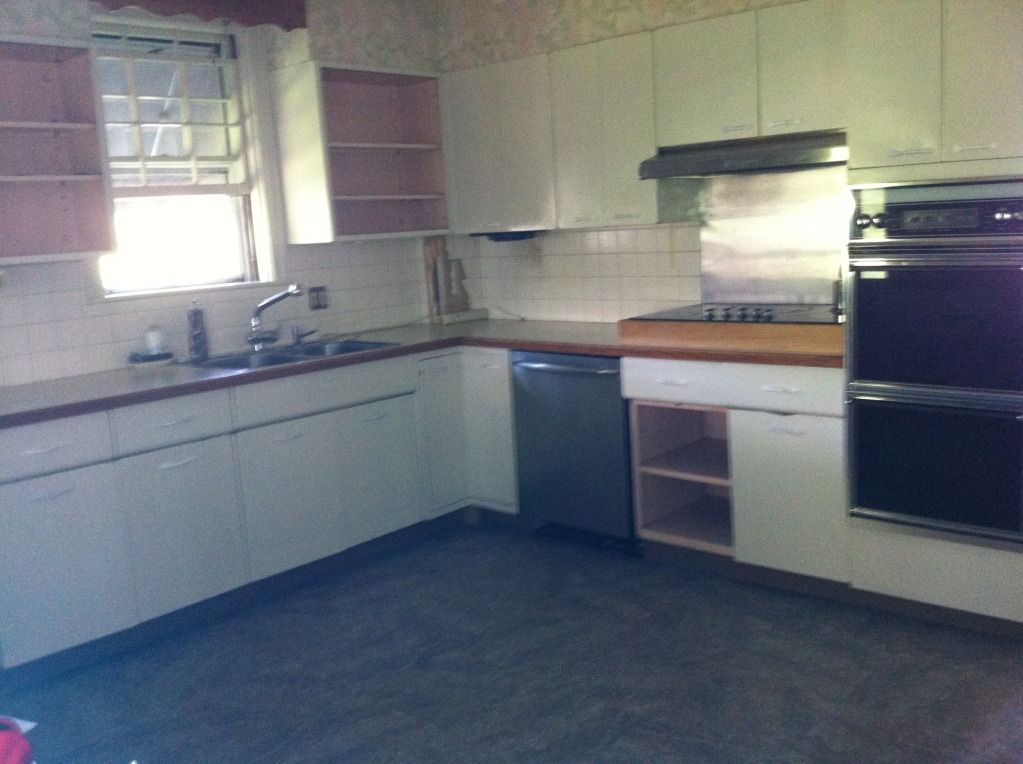 Our new beam: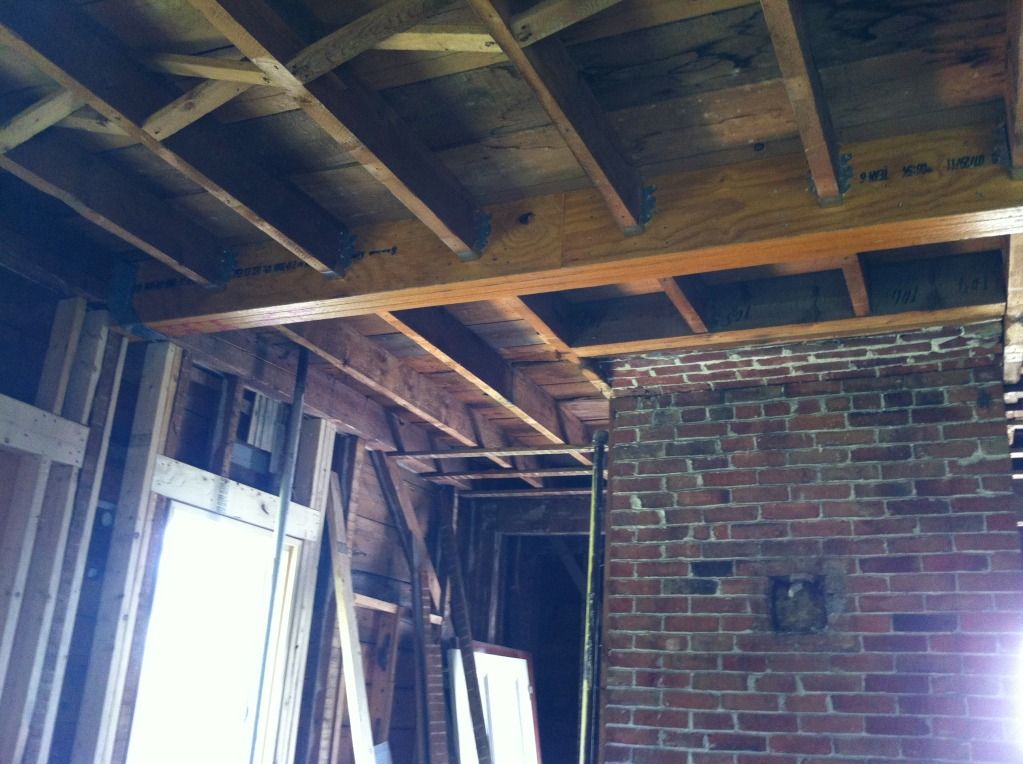 New back door and new siding:
Bricked in hearth that was hiding behind the wall (by where the cooktop formerly was)
New windows from the outside of the house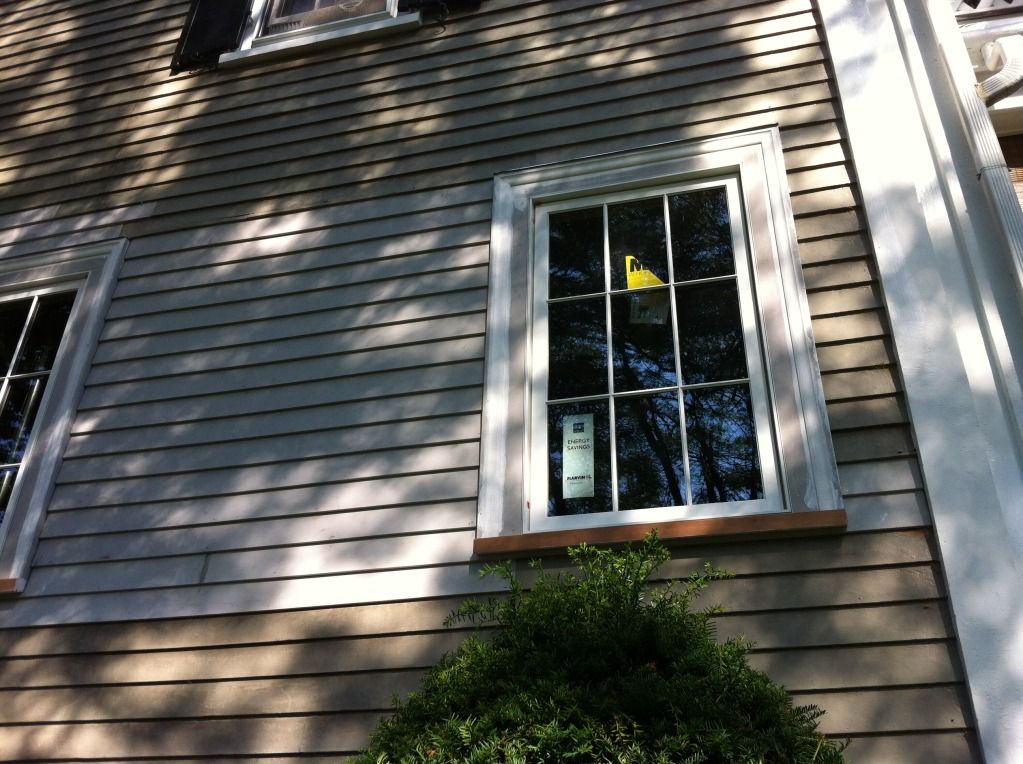 Looking toward butler's pantry / dining room. The framing on the right is for the doorway and on the left is for the pantry to be recessed into the wall so it won't stick out so far in the room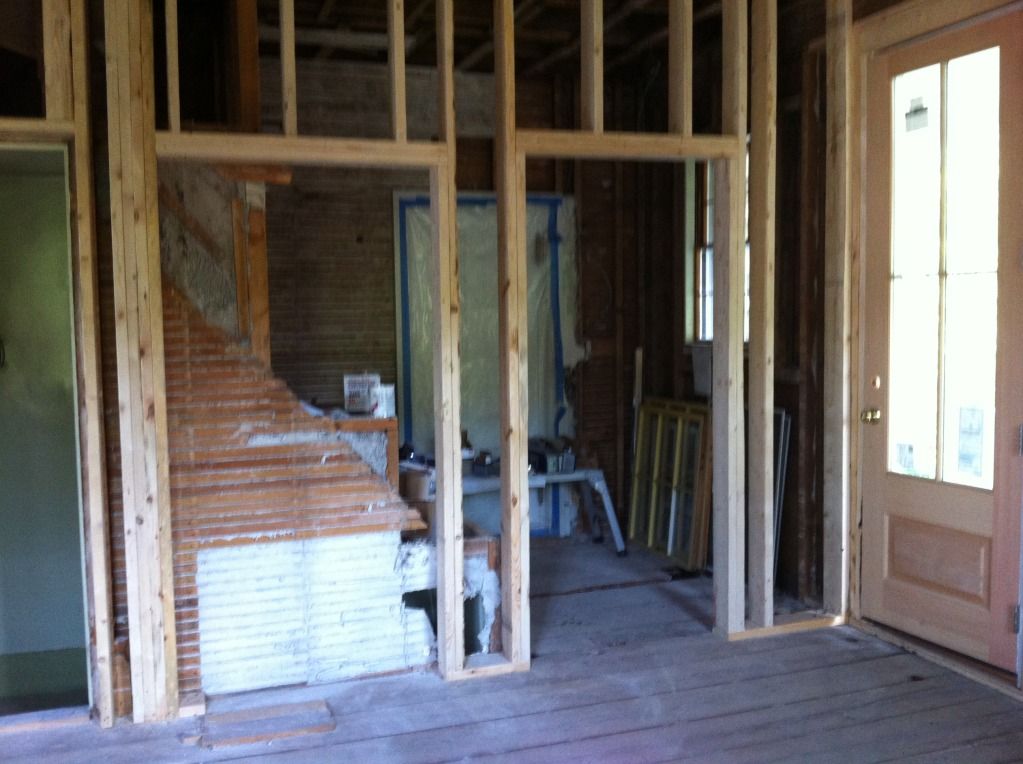 This is an old door that had been covered over - it is where the convection steam oven and microwave will go - just on the other side of the pocket doors that will lead to our tiny laundry/dog room