Kitchen Design - Round One
Hi All,
I'm in the design process to replace the original kitchen in a 1962 ranch. It is a challenge given the configuration of the kitchen. The kitchen is 9' x 28' with 2 walls of windows and 1/3 of the other long wall is a half wall i.e. not much wall space. Due to the construction of the home with multi level living areas and a roof that we cannot run a vent through, it has been daunting.
I had Hubby cut apart the existing cabinets and have been moving them around to different configurations for..get this 20 years LOL. Hence I have a pretty good idea what works for me given the limitation of the kitchen footprint.
All that being said, I would love your feedback. Below is round one design from the kitchen designer. Forgot to mention one more limitation...When the real estate market tanked back in 2009, I got a deal on and bought a full kitchen of cabinets still in the crates so I am trying to use as many of those cabinets as possible in this renovation. (Wellborn Lancaster/Hanover solid maple, full doors, soft close, full extension drawers and a cherry island which is now being used as the 2 lower cabinets between the Refrigerator and the double ovens. Finish is Divinity. Lastly the refrigerator was supposed to be counter depth in the plans so it won't stick out like on the plans.
Appliances are a 36" induction cooktop, wall vent hood, double convection ovens, speed oven, dishwasher, counter depth fridge and a 24" beverage center. I was looking at Jenn Air but am having trouble finding distributors other than Sears in our area. so am branching out to other manufacturers in that price/performance band. Appliances suggestions are welcomed keeping in mind no gas.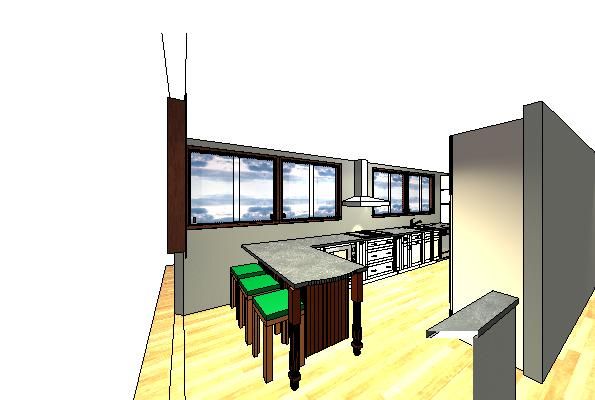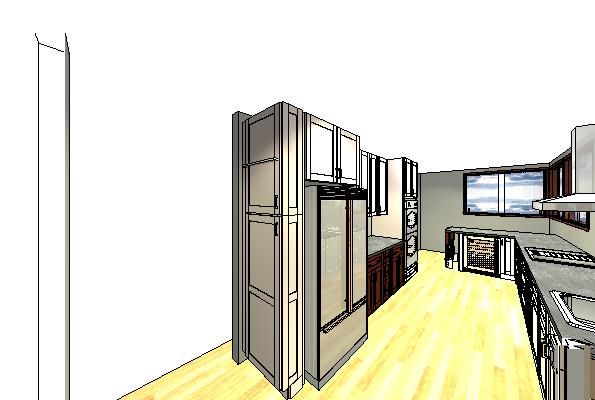 There is a doorway to the left of the fridge.