Layout indecision - intervention needed...
I really need to get from under the thundercloud of indecision regarding my layout. My first layout post a couple of months ago started from scratch and had way too much green field. I've since spoken with a KD and have a layout in which I'd like some feedback.
I'm planning to remove the wall between the kitchen and living space, because inevitably when fam and friends come for dinner they always end up in the kitchen to socialize. While occasionally I will get an offer of help, I'm usually the only one working so I don't mind a narrower aisle or two. With the fridge closer to the diners, no one should have to wander into the work space
My biggest con with the layout is I will loose the corner and some space to the left of the range top as well as space on the perpendicular run because the range top extends beyond the counter. Ideas or should I learn to love it?
My next question is do you think it will look odd if the sink is not centered exactly with the window. The sink I want needs a 33 base versus the 30 in the drawing and I don't want to loose cabinet space by taking space from both sides...unless I'm missing something.
The island would only have 3 stools not 4. The doorway on the left leads to the laundry room. The door in the top left leads to the basement. I'm open to ideas, but really need to make a decision by Tuesday. I want this done by the holiday and I know I'm already pressing my luck.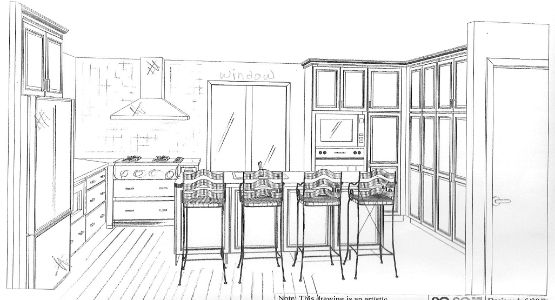 This is another option. It has some appeal...although the fridge in the back, which I was hoping to avoid. And, my work space is no longer contained.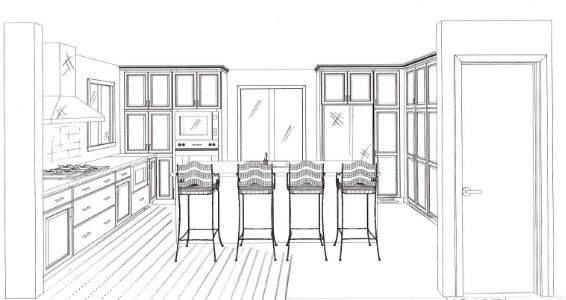 Kitchen in it's current state...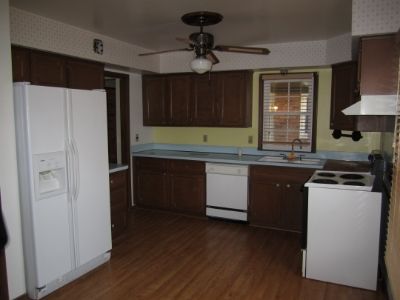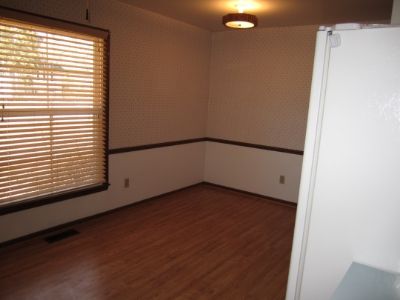 This post was edited by Mgoblue85 on Sat, Jun 29, 13 at 11:08